Kings vs. Wizards at Rupp Arena. Who you got?
[caption id="attachment_208978" align="aligncenter" width="620"]
Rupparena.com[/caption] Nearly 100 former Wildcats made an awesome appearance at Big Blue Madness last night,
but four of them have business to take care of tonight on the hardwood.
The annual NBA preseason game at Rupp Arena is taking place tonight at 7:00 PM, where John Wall's Washington Wizards will be taking on Boogie Cousins' Sacramento Kings in a sea of blue. What can we expect from both teams tonight, at least in terms of our former Cats getting action?
Kings
[caption id="attachment_202466" align="aligncenter" width="522"]
Oct 28, 2015; Sacramento, CA, USA; Sacramento Kings center DeMarcus Cousins (15) addresses the fans before the game against the Los Angeles Clippers at Sleep Train Arena. Mandatory Credit: Kelley L Cox-USA TODAY Sports[/caption]
DeMarcus Cousins
didn't register any minutes (coach's decision) in the last Kings preseason game against the Lakers, but that'll likely change tonight in his homecoming at Rupp Arena. If his play is anywhere similar to last season's preseason game at Rupp Arena, we will be seeing a whole lot of threes jacked up, alley-oops of the backboard to himself, and a scoring display sure to give fans reason to remember why we all fell in love with Boogie in the first place. As a franchise centerpiece and NBA superstar, he will likely only see a few quarters of action to avoid injury, but he's guaranteed to impress in the time he does spend on the court.
Willie Cauley-Stein 
has gotten his fair share of minutes this preseason, and has failed to disappoint. Last game he finished with 12 points on 6/7 shooting, four rebounds, and a steal in 24 minutes of action. All I'm asking for is a nasty block and a stare down similar to this one against Arkansas.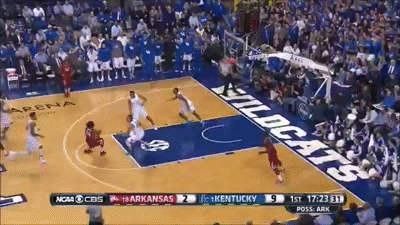 After being passed the ball to at an alarmingly-low rate last season, the big man out of Kansas will be sure to take the next step up in his sophomore year in the NBA. He has supposedly been working on his jump shot with NBA-great Peja Stojaković, and with continued development on the offensive side of the ball, can certainly live up to his 6th overall selection in the 2015 NBA Draft.
Skal Labissiere 
started last game against the Lakers, but only registered two points on 1/4 shooting in 11 minutes. Like many expected, there will be a big learning curve for Skal in the NBA, especially against some of the bigger front courts in the league. Hopefully tonight he can show off that smooth jump shot we saw throughout his career at Kentucky and a big block or two. It might take a while for Skal to find his groove this season, but the potential is there for him to surprise folks early on.
Wizards The guy that jumpstarted the Calipari era,
John Wall, 
is the lone Wildcat on the Washington Wizards roster. Like Cousins, Wall will probably only play a few quarters, but will certainly throw down a monster jam or two and give us a little John Wall dance most expected to see last night. Though he struggled through injuries last year, Wall still easily remained as one of the best point guards in the NBA, and will continue that trend going into his seventh year in the league. With former Gator
Bradley Beal
starting for the Wizards, along with former Jayhawk
Kelly Oubre Jr
., be prepared for a whole lot of boo's heading their direction, as well.  
Who are you pulling for tonight?
If you haven't gotten tickets yet, head on over to Ticketmaster
here
and grab a few.