Kiyaunta Goodwin makes ESPN's list of Top 50 Newcomers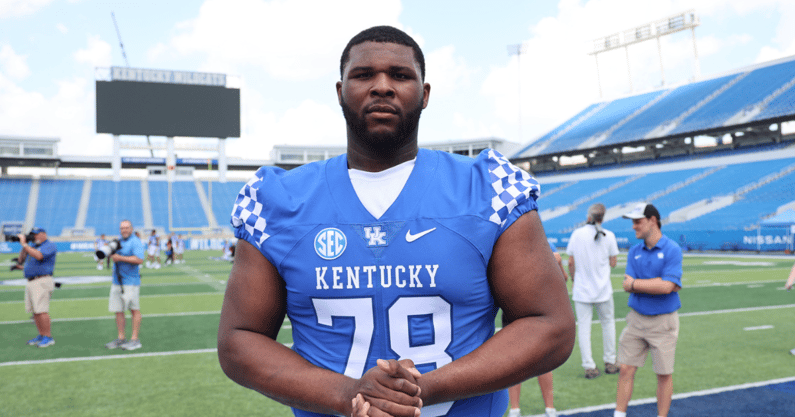 As college football fast approaches, the experts continue to churn out content. Today, ESPN's Tom VanHaaren shared his ranking of the Top 50 "newcomers" this season, meaning incoming freshmen and transfers. One Kentucky Wildcat made the list: Kiyaunta Goodwin, the four-star offensive tackle from just over the river from Louisville in Indiana.
Goodwin is a 6-8, 351-pound freshman, ranked as the No. 5 tackle in the 2022 class out of Indiana. The coaching staff needs to fill spots along the offensive line, and there aren't a ton of experienced players to fill them. Offensive line is always difficult to predict if a freshman can come in and play right away, but given his size and strength, Goodwin should have every chance to play early on for Kentucky.
Goodwin is the highest-ranked recruit to sign with Kentucky since rating systems were created in the late 90s. When he signed in December, he was considered the No. 13 overall player in the 2022 recruiting class (now, he is No. 55 in the On3 Consensus). You probably remember that Kentucky was the first to offer Goodwin a scholarship, back when he was in seventh grade, and that his recruitment came down to the very end, when he ultimately picked the Cats over Michigan State. It was quite a dramatic day.
Goodwin enrolled early at Kentucky and participated in spring practice. On Media Day, Mark Stoops said Goodwin is backing up Deondre Buford at left tackle and will likely get rotational snaps as the season goes on. For a player with his size and talent, the hope is it's only a matter of time before he assumes the starting role.
Nick Roush's 2022 Forecast for Goodwin
Ideally, a true freshman does not start at left tackle in the Southeastern Conference. Goodwin could be an exception to that norm. Deondre Buford and David Wohlabaugh are expected to get some of the first reps at the important position, but neither has significant SEC experience. If the two can't get it done early on, Kiyaunta's number will be called.
The biggest knock on Goodwin is his fluctuating weight. Recruiting analysts dropped him in their rankings throughout his high school career when his weight yo-yoed. Since arriving on campus in January, Goodwin has been a weight room warrior. He's looked slim and trim around the Joe Craft Football Training Facility this summer. Goodwin checked all of the right early boxes to make an impact as a freshman. Now the only thing that can help the Louisville native is reps. The more he goes one-on-one with JJ Weaver in the preseason, the better he'll be when he steps onto the field this fall.