Knocking on Georgia's door, Kentucky is confident it can defeat top-ranked Bulldogs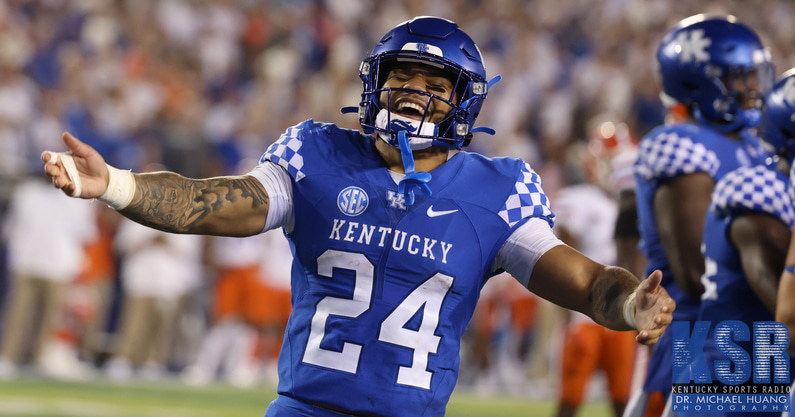 Following each momentous, historic streak-snapping Kentucky football victory, Mark Stoops proclaims the Wildcats have "knocked down another door." None of those victories were earned overnight. Stoops' program methodically improves, knocking on the door repetitively before kicking it down with authority.
Saturday afternoon the eleventh-ranked Wildcats will be three-touchdown underdogs against No. 1 Georgia at Sanford Stadium. Kentucky has not defeated Georgia since 2009. Even though it is the first meeting of 6-0 teams in the history of the SEC East, few outsiders believe Kentucky can pull off the upset. Everyone inside the Kentucky locker room believes the Wildcats can defeat the Bulldogs.
The Florida Blueprint
There was a proverbial monkey on the back of the BBN. When Stoops arrived Kentucky had not defeated Florida since the 80s. There were a few close calls here and there, but they were far out-numbered by lopsided defeats.
Stoops never promised a victory over Florida. He went to work and slowly chipped away at The Streak that loomed large over the program.
In 2014 the Wildcats went to the Swamp and took a lead in overtime with an incredible Boom Williams touchdown. A delay of game call did not go Kentucky's way, and The Streak survived another year. The following season the Wildcats lost by five. Two years later they had the Gators on the ropes again, but a fourth quarter collapse kept The Streak alive for another year.
The fans had their hearts ripped out in 2017. "This was our best chance." The players did not see it that way. They learned from the close loss what they had to do to close out Florida. The following year The Streak was snapped with a strip sack in The Swamp.
Two weeks ago the Wildcats defeated Florida for the second time in four years. Georgia has replaced Florida as the team that looms large over the Kentucky football program.
"I'm going to be honest with you, it's the same thing we had to get over with Florida," Vince Marrow told KSR. "We first got here and, 'it's Florida, it's Florida, it's Florida.' Now I think it's like that with Georgia. Now this is an older team. They'll be ready to play. I'm not worried about that."
Narrowing the Gap
In Kirby Smart's first season as Georgia's head coach, a sold out Kroger Field crowd held its breath as Benny Snell carried the Wildcats down the field for a game-winning drive. The powerful back willed his way into the red zone, but could not finish the drive with a touchdown. Kentucky tied the game with a field goal, leaving the door open for Rodrigo Blankenship to drive home a game-winner.
Many fans sighed, "That was out best chance." Meanwhile, the team has narrowed the gap. Each year since Kentucky was a play or two or three away from knocking down the Georgia door.
2017
Josh Allen intercepted a pass deep into Georgia territory on the opening drive. C.J. Conrad broke his foot trying to catch a chain-moving pass, forcing UK to settle for a field goal.
Georgia responded with a touchdown, but UK had a counterpunch. The Wildcats drove back into the red zone. Stephen Johnson had a wide open target for a touchdown, but Conrad's replacement, Justin Rigg, could not reel in the pass. The Wildcats settled for a field goal, letting opportunity slip away.
2018
Josh Allen halted a Georgia scoring drive by recovering a fumble. Kentucky turned the SEC East Championship into a 7-3 game with a field goal on the following drive. D'Andre Swift would not let UK hold onto that momentum. Mike Edwards had the Georgia running back tackled for a loss on second and 17 near the 25 yard-line. Swift made cut right past the future NFL star and took it to the house, squashing Kentucky's best chance to take the lead.
2019
Playing in a monsoon at Sanford Stadium, the Wildcats held Georgia to a scoreless tie at halftime. Of course, Georgia had a long D'Andre Swift touchdown up its sleeve, but quarterback Lynn Bowden did not give up. Trailing 14-0, Bowden had Chris Rodriguez wide open in the end zone, but the running back could not hang onto the pass. The dropped touchdown pass doomed UK in a 21-0 loss.
2020
Georgia scored at least 27 points in every game of the 2020 season, except on the Dogs' road trip to Kentucky. The Wildcats limited Kirby Smart's team to only 14 points and Chris Rodriguez averaged 5.4 yards per carry. Unfortunately, UK could not convert scoring opportunities into points, ending one drive with a punt that made it all the way to the Georgia 25 yard-line, while trailing by just a score.
Mentally Leveling Playing Field
You can't beat Georgia without having the athletes. In relatively short order Stoops found players that can match Georgia's physicality. Kentucky had the Jimmies and Joes to defeat Georgia in 2018, but the program was not yet ready to take that step.
"I think our mindset is a little different now than the situation we had in '18…" said Marrow. "Once we got through Florida and LSU — I like the mindset of our players and our staff. Last time, I think our players weren't ready for it. Some of these guys were on that same roster, a lot of them guys are ready for it."
Wan'Dale Robinson said, "If you wanna be the best, you got to beat the best."
To beat Goliath, one needs to believe they are also a Goliath. Kentucky previously put Georgia on a pedestal. That is no longer the case.
"Dude, they're Georgia. You gotta give them their respect, but I like my guys too," said Marrow.
"They're student-athletes just like we are," said Chris Rodriguez. "They work just like our D-line works and we go against our D-line everyday. Our D-line's good, our linebackers are good. They're student-athletes just like us."
Rodriguez remembers his dropped touchdown pass in Athens. He remembers subbing himself out against the Dawgs in 2020 because he was too winded. He worked all offseason to improve his stamina, he visualized making game-changing plays and now Rodriguez's opportunity is here.
Kentucky has knocked on the door, overcoming every obstacle in its path to catch up to Georgia. The Wildcats are finally prepared to knock down the final door.
"We'll be ready for the moment," said DeAndre Square. "Guys our ready. We've been ready since the season started."