OL Koby Keenum is all in on Kentucky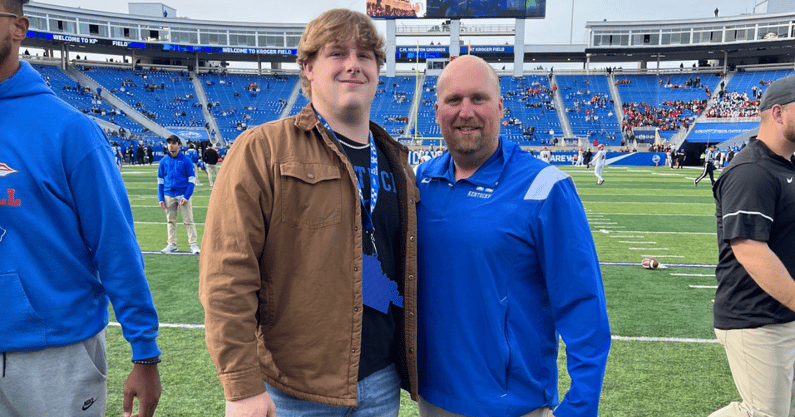 SEC teams tried to pry Koby Keenum away from the Kentucky, but the Wildcats' top-ranked offensive line commitment in the 2023 recruiting class is preparing to sign on the dotted line when the Early Signing Period begins Dec. 21.
Keenum committed to Kentucky in July shortly after officially visiting Lexington and Louisville. A high three-star recruit, he's ranked as high as the No. 3 center in America by Rivals. Since his verbal commitment, other SEC schools have tried to put a wedge in-between Kentucky and Florence, AL native.
Ole Miss, Mississippi State, Jackson State and Auburn have continuously kept in contact with Koby Keenum. Staff turnover at three of the schools has led to some apprehension by Keenum, but he was still ready to officially visit Mississippi State last weekend. The talented center never made it to Starkville.
"I was (going to Miss. State), but I am feeling strong with Kentucky. I am locked in with them," Keenum tells Rivals. "I was going to take an official with Mississippi State, but it didn't work out with me getting sick; I would take one but don't have the time to take one."
The "illness" worked in Kentucky's favor. He will be playing in the upcoming Alabama-Mississippi All Star game, eliminating another potential visit weekend.
Meanwhile, he's spent more time in Lexington while hosting Kentucky coaches in his hometown. Offensive line coach Zach Yenser has already made one trip to Alabama, and Mark Stoops is expected to follow soon. Prior to the open recruiting period, Koby Keenum was throwing Ls Down in Lexington. He doesn't sound like he's going anywhere else.
Koby Keenum plans on signing with Kentucky Dec. 21 and enrolling Jan. 3 for the spring semester. "Finally, the time has come," he told Rivals. "I am counting down the days now."