Kroger Field is becoming a legitimate home-field advantage for Kentucky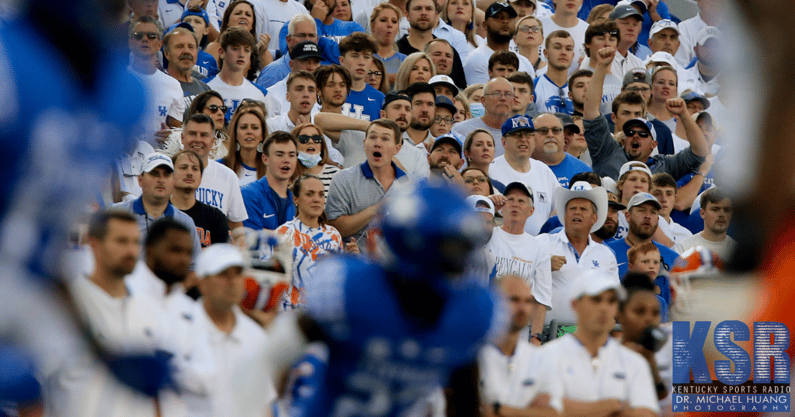 When the average college basketball fan thinks of Rupp Arena, they think of 20,000-plus crazed fans crammed into one space to create one of the most mesmerizing atmospheres in the country. When the average college football fan thinks of Kroger Field–and without getting too into it–let's just say they have a different opinion.
But Kentucky Football head coach Mark Stoops has done a superb job of trying to change that narrative, and 2021 is his best attempt at that yet. Not only does he have the Wildcats 5-0 for just the fourth time in 70 years, but he's also created a fan environment that makes an impact on the outcome. This isn't your grandfather's Commonwealth Stadium where every corner is half-empty. This is a new-age Kroger Field where you're lucky to find a ticket.
The Florida Gators famously had eight false start penalties in last weekend's shocking loss to the 'Cats, the first time UF had lost in Lexington since 1986. The Big Blue Nation can take responsibility for at least half of those penalties.
But this weekend poses a threat that one could argue is even tougher than last Saturday. Kentucky hasn't started 6-0 since 1950. Going up against an LSU team that has struggled to start the year could be a perfect trap game after a thrilling victory. Another environment such as the one against Florida sure would help prevent any hangover against LSU.
Kroger Field making an impact
If you don't believe me that Kroger Field is gaining the recognition it's been deserving of this season, let's ask the national media for their thoughts, shall we?
Both the SEC Nation crew and the hosts of Marty & McGee are in Lexington this weekend for their weekly pregame show, which has been set up right outside of the William T. Young Library in the heart of UK's campus. On Friday afternoon, a few of the personalities from those shows gave their thoughts on the Kroger Field environment.
The consensus? Kroger Field is a legitimate home-field advantage for the Kentucky Wildcats. "Especially when you're this good," Marty Smith of Marty & McGee told the media on Friday.
"The atmosphere is fabulous," Smith added. "It's going to be absolutely on fire Saturday evening when LSU comes calling. I think 1950 was the last time the Kentucky Wildcats started 6-0. So there is a lot of history on the line as well. I think the vast majority of the college football landscape, when they think about great college football atmospheres, might not think Kroger Field at first. But if you come here, you see it, and you feel it, I think you'd have a different opinion."
The Florida Gators sure did see and feel it–to the tune of those previously mentioned eight false starts that significantly impacted the outcome of the game.
"I think I undervalued it," Roman Harper of SEC Nation told reporters. "When you see players from Florida continuously false starting and not being ready to go, it really played a big, big role in that. Bravo to Kentucky, it looks like a legit home-field advantage.
"I also think coming off of last year in 2020 where there were no fans, how much it really is affecting teams this year, I think it counts twice. I think the crowd here is going to be fired up. I can't wait to see the fans out here tomorrow. And Kentucky has to take advantage of that. Every time you've got a home-field game, you have to make sure the crowd is fired up and really making those teams jump offsides. You talk about the eight false starts, six of them were on third or fourth down."
The energy and excitement at Kroger Field haven't happened by accident, though. It's been a process eight years in the making now, starting when Stoops first took over as head coach ahead of the 2013 season. Commonwealth Stadium could be tough to take seriously when half the place is empty. But now that Stoops has built a program worth bringing in 61,000 fans, the impact of Kroger Field is undeniable.
"It speaks to what Coach Stoops has built here," Laura Rutledge, host of SEC Nation, told the media on Friday. "It speaks to the buy-in from the fans. It's one of the greatest fan bases in the country, in all sports, but for them to show up this way and continue to be a big reason why this team is able to win games–you look back at last week and some of the communication issues for Florida, the penalties, things like that. Obviously some of that is on Florida, but a lot of that is on the crowd noise. I expect them to do that once again tomorrow night. I think it's a huge advantage for Kentucky to have this one at home."
It'll be up to the Big Blue Nation to prove these folks right on Saturday, but with the hype surrounding the program right now, that shouldn't be much of an issue.