Kroger KSR Game of the Week Preview: Frederick Douglass at Scott County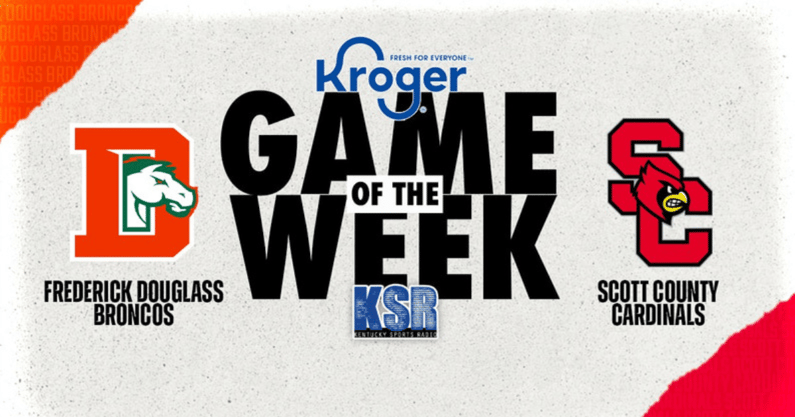 Friday night, two rivals will meet in a battle of unbeatens in a massive edition of the Kroger KSR Game of the Week. The 5-0 Frederick Douglass Broncos (#2 in KSR's Week 5 Kentucky High School Football Rankings) travel to Scott County to take on the 4-0 Cardinals (#24 in KSR's Week 5 Kentucky High School Football Rankings) in the 10th ever matchup between the two schools.
Frederick Douglass is 6-3 through the first nine matchups against Scott County. Two of the Cardinals' three wins against the Broncos have come in postseason play, including a 28-27 thriller in 2018. Douglass has won five straight matchups against the program that they call "The Team Up North."
Will Douglass Finally Face a Challenge?
The winning odds of the teams that have had to play the Frederick Douglass Broncos this season have not been in their favor.
Douglass has played in four games and has one forfeited victory due to illness. In those four games, they have outscored Bryan Station, Tates Creek, Dunbar and Henry Clay by a combined 217-29. Coach Nathan McPeek's team is playing Madden on rookie difficulty. The Broncos have won a whopping 29 straight games against Fayette County teams, with most of those not even being close.
This year's Broncos are led by three-star Kentucky commit Ty Bryant, three-star Auburn commit Jamarrion Harkless, Western Kentucky commit Jalen Hand, and Ball State commit T.J. Horton.
Horton was recruited as a defensive back, but currently leads the Broncos in rushing yards (223) and rushing touchdowns (seven). In four games played this season, Douglass has allowed a combined 109 yards rushing between four different teams while playing a staggering 32 different defensive players. Good luck trying to run against the brick wall of the aforementioned Harkless and the team's two leading tacklers Latonio Laveall and Corey Gamble.
The Broncos have made it to the Class 5A championship game twice in three years since their move to the division and look to finally win the big one this season. After Scott County, the Broncos shouldn't be challenged again until they clash with three-star Kentucky commit Tommy Ziesmer and the Boyle County Rebels on October 28 in Title Town.
Can Scott County Pull the Upset?
Coach Jim McKee's Scott County Cardinals have had a rollercoaster of a season so far.
They started off with a close 20-17 victory over Franklin County in the BGO Battle of Elkhorn Creek and then blew out a down Lafayette team at home 43-6. Bryan Station then came to Scott County in Week 3 and went up 20-0 on the Cardinals at halftime. After making some adjustments, the Cardinals would storm back and regain the lead with six minutes to play.
A huge interception by Scott County's third-leading tackler Luke Valencia iced the game and kept their season perfect. They then took care of Dunbar 48-27 last week to set up a battle of undefeated teams this Friday.
Scott County's offense is led by sophomore quarterback Andrew Hickey, who has thrown for 435 yards, two touchdowns and one interception this season. Junior Jacob Fryman leads the team in rushing, having run for 252 yards on 49 attempts and scoring on five separate occasions. Hickey has two extremely talented receivers to throw to in Isaac York and Elijah Lilly, who have combined for 398 yards through the air.
The Cardinal's defense is anchored by a three-headed monster in senior Elijah Adams, senior Paul Garner, and junior Luke Valencia. This trio has combined for 58 tackles, 8.5 tackles for loss, a sack, a fumble recovery and three interceptions in just four games.
Run Game is Crucial
This game will come down to the trenches, and whether or not Fryman and his supporting cast of Thomas Feickert, Kayne Garrett and Ellis Huguely will be able to establish a run game early against Harkless and the big boys on the Douglass defensive line. The Cardinals have rushed for more yards in all four of their games than Douglass has allowed in total this season. Both of these teams love to run the ball, so something's got to give. It will be interesting to see how this game plays out.
Past Kroger KSR Game of the Weeks: