Kroger KSR Hometown Classic: Fleming County at Harrison County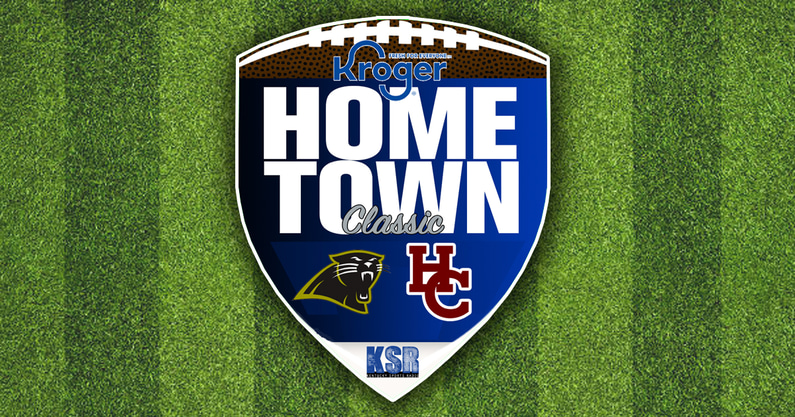 Kroger and Kentucky Sports Radio are partnering to present the inaugural Hometown Classic featuring the Fleming County Panthers visiting the Harrison County Thorobreds. Friday's matchup in Cynthiana highlights Kroger's new Hometown Pickup service with locations across Kentucky. 
Harrison County is led by quarterback Kaydon Custard's 1,147 passing yards and six touchdowns. The signal-caller is also the team's leading rusher after recording 688 yards and eight scores, while Jacobie White and Alex Beam combine for 25 receptions and 783 receiving yards. Michael Watts' 64 tackles including six for loss are tops for the defense. 
Fleming County quarterback Zeke Conn's 1,453 pass yards and 20 touchdowns pace the Panthers' offense. Austin Trent adds 583 rush yards to go along with seven scores. Caleb Igo has contributed 267 yards and three touchdowns. The Panthers' top pass-catcher is Logan Pinkley who ranks third in 3A after catching 39 passes for 795 yards and eight touchdowns. Conn also leads the defense with 90 tackles. Austin Trent ranks second with 85. Isaac Frye is Fleming County's havoc producer after registering 8.5 tackles for loss and 6.5 quarterback sacks. 
Kroger and KSR are traveling to Cynthiana on Friday.
See you there. 
A Message from Kroger
We're excited to tell you about something new from our friends at Kroger. Did you know Kroger is America's largest grocery chain that started over 135 years ago? They are doing something they've never done before: bringing fresh groceries right to you with a new service called Hometown Pickup. 
That's right, for those of you in Cynthiana, Midway, Eminence, Bedford, McKee, Dry Ridge, Carlisle, Eubank, Georgetown, Mt. Vernon, Jackson, Frenchburg, Irvine, Mt. Olivet, and Paris, Kentucky, you can now order all of your groceries online and pick them up at a central location in your hometown. No more long drives into the city to get fresh food for you and your family. Now THAT is truly Fresh for Everyone. Thanks, Kroger. 
Learn more and place your first order at Kroger.com/hometown.