KSBar to open at 9:30 am tomorrow for America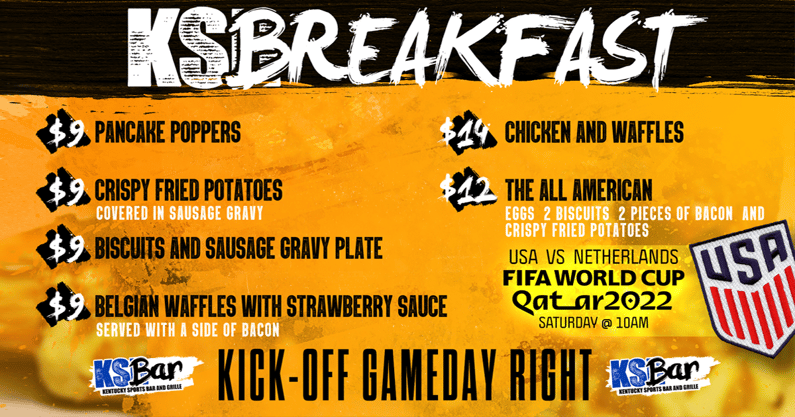 The United States Men's National Team begins knockout round play at the World Cup tomorrow morning with a 10 a.m. loser-goes-home match against the Netherlands. Should the Americans find a way to win, the good guys will advance to the World Cup quarterfinals for only the second time in nearly 100 years of World Cups. The only other time the USMNT made the World Cup's Elite Eight was in 2002.
Some good news, today it was announced that Christian Pulisic will return to the lineup after suffering an injury while scoring the goal that advanced America from group stage play earlier in the week. Captain America's Tuesday pelvic contusion had him listed as questionable for the Round of 16, but the only scorer from group-stage play will be available to chase history.
And in news almost as good as that, we will open KSBar and Grille early on Saturday so everyone can be in their seats in time for kickoff. I'll be there to open the doors at 9:30 a.m. with a special breakfast menu for the crowd of USMNT supporters.
Whitney Houston's national anthem will likely be our national anthem of choice unless someone has a better suggestion, or volunteers to perform in the bar.
I believe that we will win! I believe that we will win!