KSR Football Podcast: SEC Play Begins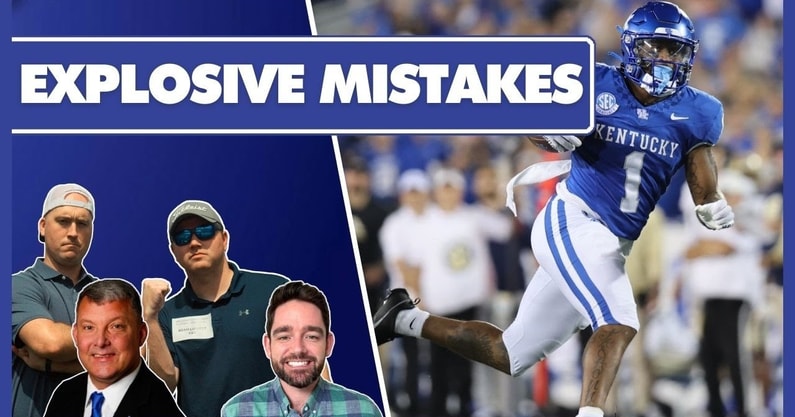 The KSR Football Podcast is live at 8:00 p.m. on KSR's YouTube channel with the latest news and views surrounding Kentucky Football. On this week's edition, host Nick Roush leads Drew Franklin, Freddie Maggard, and Adam Luckett through their takeaways from Kentucky's win over Akron in Lexington.
The guys will also preview the beginning of SEC play for the Wildcats as Kentucky heads to Nashville to play Vanderbilt. Other topics include Mark Stoops' Monday comments and the position groups that were called out since the Akron game.
Watch the KSR Football Podcast live as it happens on YouTube. Or catch up later via the podcast version available on Apple Podcasts and Spotify.
KSR Football Podcast Week 4
Subscribe to the KSR YouTube Channel for press conferences, interviews, original shows, fan features, and exclusive content.
The KSR Football Podcast is presented by our good friends at Justice Dental. Visit one of their two Lexington locations (Blazer Pkwy and Wellington Way) by scheduling an appointment online at justicedental.com or by calling (859) 543-0700. You can even send a text message to one of their friendly team members at the same number to ask a question or make an appointment. 
Now is a great time to schedule your dental cleaning. Dr. Thompson, Dr. Justice, and their team strive to provide you with good oral health in a comfortable environment. The Justice Dental team looks forward to seeing you soon!
The KSR Football Podcast is also brought to you by our friends at Gametime, the fastest and easiest way to score last-minute tickets for all things sports, music, comedy and theater. Download the Gametime app or visit gametime.co, create an account and use promo code "KSR" to get $20 off your first purchase.

The KSR Football Podcast is also brought to you by Birddogs. Ditch the stitch cotton shorts and pants and upgrade your style today. Visit Birddogs.com/KSR or use the promo code KSR at checkout to receive a free hydro flask style water bottle. You won't want to take your Birddogs off, we promise you.