Monday Huddle: Time to meet expectations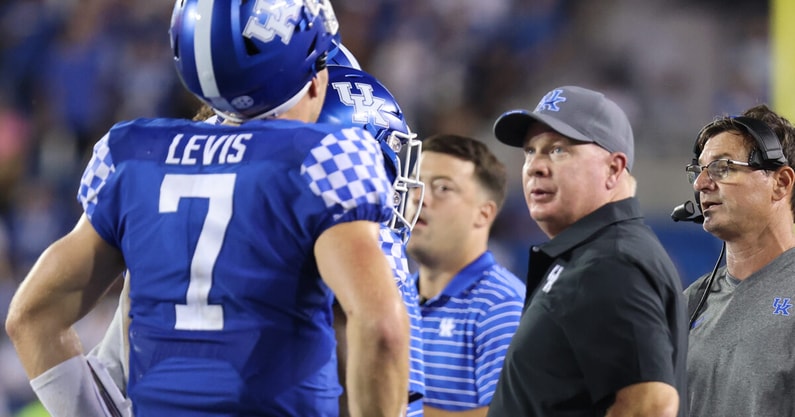 The college football season is off and running after a wild weekend. To begin the year, Kentucky handled a pesky Miami (Ohio) squad as the Wildcats pulled away for a 24-point win in the second half after a somewhat slow start to begin the game.
Now the real fun begins.
In Week 2, the Wildcats will open up SEC play on the road as Mark Stoops will face the fourth Florida head coach during his tenure in Lexington. Last week, the Billy Napier era began in Gainesville, and the Gators got off to a great start with a win over No. 9 Utah on Saturday night. The two programs will now meet for a very important game in the SEC East.
It's only the first full week of September, but Kentucky finds itself playing in a top-25 matchup in a game with some legitimate stakes. KSR's Monday Huddle is here to get a seismic football week started in the Bluegrass.
First Down: Big Blue Wall faces early adversity
On Saturday, Kentucky covered the spread as Will Levis threw for 303 yards. The defense allowed just one touchdown in 10 possessions, and special teams totally flipped the game for the Wildcats. In many ways, UK played the ultimate team game to open the season.
That is exciting, but a glaring weakness stood out. Kentucky has a lot of work to do on the offensive line.
Against Miami (Ohio), new offensive line coach Zach Yenser had a group that was playing four new starters, and redshirt junior Eli Cox was shifting to a brand new position. The Big Blue Wall looked like an entirely new group.
Cox struggled with snap accuracy and missed a couple of key blocks both in pass protection and in the run game. On the left side, redshirt freshmen Jager Burton and David Wohlabaugh Jr. each earned their first career start. The duo struggled with communication and recognition when dealing with all of the defensive line stunts they saw from Miami (Ohio) and allowed multiple pressures. Both veteran Kenneth Horsey and Tashawn Manning saw snaps at guard, but each looked rusty.
The best player on the front might have been right tackle Jeremy Flax, and that came as a surprise. For the game, Kentucky allowed a high sack rate (11.1%), produced a low rushing success rate (33.3%) on 21 attempts and didn't produce one explosive play on the ground.
The tailbacks did not have a good performance, but Kentucky needs more from its offensive line. The passing game flashed its high potential on Saturday night as Levis was able to provide some much-needed efficiency through the air. However, this pro-style scheme needs a marriage of the run and pass to truly work.
Heading on the road, both Burton and Wohlabaugh will need to bounce back up off the mat to play in a raucous environment for the first time in their career. The Gators don't have a lot of depth or overwhelming size on its defensive front, but Gervon Dexter is a former top-10 recruit and a pro. Defensive coordinator Patrick Toney will surely use some of the front movement Miami (Ohio) utilized to try and put pressure on this Kentucky offensive line.
The passing game will likely be the strength of this offense throughout the season, and the offensive line plays a big role in that. On the ground, this group needs to provide some more movement to create consistent running lanes.
We'll get to see the resiliency of this group early. With Horsey now seemingly fully healthy, that should help with some of the continuity. Typically, football teams grow the most between Weeks 1 and 2. Kentucky needs the Big Blue Wall to make some real strides this week at the Joe Craft Football Training Facility.
Second Down: New faces raise defensive ceiling
Entering the year, the Kentucky defense had a high floor. With multiple super seniors returning along with a very experienced front and an old secondary, there was enough there to believe that defensive coordinator Brad White would put a good unit on the field.
What we didn't know was how high the ceiling would be. Kentucky does not have a clear dominant star, and there were some depth worries. However, the latter has been erased by a phenomenal class of 2022 recruiting haul.
Alex Afari, Keaten Wade, and Deone Walker all made their debuts on Saturday. Each made some big plays.
Afari led the team in tackles for loss (1.5), showed surprising good play strength taking on and engaging from blockers while playing Kentucky's hybrid medium position, and his speed allowed him to record the first sack of his career. The former top-250 recruit looked like one of Kentucky's top defensive players on Saturday night and is a guy the coaching staff must get on the field.
Wade had a low snap count (19), but the EDGE player still made an impact as J.J. Weaver's top backup with Jordan Wright unavailable for Week 1. The Greater Nashville native recorded three tackles and delivered a big hit on a tunnel screen to record a pass breakup. A former top-250 recruit, Wade looked like he belonged.
On the defensive line, Deone Walker played 36 snaps recording four tackles. The true freshman out of Detroit (Mich.) Cass Tech was hard for Miami (Ohio) to move at the point of attack, and Walker flashed some surprising movement ability as he ran down quarterback Brett Gabbert on scrambles multiple times. The top-300 recruit has major tools and the potential to develop into a bonafide defensive line star in the SEC.
The emergence of these players gives Kentucky some great depth at a much-needed position. The big recruiting wins can contribute immediately, and each should be heavily involved on defense throughout the year. The Cats have a legit shot at fielding their best defense since 2018 as the emergence of the newcomers has raised this group's ceiling.
Third Down: Defending Anthony Richardson
Much of the talk heading into the Kentucky-Florida game is going to be about both quarterbacks. Will Levis had a solid opener, but Anthony Richardson might have been the player of the week as he did everything for the Gators in their 29-26 win over Utah.
The redshirt sophomore quarterback threw for 168 yards on 24 attempts with a high passing success rate (58.3%) and no sacks taken. On the ground, the 232-pound quarterback was a difference-maker with 106 yards on 11 attempts with three touchdowns on an outstanding rushing success rate (72.7%) as the Gainesville (Fla.) Eastside product made some huge plays for the Gators.
Richardson will be receiving Heisman Trophy buzz this week, and many will want to call Florida the top competition in the SEC East for Georgia right now. However, that will all have nothing to do with the game on Saturday in The Swamp.
For Florida to reach their ceiling, the young phenom at quarterback has to carry the Gators. Utah was unable to slow Richardson down and wasted a solid offensive performance due to the defense's inability to limit quarterback run. Kentucky must find a way to make the NFL prospect play strictly from the pocket. That's easier said than done.
In many ways, the game on Saturday will come down to Kentucky limiting Florida's ground game. That is only done if the Wildcats can get Anthony Richardson on the ground. That could win or lose the big game in Gainesville.
The week ahead at KSR
The first SEC game has arrived and it is a big one for Kentucky football. KSR will be here all week to get you primed up for the clash before Nick Roush and myself hit the road to provide game coverage in Gainesville this weekend.
We'll have full coverage of Mark Stoops' press conference on Monday and provide any news on injuries and if Chris Rodriguez Jr. will be available. There will be practice reports throughout the week and new podcast episodes from The KSR Football Podcast and 11 Personnel. Pick 3 will then show up on Thursday as KSR's gambling trio issues out some more locks.
Now that the MACtion soft opener is over, Kentucky will head to a game that the program has had circled throughout the offseason. The Wildcats want to get to Atlanta and can do that by going no worse than 3-1 in conference road trips. Getting a big one in The Swamp early would put those wheels in motion.
Strap those chinstraps up because this is a huge week.