KSR Monday Huddle: Gauntlet Time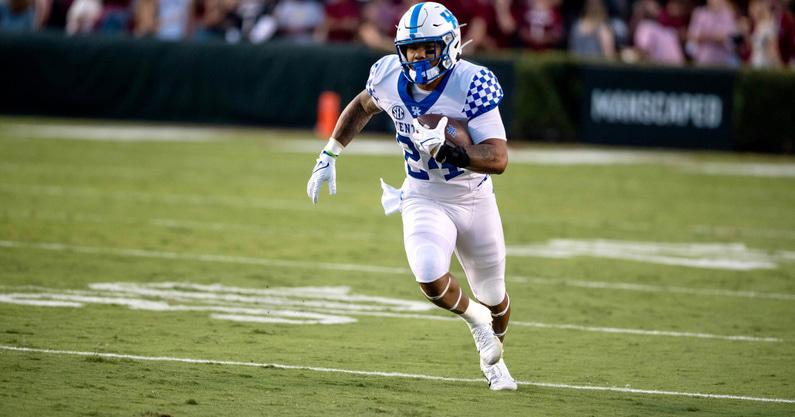 The mission was accomplished in September. Now Kentucky will have some big-time opportunities in October.
As the calendar turns on Friday, the Wildcats have done their job through four games. Despite playing some ugly football, Kentucky is now 4-0 with a pair of SEC wins and has a chance to do some special things as Florida and LSU come to town over the next two weeks.
KSR's Monday Huddle is here to set the table for a big football month in the Bluegrass State.
First down: Unique offense
Last season, Dan Mullen leaned heavily on the passing game. With pocket passer Kyle Trask delivering the ball to numerous future pros, the Gators led the nation with 378.6 passing yards per game while ranking eighth nationally with a pass play rate of 57.33 percent.
This year, Mullen is now doing the opposite.
With a plethora of tailbacks and a dangerous runner at quarterback, the Gators have become run-heavy. Florida currently ranks fourth in the SEC in run play rate of 59.45 percent, and the offense leads the league in rushing with 322.5 ground yards per game.
That is very impressive. The Gators are averaging 7.46 yards per rush and pace college football with 17 rushes of 20-plus yards. From the quarterback position, Florida has gotten 650 rushing yards in four games. That's over 200 yards rushing per game just from the quarterback.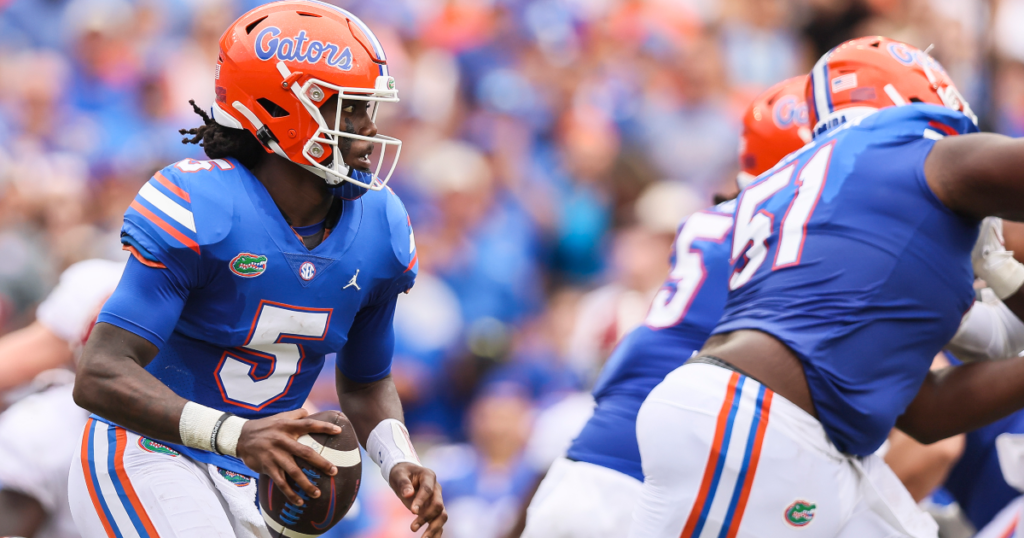 Kentucky's top goal this week will be to stop the run at all costs. The Gators have rushed for over 250 yards in each game this season, and this will be a major challenge for Brad White's defense.
Second down: Kentucky offense must deliver
Florida appears to have one of the top offenses in college football. Dan Mullen is a brilliant play-caller and in recent weeks the passing game has started to become respectable as Emory Jones has averaged over seven yards per attempt against both Alabama and Tennessee.
This is a team that is going to score points. Kentucky must be able to keep up.
After the hot start against ULM and Missouri, we have seen Kentucky's offense begin to bog down in recent weeks. Some two-high safety looks have helped take away the home run ball from Will Levis, and the Wildcats have had some inconsistencies when running the football.
Thankfully, Florida defensive coordinator Todd Grantham will likely give Kentucky plenty of man coverage looks in an effort to stop the run and create negative plays. This will give Kentucky a chance to land some haymakers with the vertical passing attack.
However, the ground game starts it all. Kentucky must be able to establish the run early to test Florida's patience. The Gators will get aggressive if the ground game is established and that will open up chances for Will Levis and Wan'Dale Robinson to connect on some big plays.
To win the game, Kentucky must score some points. It's hard to envision the Wildcats winning the matchup without reaching the 30-point threshold. To get there, Liam Coen's offense must establish the run and then hit Florida with explosive passes over the top when Grantham gets aggressive.
Third down: Kentucky's ball security questions are not going away
Through 12 quarters of football, Kentucky is 4-0 in the win column but sits at minus-9 in the turnover column which ranks dead last nationally. That cannot continue.
Kentucky is 3-0 in one-possession games this season, but all three of those wins were close because the Wildcats significantly lost the turnover battle.
For the season, the Wildcats have thrown five interceptions and have 14 fumbles on the season. The is sloppiness that cannot continue if Kentucky is going to be able to beat good teams.
To make some noise in October, Kentucky will need to fix these issues quickly. The Wildcats have the talent and ability on both sides of the football to play with just about anyone in the country. However, the Wildcats cannot do that without taking care of the football.
This will be the No. 1 storyline following the program heading into this huge three-game stretch.
The week ahead at KSR
Another jam-packed football week full of content at KSR is set to be unleashed as Dan Mullen will bring his fourth Florida team to Lexington on Saturday evening.
On Monday afternoon, we'll have coverage of Mark Stoops' weekly press conference to go along with his radio show in the evening. Practice reports will come throughout the week. Podcasts galore will be available for your consumption.
Can the Wildcats pick up the biggest home win of the Mark Stoops era? We're about to find out.