KSR Roundtable of Blue-White Game Takeaways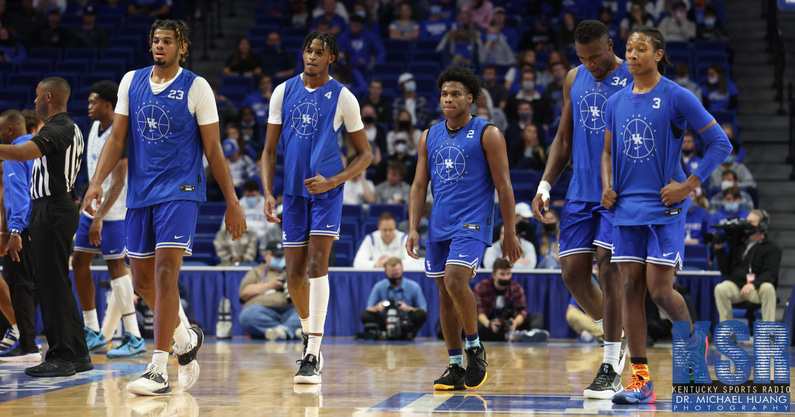 Kentucky Basketball played its Blue-White game last night in the newly-renovated Rupp Arena in front of 11,678 people. Among those people were KSR's Jack Pilgrim and Zack Geoghegan, who in addition to me spectating from the comfort of my own home office, made up the three-headed news team for your Blue-White game coverage. You're welcome.
Now that we've had a couple hours of sleep and studied the tape, and because the job is never over, the three of us would like to share our own favorite moments from Kentucky Basketball's intrasquad scrimmage.
Pour yourself a cup of coffee and take in what we each found memorable about last night.
---
TyTy Washington has the it factor
John Calipari has handed out praise to individual standouts over the years, but maybe not to the extent or how early he did with TyTy Washington Friday evening. Following his 24-point, 10-assist, four-rebound, three-steal performance, Calipari took the podium and made it clear Kentucky has something special with the freshman guard.
"How about TyTy? Yeesh," Calipari said. "He pulled up a couple, I looked and they went right down. I said, "Aight… If that's how far out you can shoot it, shoot it. … He's like — I hate to start naming names of my guys. You know the guys that did it, guys that have walked in and been able to do it."
Star power from day one, that's what. He's got the it factor and it oozes off his fingers with every jumper and pass attempt. There's not a shot he's scared to take or incapable of knocking down. Deep 3-pointers, contested mid-range shots, floaters and crafty finishes at the rim — you name it, TyTy's got it in his bag.
Respectfully, I don't care that his 24-point outing came in a scrimmage setting. He's done it at every level and setting both during and after high school. Regular season and postseason play of high school, the All-Star circuit in the spring, preseason workouts and practices, and now this. He's just got it, and Kentucky is better off as a result. — Jack
Oscar Tshiebwe steals the show
Let's all go ahead and thank West Virginia for not properly utilizing Oscar Tshiebwe. Another team's loss has turned into a massive gain for John Calipari and Kentucky.
The 6-foot-9, 255-pound junior was dominating the paint all night long, finishing with 25 points and 21 rebounds on 12-15 shooting. But not only that, he was also the brightest star during postgame interviews, and I'm not just talking about his pearly whites. Tshiebwe is a quote machine.
Below are just a few of Tshiebwe's gems from a 12-minute interview.
Yeah, as you can see, I was snatching the ball from them. Before I even caught the ball and when it was in the air, I would tell them, "Get away, get away, that's my ball. That's my money." That's how I am making money.
I want my name to be remembered forever at this program.
I have no time to get mad. You have to be happy. My dad always told me that happiness is the key to success. If you're always happy then you're going to do good. — Zack
Find someone who loves you like Jerry Tipton loves calling out empty seats in Rupp Arena.
We knew it was coming. He does it before every game and has done it for years. It's the look-at-the-empty-seats tweet, a Jerry Tipton Greatest Hit, and last night he fired off three before tip-off.
Then after the game, he couldn't resist asking John Calipari about the attendance being down from past Blue-White games. He asked Oscar Tshiebwe about it too because, you know, that's exactly what Oscar Tshiebwe wants to talk about after 25 points and 21 rebounds in his first career Rupp Arena action.
Calipari told him, "How about this? I want to know if anybody in the country could have a scrimmage that you have to buy tickets to, could have that many people. Tell me that school… That's what makes this what it is. I was so happy to walk out and see that many people. Inner squad scrimmage, what in the world?" — Drew
The Bryce Hopkins hype feels real
We heard over and over again during the offseason how freshman Bryce Hopkins is going to be the surprise of the 2021-22 season. We got our first real look at him on Friday night and the rumors matched up with what we saw in the scrimmage.
Hopkins is just a smart player. He has plenty of dribble moves in his bag to escape defenders, knows when and how to push the pace, and was knocking down triples with confidence. His first half was much better than his second half, but it didn't take long to see why the coaching staff has been gushing over this kid for months now. — Zack
Sahvir Wheeler is the perfect fit for this roster
When Kentucky ramped up contact with Sahvir Wheeler this offseason, I'll be the first to admit I wasn't thrilled with the idea of adding a point guard who shot just 22.5 percent from three and averaged 4.4 turnovers per contest last season. UK built a roster around shooting and scoring, and having an inefficient, turnover-prone player — who is also 5-foot-9, mind you — running the show felt counterproductive.
I was wrong and Calipari was right. Wheeler is damn good and a phenomenal fit with this roster.
His first step and ability to break down defenders is second-to-none on the roster, blowing past for easy paint touches and open looks on the perimeter. Guard the perimeter, he'll score on you. Guard him, he'll find an easy catch-and-shoot opportunity from three. Somehow cover both, and he'll hit UK's big man with an easy lob for the alley-oop.
The pieces around him fit perfectly. He's not a perfect player — he still threw some errant passes and took bad shots — but after a year of poor point guard play, Wheeler's presence is quite refreshing. — Jack
The SEC Network broadcast crew has a lot of nerve.
I couldn't tell if it was Dane Bradshaw or the other guy, but one of the two raised the question, "But what happens when you're down double digits to Duke?"
Ummmm, what happens when you get kicked in the shin for talking like that? — Drew
Daimion Collins has freakishly long arms (and a surprisingly good outside shot).
A year ago, Daimion Collins told KSR he has a 7-foot-5 wingspan. Since then, his reach has grown even longer or he must've only measured one arm because the Daimion Collins on Rupp Arena's floor Friday night looked like he could reach up and change the batteries in the shot clock, flat-footed.
Even more impressive, Collins hit three 3-pointers on only four tries, catching the eye of everyone who was unaware of his outside shooting prowess. Calipari even said after the game Collins has stretch-4 potential, or could even be the starting 5 if he's surrounded by strength. Those arms are long but skinny. — Drew
This team is DEEP
And it's going to present one of those "good" problems to have for Calipari. He had 10 players on the floor that were all worthy of playing Divison I basketball. It's clear that the likes of Wheeler, Washington, Grady, Mintz, Brooks, and Tshiebwe will play big minutes, but then who slides next in line?
The reality is that someone is going to get hit with the short end of the stick. We still haven't gotten a good look at what Jacob Toppin and CJ Fredrick are like. Dontaie Allen was the only one of the 10 scholarship players who suited up on Friday that didn't look like he could play 30 minutes on any given night for UK; and even still, he's one of the best catch-and-shoot players in the SEC. Calipari will have endless options to toy around with when it comes to his rotation.
"I will figure it out," Calipari said about his team's depth. "I have in the past. I will figure it out. If 12 guys deserve to play, we'll figure it out." — Zack
Give us the link to buy the new practice shorts.
Kentucky's practice shorts have a throwback look to them and no NASCAR/Tennessee checkers. Put me down as a big fan and potential buyer of merchandise.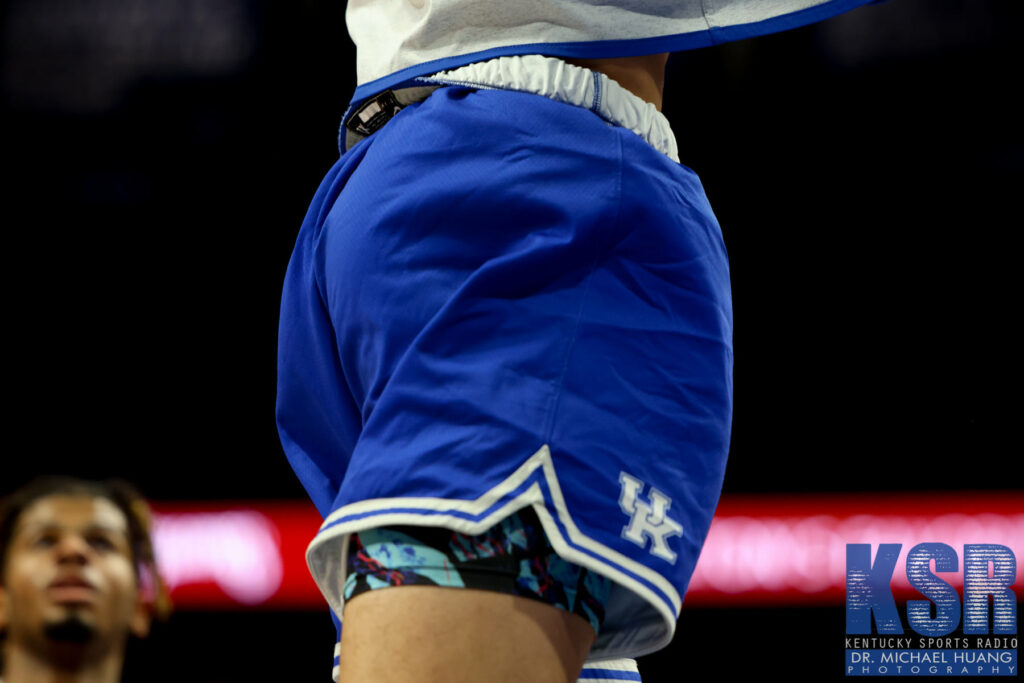 Also, if everyone on the team has those awesome, vintage Kentucky Basketball shorts, presumably in their size and ready for game wear, then why are the checkerboards back for another year? You have the better shorts already in your possession. Just wear them. — Drew, a longtime checkerboard hater wondering why Kentucky has worn the same threads for so many consecutive years and, no, I won't stop bringing it up
It feels good to be back
For the first time since COVID-19, we got our first in-person postgame interview with Kentucky basketball. No more Zoom interviews filled with technical difficulties and "you're on mute" gripes from Calipari and the UK media department. Just a good old-fashioned press conference with the head coach and players.
"I got to say this, I haven't seen you guys in a year and I am happy to see you," Calipari said to open his presser. "Can you imagine that coming from me? They are going to have to drug test me. But it is just nice to see this in an exhibition game. We have people, media, TV cameras. It is amazing, amazing to me. Let's just get back to normal."
The roar of Rupp Arena is back, protocols are limited, and everything feels (mostly) back to normal when it comes to Kentucky basketball. And by the looks of things, the on-court success is back, too. — Jack