KSR Show Thread, 10/21: Live from Boone Contracting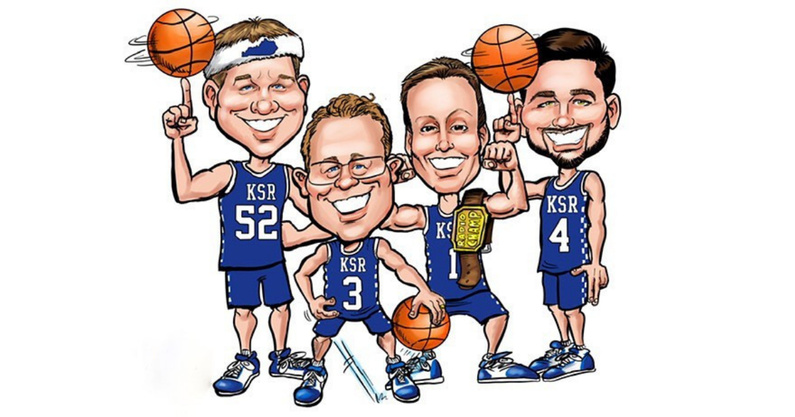 It's Friday so Kentucky Sports Radio is on the road, this week at Boone Contracting in Lexington. Just a couple blocks down Broadway from our regular show location, Boone Contracting is at 410 S. Broadway. Come on by if you get the urge.
If not, tune in to hear us talk Blue-White game and whatever emerges from Ryan Lemond's big brain next.
Give us a call at (502) 571-1080 or send a text to the KSR Texting Machine at (772) 774-5254.
Here's where to find KSR around the state and online:
| | | | |
| --- | --- | --- | --- |
| MARKET | CALL LETTERS | DIAL | TIME |
| Ashland | WCMI | 93.3 FM T | LIVE |
| Ashland | WCMI | 1340 AM | LIVE |
| Benton | WCBL | 1290 AM | LIVE |
| Bowling Green | WKCT | 930 AM | LIVE |
| Bowling Green | WKCT | 104.1 FM T | LIVE |
| Campbellsville | WTCO | 1450 AM | LIVE |
| Columbia | WAIN | 1270 AM | LIVE |
| Cynthiana | WCYN | 102.3 FM | LIVE |
| Danville | WHIR | 1230 AM | LIVE |
| Elizabethtown | WIEL | 1400 AM | LIVE |
| Elizabethtown | WIEL | 106.1 FM T | LIVE |
| Henderson/Evansville | WREF | 97.7 FM | LIVE |
| Glasgow | WCLU | 1490 AM | LIVE |
| Grayson | WGOH | 1340 AM | LIVE |
| Grayson | WGOH | 100.9 FM T | LIVE |
| Greenup/Ashland | WLGC | 105.7 FM | LIVE |
| Harlan | WTUK | 105.1 FM | LIVE |
| Hopkinsville | WHOP | 1230 AM | LIVE |
| Hopkinsville | WHOP | 95.3 FM T | LIVE |
| Irvine | WIRV | 1550 AM | LIVE |
| Jamestown | WJKY | 1060 AM | LIVE |
| Lancaster | WZXI | 1280 AM | 5-7 PM |
| Lancaster/Stanford | WZXI | 95.5 FM T | 5-7 PM |
| Leitchfield | WMTL | 870 AM | 10A-12N CST |
| Lexington | WLAP | 630 AM | LIVE |
| London | WFTG | 1400 AM | LIVE |
| London | WFTG | 106.9 FM T | LIVE |
| Louisville | WKJK | 1080 AM | LIVE |
| Madisonville | WFMW | 730 AM | LIVE |
| Madisonville | WFMW | 94.9 FM T | LIVE |
| Manchester | WXXL | 1450 AM | LIVE |
| Maysville | WFTM | 1240 AM | LIVE |
| McKee-Booneville | Peoples Rural Telephone  | Cable TV Channel 209 | LIVE |
| Monticello | WKYM | 101.7 FM | LIVE |
| Morganfield | WUCO | 1550 AM | LIVE |
| Morganfield | WUCO | 98.5 FM T | LIVE |
| Murray | WNBS | 1340 AM | LIVE |
| Owensboro | WLME | 102.7 FM | LIVE |
| Paducah | WPAD | 1560 AM | LIVE |
| Paducah | WPAD | 99.5 FM T | LIVE |
| Paintsville | WKYH | 600 AM | LIVE |
| Pikeville | WLSI | 900 AM | LIVE |
| Pikeville | WLSI | 95.9 FM T | LIVE |
| Prestonsburg | WPRT | 960 AM | LIVE |
| Prestonsburg | WPRT | 104.5 FM T | LIVE |
| Somerset | WSFC | 1240 AM | LIVE |
| Whitesburg | WTCW | 920 AM | LIVE |
| Whitesburg | WTCW | 95.1 FM T | LIVE |
| Whitley City | WHAY | 98.3 FM | LIVE |
| Williamson, WV | WBTH | 1400 AM | LIVE |
| Williamson, WV | WBTH | 102.5 FM T | LIVE |
|   |   |   |   |
| 50 Radio Affiliates   37 Markets 1 TV/Cable Affiliate *Affiliates subject to change without notice |   |   |   |