KSR Show Thread, 10/21: Tune in now!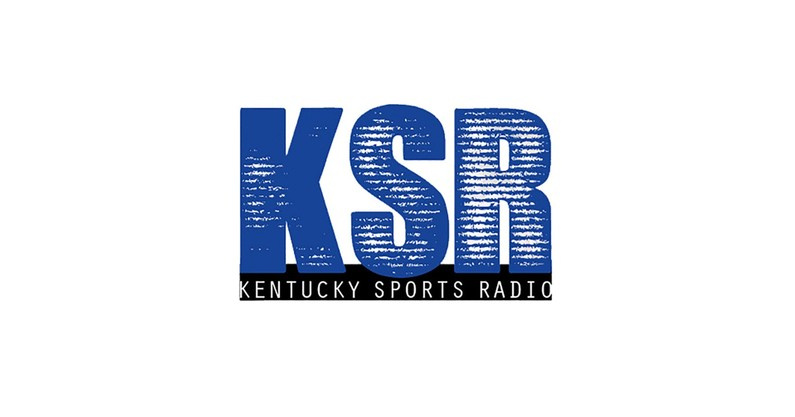 It's a big Thursday on Kentucky Sports Radio with a long list of topics to address. Tune in now to hear Matt Jones, Ryan Lemond, Shannon The Dude, and I weigh in on:
— Kentucky Basketball Media Day
— Did Swaggy Cal tell a lie?
— TyTy Washington's new N.I.L. deal
— Julius Randle's Kobe Year debut, Knicks wins
— How could anyone leave the Braves for the Reds?
— More
Join in on the fun by calling (502) 571-1080 or send a text to the KSR Texting Machine at (772) 774-5254.
| | | | |
| --- | --- | --- | --- |
| MARKET | CALL LETTERS | DIAL | TIME |
| Ashland | WCMI | 93.3 FM T | LIVE |
| Ashland | WCMI | 1340 AM | LIVE |
| Benton | WCBL | 1290 AM | LIVE |
| Bowling Green | WKCT | 930 AM | LIVE |
| Bowling Green | WKCT | 104.1 FM T | LIVE |
| Campbellsville | WTCO | 1450 AM | LIVE |
| Columbia | WAIN | 1270 AM | LIVE |
| Cynthiana | WCYN | 102.3 FM | LIVE |
| Danville | WHIR | 1230 AM | LIVE |
| Elizabethtown | WIEL | 1400 AM | LIVE |
| Elizabethtown | WIEL | 106.1 FM T | LIVE |
| Henderson/Evansville | WREF | 97.7 FM | LIVE |
| Glasgow | WCLU | 1490 AM | LIVE |
| Grayson | WGOH | 1340 AM | LIVE |
| Grayson | WGOH | 100.9 FM T | LIVE |
| Greenup/Ashland | WLGC | 105.7 FM | LIVE |
| Harlan | WTUK | 105.1 FM | LIVE |
| Hopkinsville | WHOP | 1230 AM | LIVE |
| Hopkinsville | WHOP | 95.3 FM T | LIVE |
| Irvine | WIRV | 1550 AM | LIVE |
| Jamestown | WJKY | 1060 AM | LIVE |
| Lancaster | WZXI | 1280 AM | 5-7 PM |
| Lancaster/Stanford | WZXI | 95.5 FM T | 5-7 PM |
| Leitchfield | WMTL | 870 AM | 10A-12N CST |
| Lexington | WLAP | 630 AM | LIVE |
| London | WFTG | 1400 AM | LIVE |
| London | WFTG | 106.9 FM T | LIVE |
| Louisville | WKJK | 1080 AM | LIVE |
| Madisonville | WFMW | 730 AM | LIVE |
| Madisonville | WFMW | 94.9 FM T | LIVE |
| Manchester | WXXL | 1450 AM | LIVE |
| Maysville | WFTM | 1240 AM | LIVE |
| McKee-Booneville | Peoples Rural Telephone  | Cable TV Channel 209 | LIVE |
| Monticello | WKYM | 101.7 FM | LIVE |
| Morganfield | WUCO | 1550 AM | LIVE |
| Morganfield | WUCO | 98.5 FM T | LIVE |
| Murray | WNBS | 1340 AM | LIVE |
| Owensboro | WLME | 102.7 FM | LIVE |
| Paducah | WPAD | 1560 AM | LIVE |
| Paducah | WPAD | 99.5 FM T | LIVE |
| Paintsville | WKYH | 600 AM | LIVE |
| Pikeville | WLSI | 900 AM | LIVE |
| Pikeville | WLSI | 95.9 FM T | LIVE |
| Prestonsburg | WPRT | 960 AM | LIVE |
| Prestonsburg | WPRT | 104.5 FM T | LIVE |
| Somerset | WSFC | 1240 AM | LIVE |
| Whitesburg | WTCW | 920 AM | LIVE |
| Whitesburg | WTCW | 95.1 FM T | LIVE |
| Whitley City | WHAY | 98.3 FM | LIVE |
| Williamson, WV | WBTH | 1400 AM | LIVE |
| Williamson, WV | WBTH | 102.5 FM T | LIVE |
|   |   |   |   |
| 50 Radio Affiliates   37 Markets 1 TV/Cable Affiliate *Affiliates subject to change without notice |   |   |   |