KSR Show Thread, 12/2: Put on your Spongebobs and listen to KSR!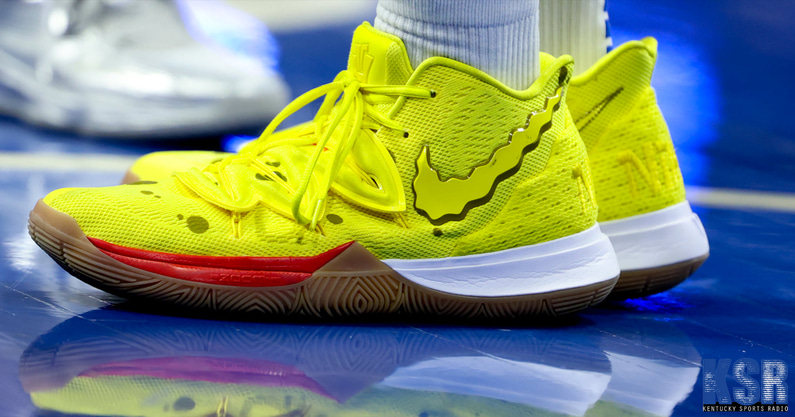 You're looking at Dontaie Allen's Kyrie 5 'Spongebob' shoes he wore in Monday night's win over Central Michigan. Matt Jones is wearing the same shoes, probably, while hosting today's edition of the Kentucky Sports Radio radio show. He and Ryan Lemond are live with Shannon The Dude running the board to talk all things Cats from 10 to noon. We'll likely hear an update on the tree situation in Lexington too. Tune in.
Join in on the fun by calling (502) 571-1080 or send a text to the KSR Texting Machine at (772) 774-5254.
| | | | |
| --- | --- | --- | --- |
| MARKET | CALL LETTERS | DIAL | TIME |
| Ashland | WCMI | 93.3 FM T | LIVE |
| Ashland | WCMI | 1340 AM | LIVE |
| Benton | WCBL | 1290 AM | LIVE |
| Bowling Green | WKCT | 930 AM | LIVE |
| Bowling Green | WKCT | 104.1 FM T | LIVE |
| Campbellsville | WTCO | 1450 AM | LIVE |
| Columbia | WAIN | 1270 AM | LIVE |
| Cynthiana | WCYN | 102.3 FM | LIVE |
| Danville | WHIR | 1230 AM | LIVE |
| Elizabethtown | WIEL | 1400 AM | LIVE |
| Elizabethtown | WIEL | 106.1 FM T | LIVE |
| Henderson/Evansville | WREF | 97.7 FM | LIVE |
| Glasgow | WCLU | 1490 AM | LIVE |
| Grayson | WGOH | 1340 AM | LIVE |
| Grayson | WGOH | 100.9 FM T | LIVE |
| Greenup/Ashland | WLGC | 105.7 FM | LIVE |
| Harlan | WTUK | 105.1 FM | LIVE |
| Hopkinsville | WHOP | 1230 AM | LIVE |
| Hopkinsville | WHOP | 95.3 FM T | LIVE |
| Irvine | WIRV | 1550 AM | LIVE |
| Jamestown | WJKY | 1060 AM | LIVE |
| Lancaster | WZXI | 1280 AM | 5-7 PM |
| Lancaster/Stanford | WZXI | 95.5 FM T | 5-7 PM |
| Leitchfield | WMTL | 870 AM | 10A-12N CST |
| Lexington | WLAP | 630 AM | LIVE |
| London | WFTG | 1400 AM | LIVE |
| London | WFTG | 106.9 FM T | LIVE |
| Louisville | WKJK | 1080 AM | LIVE |
| Madisonville | WFMW | 730 AM | LIVE |
| Madisonville | WFMW | 94.9 FM T | LIVE |
| Manchester | WXXL | 1450 AM | LIVE |
| Maysville | WFTM | 1240 AM | LIVE |
| McKee-Booneville | Peoples Rural Telephone  | Cable TV Channel 209 | LIVE |
| Monticello | WKYM | 101.7 FM | LIVE |
| Morganfield | WUCO | 1550 AM | LIVE |
| Morganfield | WUCO | 98.5 FM T | LIVE |
| Murray | WNBS | 1340 AM | LIVE |
| Owensboro | WLME | 102.7 FM | LIVE |
| Paducah | WPAD | 1560 AM | LIVE |
| Paducah | WPAD | 99.5 FM T | LIVE |
| Paintsville | WKYH | 600 AM | LIVE |
| Pikeville | WLSI | 900 AM | LIVE |
| Pikeville | WLSI | 95.9 FM T | LIVE |
| Prestonsburg | WPRT | 960 AM | LIVE |
| Prestonsburg | WPRT | 104.5 FM T | LIVE |
| Somerset | WSFC | 1240 AM | LIVE |
| Whitesburg | WTCW | 920 AM | LIVE |
| Whitesburg | WTCW | 95.1 FM T | LIVE |
| Whitley City | WHAY | 98.3 FM | LIVE |
| Williamson, WV | WBTH | 1400 AM | LIVE |
| Williamson, WV | WBTH | 102.5 FM T | LIVE |
|   |   |   |   |
| 50 Radio Affiliates   37 Markets 1 TV/Cable Affiliate *Affiliates subject to change without notice |   |   |   |