KSR Show Thread, 9/20: Fans First Fan Fest and Football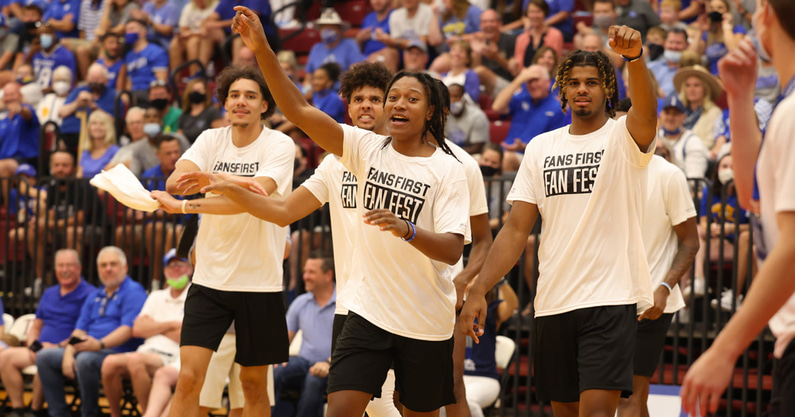 You'll want to turn on your radio like right now if you want to hear about Big Blue Nation's first look at the Kentucky Basketball team at Fans First Fan Fest. There was a Kentucky Football game too, and Matt Jones and Ryan Lemond have a recap of both on today's show.
Join in on the fun by calling (502) 571-1080 or send a text to the KSR Texting Machine at (772) 774-5254.
| | | | |
| --- | --- | --- | --- |
| MARKET | CALL LETTERS | DIAL | TIME |
| Ashland | WCMI | 93.3 FM T | LIVE |
| Ashland | WCMI | 1340 AM | LIVE |
| Benton | WCBL | 1290 AM | LIVE |
| Bowling Green | WKCT | 930 AM | LIVE |
| Bowling Green | WKCT | 104.1 FM T | LIVE |
| Campbellsville | WTCO | 1450 AM | LIVE |
| Columbia | WAIN | 1270 AM | LIVE |
| Cynthiana | WCYN | 102.3 FM | LIVE |
| Danville | WHIR | 1230 AM | LIVE |
| Elizabethtown | WIEL | 1400 AM | LIVE |
| Elizabethtown | WIEL | 106.1 FM T | LIVE |
| Henderson/Evansville | WREF | 97.7 FM | LIVE |
| Glasgow | WCLU | 1490 AM | LIVE |
| Grayson | WGOH | 1340 AM | LIVE |
| Grayson | WGOH | 100.9 FM T | LIVE |
| Greenup/Ashland | WLGC | 105.7 FM | LIVE |
| Harlan | WTUK | 105.1 FM | LIVE |
| Hopkinsville | WHOP | 1230 AM | LIVE |
| Hopkinsville | WHOP | 95.3 FM T | LIVE |
| Irvine | WIRV | 1550 AM | LIVE |
| Jamestown | WJKY | 1060 AM | LIVE |
| Lancaster | WZXI | 1280 AM | 5-7 PM |
| Lancaster/Stanford | WZXI | 95.5 FM T | 5-7 PM |
| Leitchfield | WMTL | 870 AM | 10A-12N CST |
| Lexington | WLAP | 630 AM | LIVE |
| London | WFTG | 1400 AM | LIVE |
| London | WFTG | 106.9 FM T | LIVE |
| Louisville | WKJK | 1080 AM | LIVE |
| Madisonville | WFMW | 730 AM | LIVE |
| Madisonville | WFMW | 94.9 FM T | LIVE |
| Manchester | WXXL | 1450 AM | LIVE |
| Maysville | WFTM | 1240 AM | LIVE |
| McKee-Booneville | Peoples Rural Telephone  | Cable TV Channel 209 | LIVE |
| Monticello | WKYM | 101.7 FM | LIVE |
| Morganfield | WUCO | 1550 AM | LIVE |
| Morganfield | WUCO | 98.5 FM T | LIVE |
| Murray | WNBS | 1340 AM | LIVE |
| Owensboro | WLME | 102.7 FM | LIVE |
| Paducah | WPAD | 1560 AM | LIVE |
| Paducah | WPAD | 99.5 FM T | LIVE |
| Paintsville | WKYH | 600 AM | LIVE |
| Pikeville | WLSI | 900 AM | LIVE |
| Pikeville | WLSI | 95.9 FM T | LIVE |
| Prestonsburg | WPRT | 960 AM | LIVE |
| Prestonsburg | WPRT | 104.5 FM T | LIVE |
| Somerset | WSFC | 1240 AM | LIVE |
| Whitesburg | WTCW | 920 AM | LIVE |
| Whitesburg | WTCW | 95.1 FM T | LIVE |
| Whitley City | WHAY | 98.3 FM | LIVE |
| Williamson, WV | WBTH | 1400 AM | LIVE |
| Williamson, WV | WBTH | 102.5 FM T | LIVE |
|   |   |   |   |
| 50 Radio Affiliates   37 Markets 1 TV/Cable Affiliate *Affiliates subject to change without notice |   |   |   |