KSR Timeline: Benny Snell's Rise to Fame
Three seasons in to his college career, the rest of the nation is finally catching on to what Kentucky fans have known since his first game as a Wildcat: Benny Snell is a star.
Snell's four-touchdown performance vs. Mississippi State announced him on the national stage, prompting Kentucky to launch his Heisman campaign and pundits across the country to finally sit up and take notice. Between his hard-running style, chip on the shoulder, and mega-watt smile, Benny is the perfect face of Kentucky Football's rise, and his story gets even better when you remember how many schools passed on him as a recruit.
In honor of Benny's big week, let's open up the KSR Archives to reflect on his journey.
2015
February 23, 2015: 3-Star RB Benny Snell commits to Kentucky
The three-star prospect from Westerville, Ohio had offers from Kentucky, Boston College, Iowa, Ohio, Cincinnati, Miami (OH), and Toledo and was considered a top 50 running back in the 2016 class. He had some interest from major programs like Ohio State and Michigan State, but nothing substantial.
"His offer sheet may not seem impressive, but if we've learned anything in the past few years, it's to trust Mark Stoops and Vince Marrow with kids from Ohio," I wrote in the post announcing his commitment.
AJ Rose also committed to Kentucky that day, setting up the backfield of the future. At the time, it seemed like a consolation prize for missing out on Damien Harris, who committed to Alabama a month prior.
July 17, 2015: Friday Night Blue Lights Camp
That summer, Benny and fellow 2016 commits Dakota Holtzclaw, Kash Daniel, Landon Young and Gunnar Hoak all attended Kentucky's Friday Night Blue Lights camp at Commonwealth Stadium: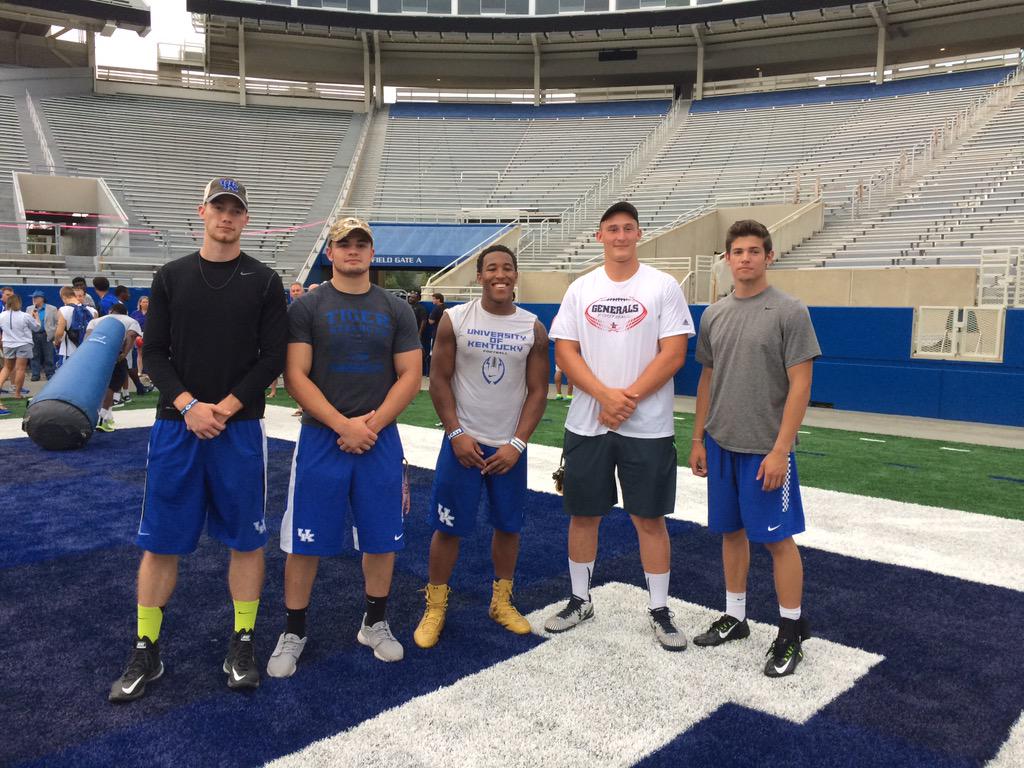 Man, remember Dakota Holtzclaw?
August 28, 2015: Benny and Gunnar make the front page of "The Columbus Dispatch"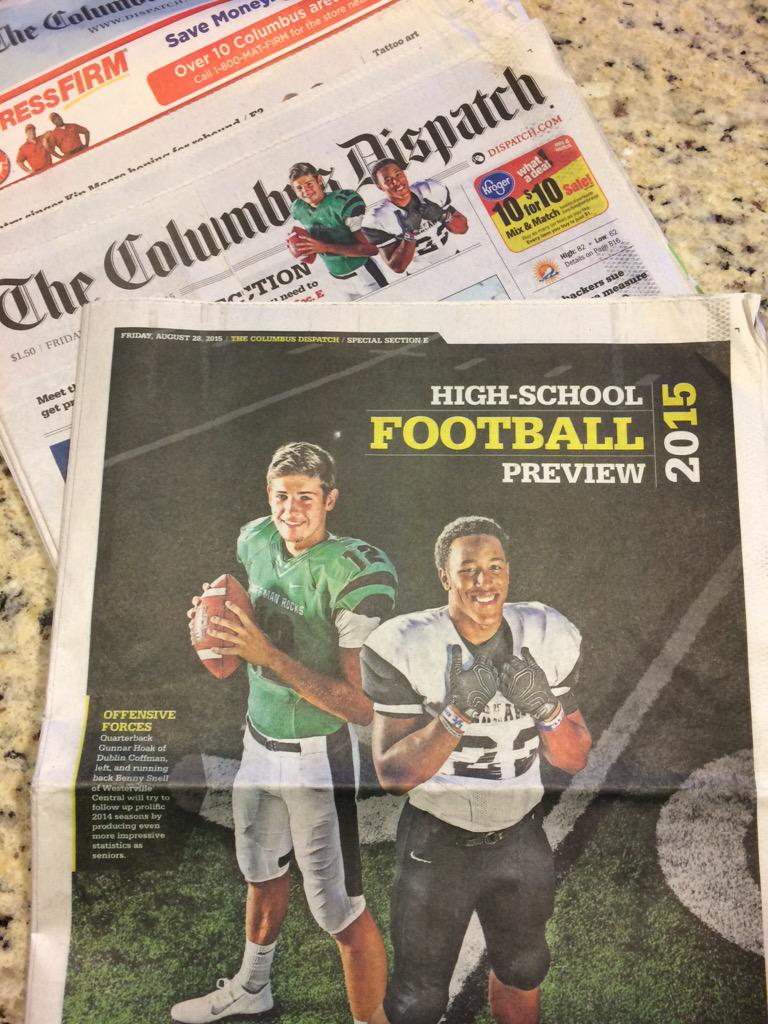 The paper did a feature on Snell, Hoak, Holtzclaw, and Jaylin Bannerman, all Ohio natives who committed to Kentucky.
"All of my favorite running backs I watch on TV seem to come from the SEC," Snell told the Dispatch. "To play in that league against those teams is really appealing. And the thing is, Kentucky is just down the road from home."
As you might expect, Benny had plenty of highlights his senior year:
He was named 1st Team All-Ohio in Division I (equivalent to 6A in Kentucky) after finishing with 1,826 rushing yards, 264 yards receiving and 29 touchdowns that season.
---
2016
January 1, 2016: Benny starts the year with a prophetic tweet
It's a new year #BBN MY TIME IS COMING VERY SOON pic.twitter.com/HH2v5trEaw

— Mr SNELL YA LATER👋🏾 (@benny_snell) January 1, 2016
February 3, 2016: Benny signs with Kentucky
"Benny is hard-nosed downhill runner," Stoops said on National Signing Day. "Being the Ohio Division I Player of the Year says a lot about his abilities. He can get the tough yards when we need them and he will compete for playing time as well."
May 2, 2016: Snell and AJ Rose combine for five touchdowns in the Ohio North-South game
"He's a good runner, and I'm glad to have him as a teammate because we're going to have a lot of fun in Lexington," Snell said of Rose to Matt Goul of Cleveland.com. "You know, we're weapons all around, so you can use us however you want to."
August 2016: Benny turns heads in camp
Benny made it clear during fall camp that Kentucky could not afford to redshirt him. He quickly moved up the rotation and was one of a handful of true freshman Stoops was confident would get playing time that year.
September 17, 2016: Benny has a monster debut
…That being said, we had to wait until game three vs. New Mexico State to see Benny, and what a debut. Benny had four touchdowns and 136 yards in his first game as a Wildcat, tying the UK record for the most rushing touchdowns in a single game.
"I was finally glad I got my opportunity, so I just made the most of it. It was amazing. Amazing," Snell said. "As soon as I got my chance, you know I just tried to go as hard as I could."
"I don't think I could love a player more than I love Benny Snell," Freddie Maggard said on the UK broadcast, adding later in his website recap, "Tough, determined, physical, and intense are appropriate descriptions for the rookie that resembled a Jerry Claiborne era running back. For the younger crowd, that's the highest possible compliment that I can bestow upon a UK RB."
September 25, 2016: Benny takes over vs. South Carolina
With the game tied in the fourth quarter, Benny did what Benny does: he took over. He literally carried the Cats to the win, running the ball on nine of the eleven plays that drive and chewing up over ten minutes of clock. He walked the ball in from the Wildcat to score the game-winning touchdown:
"I wanted them to keep feeding me," Benny said. "There's no doubt at all. Every time I look for the signal, I want them to give me the ball. It don't matter if we run it five times straight and the defense knows we're running the ball, I'm going to get every yard I can regardless."
November 6, 2016: Benny breaks Randall Cobb's record for most touchdowns by a freshman
Even early on, it was clear Benny was going to rewrite Kentucky Football's record book. His tenth touchdown of the season came vs. Georgia and broke Randall Cobb's record for the most touchdowns scored by a freshman (he would finish the season with 13).
https://youtu.be/ue_sNOeaXK4
Not surprisingly, Benny's rise led to the classic 2016 anthem "Benny and Badet":
https://youtu.be/3TGlnKJCBww
Still waiting on the remake, aspiring musicians.
November 19, 2016: Benny crosses the 1,000-yard mark; breaks another record
Snell had 152 yards vs. Austin Peay, moving him to 1,006 on the season and giving Kentucky a pair of 1,000-yard rushers for the first time ever. Snell also passed Moe Williams for the most rushing yards by a freshman in school history that game. He finished the season with 1,091.
December 2016: Postseason accolades roll in
After the regular season was over, the honors started rolling in for Benny:
Football Writers Association of America (FWAA) Freshman All-American
True Freshman All-American by ESPN and 247Sports
Freshman All-SEC by the league coaches and Athlon Sports
Second-team All-SEC pick by ProFootballFocus.com
But he was just getting started.
---
2017
March 2017: Benny's rap career begins
Remember Benny Tha Bandit? Benny's rap career was the story of the 2017 offseason, with hits like "Like I Do" and "Kick It Like FIFA" taking over SoundCloud:
In June 2017, he released a video for his song "D to The A." The video was only up a few hours before UK made him take it down, but it included plenty of shots of Benny's new "Snell Yeah" stomach tattoo:
Live and die bout it💉 #snellyeah pic.twitter.com/WXQgOGsaTD

— Mr SNELL YA LATER👋🏾 (@benny_snell) May 21, 2017
July 2017: Benny lights USA Today's preseason rankings on fire
Benny didn't take too kindly to USA Today ranking Kentucky 71st in the country last season, lighting the paper on fire on SnapChat, which a fan reposted on Instagram:
https://www.instagram.com/p/BW_UCNUj9qp/?utm_source=ig_embed
The first of many times Benny would be fueled by disrespect.
September 18, 2017: Benny's SkyCam stare down goes viral
While waiting for one of his two touchdowns vs. South Carolina to be confirmed, Benny stared down the ESPN SkyCam in a clip that went viral a few days later:
Watching the SkyCam replay of the game. Guess who found the camera after his first half TD review? @benny_snell #BBN pic.twitter.com/V9iJlhucLF

— Josh Edwards (@EdwardsCBS) September 18, 2017
What would we have done if Josh Edwards hadn't found that clip? It's gold, Jerry. Gold.
October 28, 2017: Benny breaks out of his slump vs. Tennessee
Benny had a bit of a sophomore slump to start the 2017 season, eclipsing the 100-yard mark in only three of the first seven games, but broke out in a big way vs. Tennessee, rushing for 180 yards and three touchdowns on 27 carries.
He earned SEC Co-Offensive Player of the Week honors for that performance.
November 5, 2017: Benny doesn't give up in loss to Ole Miss
The Cats came up short, but Benny did everything he could to drag them to a win over Ole Miss, rushing for 176 yards and three touchdowns on 28 attempts. That's a crazy number of carries, but as he's shown time and time again, Benny is special, something Stoops and the staff learned while tracking his distance, speed, and heart rate during practice.
"He has an ability to recover very quickly with his heart rate," Stoops said. "He's a strong guy. It takes an awful lot for him to get wore down."
"I feel like I'm a superhero or something like that," Snell told reporters with a smile. "I try to control my breathing, but no matter what, no matter if I'm dog-tired or got just a little bit of energy, I don't want to get out of the game. I feel like I'm able to make those plays no matter what circumstance my body is in."
November 11, 2017: Record-setting win vs. Vanderbilt
Against Vandy the next Saturday, Benny went back to work, turning in his third consecutive 100+ rushing yard game and becoming the first Kentucky running back to ever rush for more than 1,000 yards in back-to-back seasons. He scored three rushing touchdowns vs. the 'Dores, taking his career total to 27, breaking Sonny Collins and Moe Williams' record of 26.
With that performance, he also became only the third player in SEC history to have at least 2,424 yards and at least 31 career rushing touchdowns before his junior season, joining Georgia's Herschel Walker and LSU's Leonard Fournette.
November 25, 2017: The only good thing vs. Louisville
Benny was the lone bright spot of Kentucky's ugly loss to Louisville last year. He finished with a career-high 211 yards on 29 attempts and scored two touchdowns to take his season total to 18, breaking Moe Williams' single-season record.
December 2017: More awards
During the regular season, Benny led the SEC in rushing yards (1,318) on a league-high 256 carries with an SEC-high 18 touchdowns. As a result, he got plenty of accolades:
Associated Press All-SEC First Team
Coaches' All-SEC Second Team
Phil Steele All-SEC Second Team
December 29, 2017: Ejected from the Music City Bowl
In one of the worst calls in the history of football, Benny Snell was thrown out of the Music City Bowl for refusing a referee's help to get up in the second quarter:
I still get angry watching it, but Benny's unfair ejection made national headlines, setting him up for a monster junior season.
---
2018
July 16, 2018: Benny declares himself the best running back in the SEC
Benny seized the spotlight at SEC Media Days, using his screen time to declare himself the best running back in the league:
Benny Snell's confidence is so high he's talking in third person. @benny_snell pic.twitter.com/fZc4HlwRbY

— Tyler Thompson (@MrsTylerKSR) July 16, 2018
People may have rolled their eyes then, but they're not rolling them now.
August 2, 2018: Benny and the flaming sledgehammer
If his quotes from SEC Media Days weren't indication enough, Benny wielding a flaming sledgehammer for KyWildcatsTV showed he was coming into the season on a mission:
You get the point. 🦅 @UKFootball #snellyeah pic.twitter.com/dx3KtTTvhv

— Mr SNELL YA LATER👋🏾 (@benny_snell) August 2, 2018
August 21, 2018: "Rumble, young man, rumble"
In an appearance on KSR, Benny channeled Muhammad Ali when he vowed to lead Kentucky to victory.
"You're going see him run," Benny said of himself. "You're going to see him get his heart out and I'm going to lead this offense to victories. Rumble young man, rumble."
August 28 – September 17, 2018: Making the trash talkers pay
Central Michigan's Jonathan Ward started a trend by telling reporters he didn't think Benny was anything special, a mistake also made by Florida's Vosean Joseph and Mississippi State's Kylin Hill. Benny used their words as fuel, racking up 540 yards and 7 touchdowns in his first four games this season.
September 22, 2018: Benny breaks Randall Cobb's career touchdowns record
Benny scored four touchdowns vs. Mississippi State, which took his career total to 39, breaking Randall Cobb's previous mark of 37.
"It was a long time coming. I'm very blessed. I want to just give a side note with that; my O-line, my tight ends, I'm nothing without them. Especially with the receivers blocking on the outside, they do such a great job getting movement, getting me to the end zone. Without them, I'm nothing. But, I'm very happy. I'm very happy I got the record. That's just one down, we've got more to go."
That's a very humble comment, but Benny was a little more direct while addressing his doubters on ESPN:
September 24, 2018: A Heisman campaign is born
"I don't play for recognition. I don't play for awards. I play for Kentucky."
Thank God for that.
[mobile_ad]