KSR Today: Arkansas Second Half Blitz Stuns Kentucky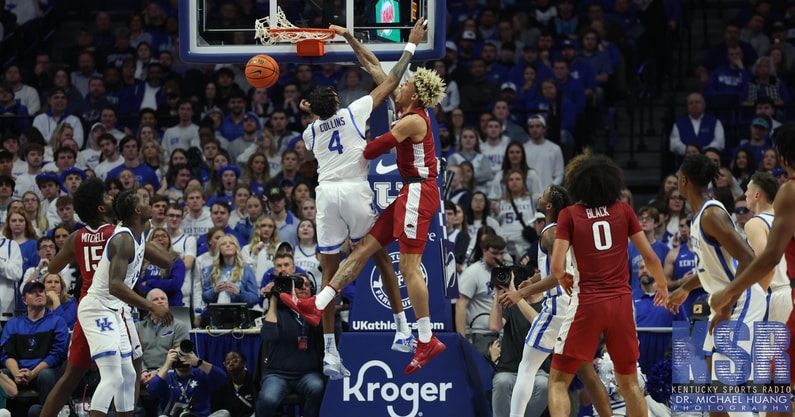 It was a tale of two halves at Rupp Arena. The first was an enjoyable, back-and-forth affair with each team shooting better than 53% from the floor in a one-point game. Arkansas opened the second half by putting its foot on the accelerator and never relenting, overwhelming Kentucky en route to a 88-73 final score. It was the second-worst home loss of the Calipari era.
The Razorbacks took it to Kentucky all night long. They got to the rim and converted high-percentage shots. Arkansas shot 62.7% from the field and outscored Kentucky 46-28 in the paint.
The first three Kentucky possessions of the second half resulted in Arkansas steals and runaway layups. It sucked the intense energy out of Rupp Arena. The once raucous crowd was mostly empty before the final TV timeout. Eric Musselman earned career victory No. 200 after his team only missed seven second half shots (72% FG).
The Cats got punked in the second half. They were thoroughly dominated. Before trying to figure out what's next as this team fights for its NCAA Tournament lives, let's touch on a few important aspects of last night's loss.
Return of the Cal Zone
Facing a team that attempts the fewest three-pointers in the SEC, John Calipari tried to force them to shoot from outside by starting the game in a 2-3 zone. Arkansas was not ready for it, perplexed for a few possessions. It took them two minutes to score, a made three-pointer off an offensive rebound. Kentucky tried zone for one more possession, then abandoned it until late in the second half. It immediately produced a turnover, but not a big enough spark for the Cats to mount a comeback.
Calipari Teed Up
The game did not completely tilt with one technical foul, but things certainly changed when Kentucky's head coach was charged with a technical foul with 33 seconds left in the first half. John Calipari, and the Rupp Arena crowd, wanted a travel called on Makhel Mitchell before he made a layup that let the Razorbacks retake the lead. Following the tech Arkansas went on a 13-5 run to build up a 9-point lead that Kentucky never could overcome.
What Happened to Daimion Collins?
One of the buckets made during that run came from Daimion Collins. The reserve center was one of the few bright spots on the night for the Wildcats. John Calipari said after Tuesday night's performance that he earned more minutes from Oscar Tshiebwe. When he got them in the first half, they were electric.
Collins started off by knocking down a 15-foot jump shot. A few possessions later he got put on a poster, but was undeterred, throwing down a dunk the next time down the floor. He capped it off with a jumper at the buzzer to give Collins a season-high 7 points in just 6 minutes of action. Then he only played two minutes in the second half while Oscar continued to struggle.
Calipari explained his rationale for keeping Tshiebwe in the game in the second half. "You know, as a coach, you go with what got you there and I wanted to — it was a bigger picture for Oscar than just this game. It was like, let's get him going just to get him right."
Three No-Shows for Kentucky
Something is wrong with Oscar Tshiebwe. It's difficult to describe his descent, but 7 points and 7 rebounds doesn't adequately describe it. He looked more like a liability than an asset for most of the night.
After CJ Fredrick appeared to shake off the rust from his finger injury by knocking down three three-pointers against Florida, he was 0-4 Tuesday night. It's the second time in three games he's failed to make a bucket.
Kentucky played the entire game with a 7-man rotation because Sahvir Wheeler was sidelined by an ankle injury. Cason Wallace had 24 points and 5 assists playing almost all of UK's point guard minutes, but also had 5 turnovers.
What John Calipari Said After The Game
Not much. When Kentucky loses, he gets out of there in a hurry. If you'd prefer, three players discussed the game and the KSR crew broke down everything that went wrong in the loss to Arkansas.
What's Next for Kentucky?
The Wildcats are firmly on the Bubble. Playing good teams at home should help this team improve its resume enough to ensure we are not still discussing the Bubble entering the SEC Tournament. The two best teams UK has played at home, Kansas and Arkansas, handedly won both games. Of the seven regular season games remaining, UK will be the favorite in only three. If Kentucky can't hold serve at home, they need to pull off a few upsets on the road or the BBN will be more than upset on Selection Sunday.
King James is the New NBA Scoring King
While most of you probably turned off basketball for the night following the Kentucky loss, LeBron James was making history. Thomas Bryant could not post up hard enough to get the ball out of LBJ's hands for the go-ahead bucket.
The game was stopped following the shot with 10.9 seconds left in the third quarter for a ceremony where Kareem Abdul-Jabbar handed LeBron a game ball, symbolically passing the torch. It was a little awkward. It got even more awkward when the limping Lakers lost to the Thunder. Nevertheless, it was a memorable moment, particularly for those who still remember watching him on ESPN as a high schooler. Now the kid from St. Vincent-St. Mary's is the greatest scorer in NBA history.