KSR Today: Back home for Week 6 and South Carolina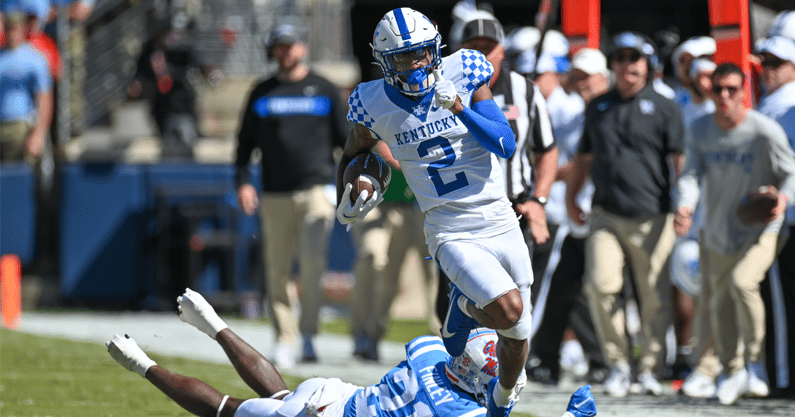 The first weekend of October flew by with a Big Blue Madness campout in Lexington (tickets are sold out, sorry) and Kentucky Football fumbling away an undefeated record with a heartbreaking loss to Ole Miss on Saturday. Today, we turn our focus from the self-inflicted wounds in Oxford to the new challenge ahead in the South Carolina Gamecocks with a football-packed Monday of news ahead in Lexington.
Mondays with Mark Stoops march on
Coming up at noon, Mark Stoops will have his first Monday press conference of the season after a loss. Stoops is expected in his usual spot in front of the Kroger Field media room microphone to look back on what happened in Oxford and what Kentucky is doing to bounce back this coming Saturday in the return home to host the Gamecocks. You can follow all of his Monday comments here on Kentucky Sports Radio via our fancy new live stream capabilities.
Then later tonight, Stoops will take calls from the fans on his Monday evening call-in show at 6 PM on the UK Sports Radio Network.
Looking for JJ Weaver on the new depth chart
Moments before Mark Stoops begins his Monday press conference, the team will release its new Week 6 depth chart to the public. When it comes out, the hope is the Jack linebacker spot will include JJ Weaver back in the lineup for the week ahead.
Last week, Weaver said he expects to be back from his Week 4 elbow injury to play the Gamecocks. The new depth chart and the conversation with Stoops should reveal how close Weaver is to getting back on the field.
Kentucky-South Carolina point spread is dropping
According to VegasInsider.com, Kentucky is currently laying 10.5 points to South Carolina with a total of 48.5 points on the game. However, the line opened at 12.5 points at some books on Sunday, meaning the early money is on the Gamecocks to keep it close in Lexington.
Kentucky is 4-1 against the spread this season. So is the under in those games.
Kentucky fell outside the Top 10
Being a top-10 team was fun while it lasted, but Saturday's loss in Oxford bumped the Wildcats back six spots in the updated AP poll. Kentucky is now the 13th-ranked team in America in the eyes of the Associated Press while Ole Miss moved up to ninth.
Alabama (+1)
Georgia (-1)
Ohio State
Michigan
Clemson
Southern California
Oklahoma State (+2)
Tennessee
Ole Miss (+5)
Penn State (+1)
Utah (+1)
Oregon (+1)
Kentucky (-6)
Kentucky is also 13th in the Week 6 AFCA Coaches Poll.
Kickoff time for the Mississippi State game to be announced today
Around the time Mark Stoops is wrapping up his Monday comments, the Southeastern Conference will release its schedule for the October 15 slate of football games. For Kentucky, that's a home weekend versus Mississippi State, hopefully with a 6-1 record in reach, and hopefully at night so Kroger Field is rocking.
We'll let you know when we know so you can plan accordingly.
Barion Brown in the mix for another SEC Freshman of the Week award
I didn't follow any of the other college football games on Saturday because, you know, the Grove. But I assume Barion Brown was again one of the best freshmen in the SEC on Saturday as he set a new school-high for most kickoff return yards (164) and most all-purpose yards (245) by a freshman, plus his 81 receiving yards and a couple of near-touchdowns that would've altered the game's outcome.
With those numbers, Brown should be in the conversation for his second straight SEC Freshman of the Week award, although Ole Miss running back Quinshon Judkins running for 100 yards and a touchdown in the win is tough competition.
Kroger KSR Game of the Week
Also on today's long list of announcements, KSR will introduce the next location for the Kroger KSR Game of the Week for this coming Friday night around high school football. Last Friday, KSR went to North Laurel to cover Southwestern stealing one on the road to remain undefeated.
KSR Football Podcast goes live at 7 PM
The moment Mark Stoops wraps up his Monday evening call-in show, get over to KSR's YouTube channel for a live broadcast of this week's KSR Football Podcast. We'll go live at 7 PM with reactions to the game and a weekend at Ole Miss, and we'd love to have you watch and participate in the live chat as Nick Roush, Freddie Maggard, Adam Luckett, and I record a new episode.
Lots more to come too
Coming up next this morning: Adam Luckett's new "Monday Huddle" here on KentuckySportsRadio.com and Matt Jones' reactions to Ole Miss on KSR's morning radio program.
I'm starting my rewatch of the game while icing down these old bones from a 72-hour marathon in Oxford.
Go Cats.