KSR Today: Baseball, NBA Playoffs, Javon Baker and Pool Parties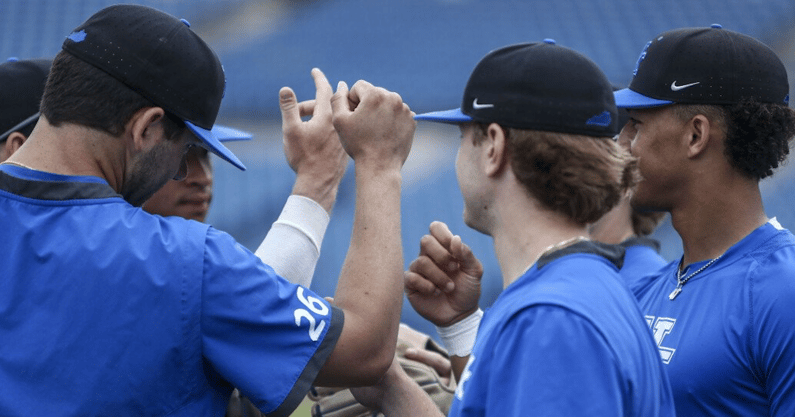 Were you up to see Kentucky baseball's matchup against LSU in the SEC Tournament late Thursday — or early Friday, rather? If so, you're a trooper for getting your day started this early going into Memorial Day weekend.
The Bat Cats were stuck with the late — really, really late — game on Thursday, with the first pitch against the Tigers not thrown until 10:40 p.m. ET. The matchup didn't end until 2:30 a.m. ET on Friday, a 11-6 victory in favor of LSU, one that leaves Kentucky facing elimination later today.
UK took an early 2-0 lead over the No. 4 seed Tigers, but was met with a nine-run response that left the Wildcats fighting from behind the rest of the way. A three-run shot later cut LSU's lead to five runs in the eighth inning, and Nick Mingione also got things heated up with an ejection on a controversial call at the plate, but it wasn't enough to complete the comeback.
Now, the Wildcats must fight with their backs against the wall on a 12-hour turnaround, taking on Vanderbilt at approximately 2 p.m. ET in the double-elimination tournament. Win, and the team's NCAA Tournament hopes remain very much alive. The game will be broadcast live on SEC Network.
Bam Adebayo, Tyler Herro hope to avoid elimination
The Dallas Mavericks were sent home in the NBA Playoffs on Thursday, falling to the Golden State Warriors in Game 5 of the Western Conference Finals to lose the series 4-1. Bam Adebayo, Tyler Herro and the Miami Heat are hoping to avoid a similar fate on Friday.
Down 3-2 to the Boston Celtics, the Heat must win on the road on Friday to stay alive, and then again at home on Sunday to advance to the NBA Finals. And they'll have to do so with Herro's status very much in question, with the Heat guard missing the team's last two games with a strained left groin.
With the former Wildcat out, Miami shot just 7-45 from 3-point range in Game 5, with Max Strus and Duncan Robinson coming up short in his place. Named the Kia NBA Sixth Man of the Year, Herro averaged 20.7 points, five rebounds and four assists on 39.9% shooting from three during the regular season.
As for Adebayo, he's had an up-and-down series, as well, averaging 14.8 points per game, but failing to surpass the double-digit scoring mark twice.
Golden State forward Draymond Green doesn't seem to have much faith in Miami's ability to mount the comeback.
Game 6 will tip off at 8:30 p.m. ET on ESPN, a win-or-go-home matchup for the former Wildcat duo.
Alabama receiver transfer Javon Baker will not be at Kentucky
Kentucky pledge Javon Baker is a Kentucky pledge no longer — and it doesn't appear to be the Alabama transfer's decision.
A source told KSR Thursday afternoon that Baker would not play for the Wildcats this fall, with a compliance issue being the key hang-up. That news — also reported by other outlets and confirmed by the school — was apparently news to Baker at the time, waking up to find out that decision was made for him.
Baker later posted on his Instagram story that despite wanting to play for the Wildcats, the school decided to part ways with him.
"O well [never mind] guess," he said. "They did decommit me there self [sic] damn I wanted to play for Kentucky. Bigger and better plans the most high got me."
A former top 200 recruit in the class of 2020, Baker caught seven passes for 101 yards and a touchdown in two seasons for the Crimson Tide. He was expected to come in and start for the Wildcats alongside Virginia Tech transfer Tayvion Robinson, among other pass-catchers. Now, UK will be leaning on freshman Dane Key to emerge as a day-one impact player.
KSR Pool Party this morning at Griffin Gate
What better way to get your Memorial Day weekend started than a pool party with the KSR crew? That's taking place this morning — right now, actually — at the Lexington Marriott Griffin Gate Golf Resort & Spa.
Pool gates opened at 8 a.m., with the party running through 2 p.m., with KSR broadcast live from the pool deck from 10-12. The event is free and you do not have to be a guest at the resort to come. Entry will be admitted on a first-come-first-served basis.
Food specials from the Griffin's Kitchen Food Truck and specialty cocktails inspired by KSR hosts will be available. The first 200 guests will also receive a free KSR x Lexington Marriott Griffin Gate Golf Resort and Spa koozie. On top of that, the resort will offer several giveaways throughout the party, including a Griffin Gate Getaway Staycation.
Who's ready?