KSR Today: Basketball Uniform Reveal, Men's Soccer vs. UofL, Football News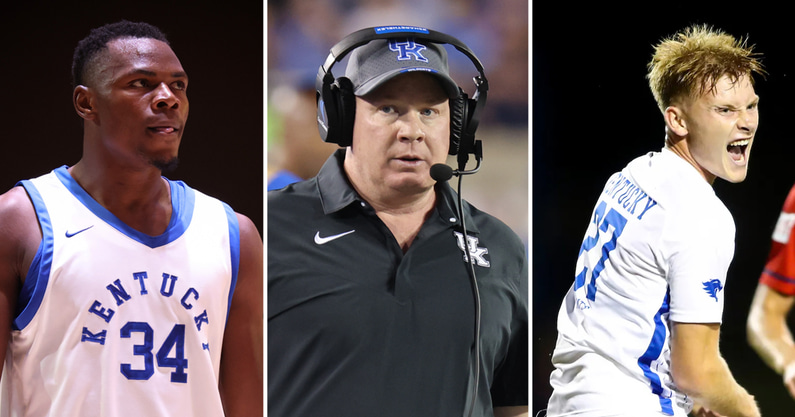 Good morning, friends. By now, you may not have seen the sad news that former Kentucky head coach Guy Morriss passed away after a long battle with Alzheimer's. Pivoting from that to our normal daily rundown isn't the smoothest of transitions, but Morriss would want us to get on and talk football, so let's do it.
The Labor Day holiday was a busy one here at KSR as we turned the page from Kentucky's season-opening win over Miami (OH) to Saturday's showdown with Florida in the Swamp. Hopefully, you were too busy enjoying the day to be in front of your computer or phone. If so, let's catch you up.
No update on Rodriguez, Wright; Injuries to Jefferson, McClain
Last week, Mark Stoops said he would provide an update on the availability of Chris Rodriguez and Jordan Wright during his Labor Day press conference. Unfortunately, that was not the case. The two were not on the new depth chart and Stoops said that because it was a holiday, he had nothing new to report. Maybe that means that the powers that be weren't in the office to make the call on when the two will play? Do they need to be reminded it's football season? TELL 'EM, NICK ROUSH.
Rodriguez's absence stings even more given the injuries in the backfield. Stoops said Ramon Jefferson will be out for "several weeks" and JuTahn McClain is "week-to-week." That leaves Kavosiey Smoke and La'Vell Wright on the depth chart. As Nick Roush pointed out a few weeks back, a strong rushing attack is paramount to success in the Swamp. Kentucky had 303 rushing yards (7+ yards per carry) in the 2018 win in Gainesville. No. 7 Utah rushed for 230 yards in its 29-26 loss at Florida on Saturday. Being down two, possibly three running backs with a green offensive line is, as they say, not great, Bob.
Stoops talked about other stuff, too. Here's a rundown of our coverage and the press conference replay (by the way, we're now streaming those live on our YouTube Channel):
After leaving the media room, Drew Franklin and Adam Luckett shared their takes on Stoops' press conference live from Kroger Field:
A few hours later, the KSR Football Podcast convened in their new weekly timeslot (Monday, 7 PM ET, YouTube) to discuss the first game. If you missed it live, check out the replay on YouTube or wherever you get your podcasts.
A busy day didn't stop there. Will Levis made an appearance on "Thinking Out Loud" on the SEC Network last night. After talking about how buff Tim Couch is, QB1 said Kentucky is finally at the point where it commands respect on the national level heading into the Florida game.
"We're no longer that Kentucky team from 10 years ago. We know we deserve to be on this stage."
Preach! Now, onto today's rundown…
No. 6 Men's Soccer hosts Louisville
Every day is a good day to beat Louisville, today especially. The No. 6 men's soccer team hosts the Cards tonight at 7:30 p.m. at The Bell. It's the 28th head-to-head meeting between the programs, with Kentucky holding a 14-8-5 edge. Last year, the Cats won 3-0 to make it two in a row. Kentucky is 3-0-0 this season, all three wins being shutouts.
Admission is free and rally towels will be distributed to fans upon arrival. Parking is first-come, first-served. Get on in there, BBN. You can also stream it on ESPN+.
NEW BASKETBALL UNIFORMS REVEALED
Last night, John Calipari gave the BBN yet another thing to look forward to when he teased the reveal of Kentucky's new home uniforms.
I think we would like that very much, Cal. Former KSR editor turned UK staffer TJ Beisner had a little fun at the BBN's expense, mentioning the "Ch" word.
Rest assured, sources tell KSR the new unis do not include checkerboard, but we'll find out for sure soon enough.
New AP/Coaches Polls
With No. 4 Clemson's rout of Georgia Tech in the books, all Week 1 games are now complete. In turn, we'll get new AP and Coaches Polls around lunchtime. Kentucky is currently No. 20 in the AP Poll, No. 21 in the Coaches Poll. I doubt that changes much based on the Miami (OH) win but Florida may jump into the Top 25. The Gators only received votes in the pregame rankings.
Scangarello, offense talk after practice
Kentucky's running back room and offensive line are major areas of concern right now. Offensive coordinator Rich Scangarello and members of the offense will talk to reporters after practice this evening to discuss how they're applying the lessons learned vs. Miami (OH) to their preparations for Florida. Check the site this evening for updates.
Sources Say Live on YouTube
Jack Pilgrim and Shawn Smith will go live on YouTube tonight at 8 p.m. ET to discuss the latest basketball news, including the new unis. Our new YouTube format is awesome for interaction, so subscribe to the channel and sign up for notifications so you can get your question in.
KSR is back!
The radio show took Monday off, so tune in at 10 a.m. to hear their thoughts on Kentucky's win over Miami (OH) and what lies ahead at Florida. Or, tune in right now to hear Billy Rutledge on the KSR PreShow.