KSR Today: Braves win, UK Football talk, Halloween party, and more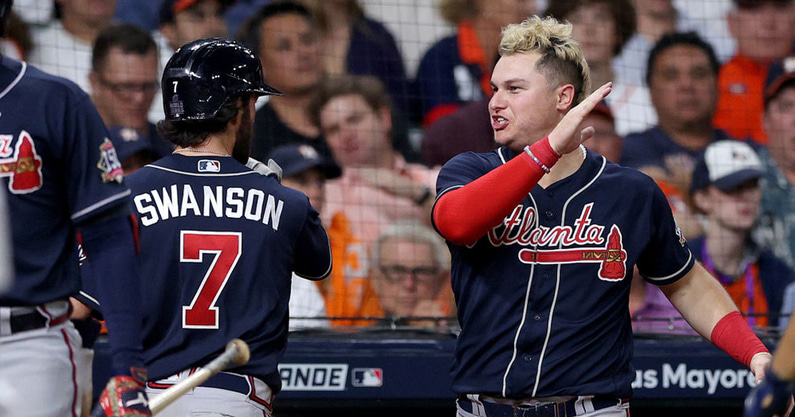 For the first time in 25 years, the sun rose to begin a new day, the Atlanta Braves up 1-0 in the World Series. No coffee or alarm clock for me this morning, only the feeling of victory and 90s nostalgia after Atlanta stole Game 1 in Houston, 6-2, in the Braves' first World Series appearance since 1999.
The best decade's best baseball team is three games away from baseball's grand prize.
Game 2 is tonight, again from Houston, the home of cheaters.
Go Braves.
Now for Kentucky things…
Liam Coen spoke after Tuesday's practice
Kentucky's offensive coordinator stood in front of the Coke can for the first time since the Georgia game as his offense gets ready for a trip to Cowbell, U.S.A. Coen spoke of Will Levis' progress at quarterback, getting the run game going, "itching to get back," and more.
Have a listen to his comments.
Josh Ali is practicing again
Great news for Coen's offense: veteran wide receiver Josh Ali is back on the practice field. Will Levis shared the news after Tuesday's practice, a day after Mark Stoops kept Ali's status quiet.
"Josh coming back this week is big. I'm excited to get him back out there. I think he's going to continue to make big plays for us and we're going to make sure to get him the ball," Levis said. "He's good, he looks healthy, he looks fast and he's got sure hands. It's good to have him out there as a leader too."
Vote for Will Levis
Yesterday Will Levis was named one of 16 quarterbacks in the Davey O'Brien QB Class of 2021, the official list of candidates for the Davey O'Brien Award. An honor given to the top QB each season, this year the committee is adding a social aspect to the voting. To help Levis, you can click 'like' on the Davey O'Brien Award's new Instagram post for Levis, its Twitter post for Levis, or its Facebook post for Levis.
The top three vote-getters on social media will receive additional points on their final tally, so that's cool.
We'll hear from Mark Stoops at lunch.
We're not actually having lunch with Mark Stoops today, rather tuning in to the SEC teleconference where all 14 SEC coaches will talk ball with reporters listening on the other end of the line. I can't give you the phone number or I'll get in trouble, but you can check back here on Kentucky-Sports-Radio-dot-com to learn Stoops' mid-week comments.
From the NBA, let's watch Quickley drop Maxey again
With apologies to Tyrese Maxey, who we love and hope has a speedy recovery, let's watch Immanuel Quickley fold him like a lawn chair again.
Cat-on-Cat crime among former Kentucky teammates.
New Free Money Podcast tonight
A new episode of the Free Money Podcast will appear on your podcast feed (if you're subscribed, and you should be) later tonight once Matt Jones and I get together with Jay in Lyndon for another run. We're aiming for a 6 p.m. release, so be on the lookout for that if you like football picks and Louisville restaurants and stories we can't tell on KSR.
Announcement coming
In one hour, we will tell you the next big event in KSR's partnership with Kroger for statewide high school football coverage. We're turning up the Game of the Week fun.
KSBar's Halloween Party is tonight.
Want to celebrate Halloween but you'll be in Kentucky Football mode during all of the Saturday night parties? Same. We got you. Tonight at KSBar and Grille, the Wednesday night trivia will be Halloween-themed and prizes will be awarded for the best costumes.
The fun begins at 7 p.m. but the 70-cent boneless wing and Halloween drink specials last all day. Get in there.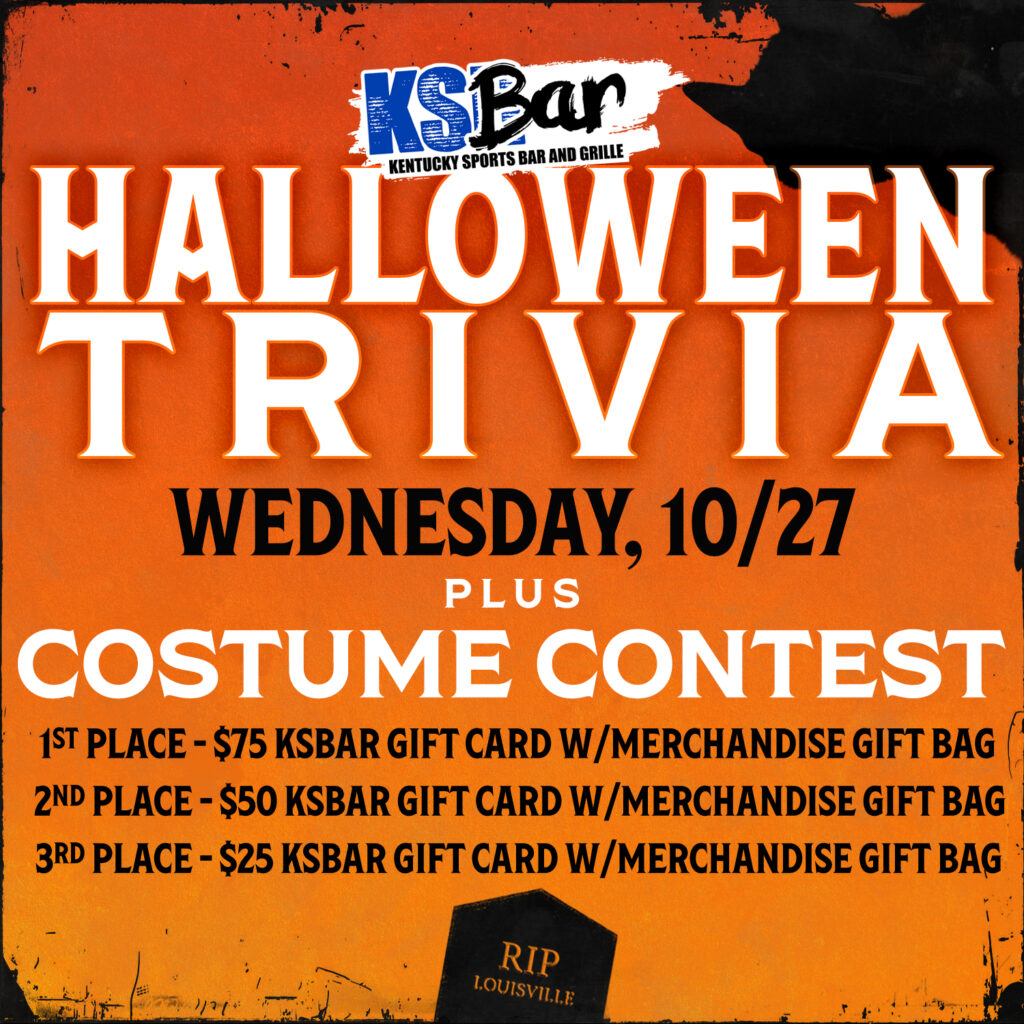 Matt Jones is back from vacation.
Tune in to KSR the radio show as Matt Jones returns from a brief vacation. Here on KSR the website, you're stuck with more of me as Tyler Thompson enjoys another day of her vacation.
Let's all have a great day.