KSR Today: Breaking a college record, making the Elite 8, and more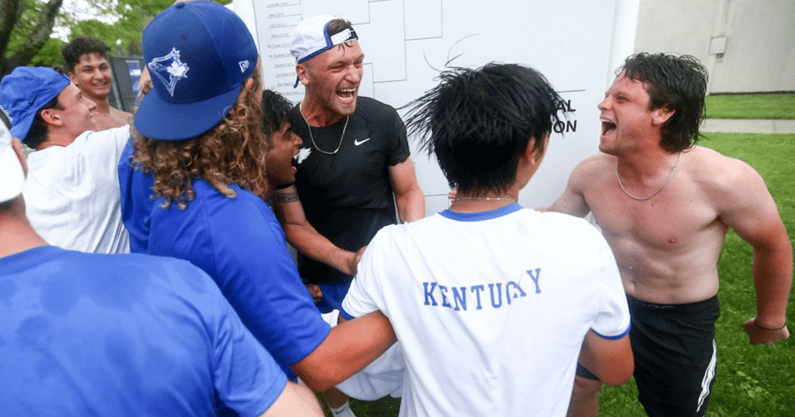 Good morning, folks! Men's Basketball content has all but dried up at this point, but there is plenty else going on in the world of UK Athletics. Today we're talking about track and field breaking a college record, tennis advancing to its first Elite Eight in over a decade, a surprise football commit, and much, much more.
Let's dive right in.
Men's Tennis advances to Elite 8
For the first time since 2011, Kentucky Men's Tennis is on to the NCAA Quarterfinals.
The #8 seeded Kentucky Wildcats (24-7) defeated #9 Wake Forest (33-7) on Saturday at the Hillary J. Boone Tennis Center, 4-2, to advance to the NCAA Men's Tennis Quarterfinals. Captain Millen Hurrion, a 5th-year senior from England, won the clinching match for the 'Cats.
Playing in front of a large home crowd, the 'Cats dropped the doubles point but captured five of the six first sets in singles and never looked back. Wake Forest, a traditional power that has made two of the last three NCAA Team Finals (winning in 2018), gave UK quite a challenge, but the 'Cats persevered.
KSR's Troy Howell has a full recap of everything that went down, which you can read right here.
The Cats' will make the five-hour trip up to the University of Illinois where they will face #1 TCU on Thursday, May 19.
The semifinals are scheduled for Saturday with the finals set for Sunday. The individual singles and doubles tournaments will get underway on Monday, May 22. All matches will take place at the Atkins Tennis Center in Urbana-Champaign, IL. Liam Draxl and Gabriel Diallo will both compete in the individual singles tournament. Draxl, a semifinalist last season, will be the #4 seed.
Saturday night YAHTZEE
Mark Stoops now has six commits locked in for the class of 2023.
Boyle County class of 2023 EDGE rusher Tommy Ziesmer announced on social media that he has committed to the Wildcats. Ziesmer is a 6-foot-1, 240-pound rising senior out of Danville, KY who is considered the No. 561 overall player in the nation and the fourth-best in the state of Kentucky, according to the On3 Consensus.
Earlier on Saturday, it was reported that Ziesmer would take two official visits to Kentucky and West Virginia in June. Hours later, he became a Wildcat.
Women break college record in 4×4
The SEC Outdoor Championships for track and field were hosted down in Oxford, MS this weekend where Abby Steiner and company made even more history. The Kentucky track and field program's women's 4×400-meter relay team — led by Steiner, Karimah Davis, Dajour Miles, and Alexis Holmes — broke the collegiate record with a time of 3:21.93, taking home a gold medal in the process.
Steiner also won two individual silver medals in the 100m and 200m dashes.
Additionally, Keaton Daniel repeated as the gold medal winner in men's pole vault, clearing a season-best 18'2.5"/5.55m to earn 10 points. Fellow Wildcat Matt Peare took home bronze in the same event.
Saturday was the final day of the SEC Outdoor Championships. Next up is the NCAA East Regionals in Bloomington, IN which runs from May 25-28.
Bat 'Cats look to avoid sweep
After shocking the college baseball world last weekend and stealing a series against No. 1 Tennessee, Kentucky Baseball has plummeted back down to earth. The 'Cats (26-23; 9-17 in SEC) were shut out on the road Saturday against South Carolina, 7-0, just a day after falling 11-3 in the series-opener.
Sunday is the finale against the Gamecocks with first pitch scheduled for 1:30 p.m. EST on the SEC Network. UK will have today and then one more intraconference series against Auburn to get back into the postseason mix.
C-Rod off the hook for court date mishap
The warrant out for Chris Rodriguez's arrest has been set aside.
According to KSR's Matt Jones, due to the mishap on Friday that saw Rodriguez's lawyer fail to appear in court, the Kentucky Football running back will not face further discipline for the miscommunication. Rodriguez was initially arrested on Sunday for careless driving, having no tail lamps, and operating a motor vehicle while under the influence of alcohol. He is facing charges for all three crimes.
According to a Kentucky Football spokesperson, Rodriguez's lawyer was supposed to go to court Friday on his behalf but did not due to a scheduling snafu, prompting Judge Denotra Gunther to issue an arrest warrant and a $200 fine. Luckily, that is no longer the case.
Rhyne Howard back in action
Rhyne Howard's first three games in the WNBA have all been filled with impressive optimism. She's averaging 16.7 points, 5.0 rebounds, 2.3 assists, 1.0 steals, and 2.0 blocks per outing on a shooting split of 34.9/45.8/90.0 — far and away the best stat line among rookies. Howard even got elbowed in the face and then proceeded to block a shot anyways the next possession down.
She's not your typical draft pick.
Howard and her Atlanta Dream squad will be back in action on Sunday, this time up in nearby Indianapolis to face the Indiana Fever and current GM/former Kentucky WBB assistant coach, Lin Dunn. Tipoff is scheduled for 3:00 p.m. EST and will be streamed live on Amazon.
Game 7s, baby!
We've got TWO NBA Game 7s taking place later today, one of them featuring UK's own Devin Booker and the Phoenix Suns.
To get the slate of games rolling, Jack Pilgrim's Boston Celtics will look to advance past the Milwaukee Bucks while Phoenix will try to fend off Luka Doncic and a lethal Dallas Mavericks offense. Winners will advance to their respective Conference Finals.
3:30 EST (ABC): Bucks @ Celtics | Series tied 3-3
8:00 EST (TNT): Mavericks @ Suns | Series tied 3-3
There are also TWO MORE Game 7s planned for today, but in the ice rink instead of on the hardwood. Admittedly, I know absolutely nothing about hockey, so instead of embarrassing myself, I'll just drop the start times and how to watch. Deal? Deal.
7:00 EST (TBS): Penguins @ Rangers | Series tied 3-3
9:30 EST (ESPN2): Stars @ Flames | Series tied 3-3
Now go enjoy your Sunday.