KSR Today: Championship Saturday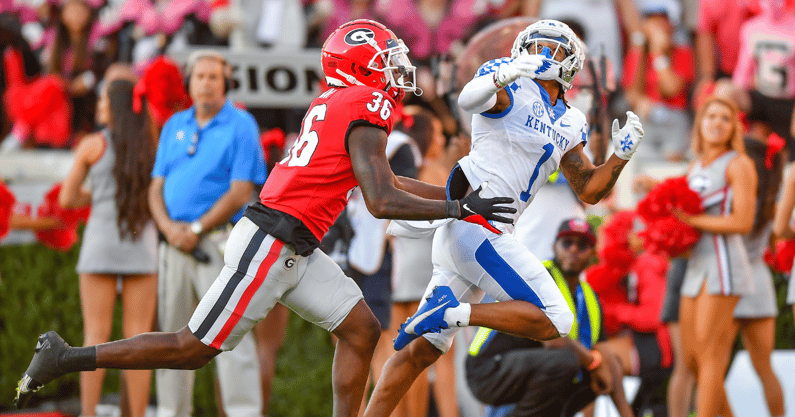 Believe it or not, the college football year winds down its season today as eight conferences will have championship games. The first Saturday in December is full of stakes.
Typically, Kentucky men's basketball played North Carolina on this day but that is no longer the case. Kentucky was originally scheduled to play Michigan in London (England, not Kentucky), but that was canceled.
Despite no game action in football or basketball, plenty going on today in the Bluegrass. State championships, postseason volleyball, recruiting, and some more Louisville chaos.
KSR Today is here to get the party started.
Champions crowned at Kroger Field
The high school football seasons end this weekend in the Commonwealth. On Friday, three champions were crowned.
KSR was on the scene as the University of Kentucky hosted the state championships once again. There was some thrilling football.
Beginning at noon today, there will be another triple-header with champions being crowned in 3A (Paducah Tighlman vs. Belfry), 5A (South Warren vs. Frederick Douglass), and 6A (Male vs. St. Xavier).
KSR will have all three covered games covered. Stay tuned for updates.
Volleyball marches on
Over at Memorial Coliseum, Kentucky volleyball collected an NCAA Tournament victory to move on to the Round of 32.
The Wildcats dominated SEMO on their way to a postseason win in front of a rabid crowd. Craig Skinner's club is looking to defend their national title, and Friday was a good start.
KSR's Grant Grubbs was there for the action and has the breakdown of the match. Kentucky now gets set to face a good Illinois team in the next round.
Recruiting never stops
Kentucky does not have a football game, but Mark Stoops and his staff are currently working on roster construction. The Wildcats hit the road to conduct multiple in-home visits with prospects this week as the race is on for early signing day.
The staff returned to campus this weekend as Kentucky will host some important prospects for official visits.
New Jersey cornerback Davison Igbinosun, Mississippi receiver Jordan Anthony, and Georgia defensive tackle Quentel Jones will all be on campus this weekend.
KSR's Nick Roush has the preview of the weekend as Kentucky looks to bolster a recruiting class that currently sits No. 16 overall in average star rating.
Louisville Chaos
The school down the road decided to give everyone quite the Friday news dump. WDRB's Eric Crawford got the night started with a quote from Director of Athletics Vince Tyra stating that head football coach Scott Satterfield would be returning for another season.
Less than 90 minutes later, Yahoo's Pete Thamel reported that Tyra is a major target for the opening at Florida State.
Despite star quarterback Malik Cunningham announcing a return for a super senior season, Friday was another bizarre day at UofL. After a week of speculation about bringing Jeff Brohm home, Louisville decided to bring back a coach only to publicly see their department leader try to get another job in their own division.
There's never a dull moment at University-6.
Championship Football
On Friday, the party got started in college football. Utah locked up a Rose Bowl bid as the Utes thrashed Oregon for the second time in three weeks to improve to 10-3.
In C-USA, UTSA won a thriller against WKU in a shootout at the Alamodome. Bailey Zappe once again had a huge night throwing the football for the Tops.
There will be eight more conference title games played today as teams look to lock in playoff spots and major bowl bids. Another jam-packed day of college football is heading our way.
Noon — MAC: Kent State vs. Northern Illinois (ESPN)
Noon — Big 12: No. 9 Baylor vs. No. 5 Oklahoma State (ABC)
3:00 — Mountain West: Utah State @ No. 19 San Diego State (FOX)
3:30 — Sun Belt: Appalachian State @ No. 24 Louisiana (ESPN)
4:00 — SEC: No. 1 Georgia vs. No. 3 Alabama (CBS)
4:00 — American: No. 21 Houston @ No. 4 Cincinnati (ABC)
8:00 — ACC: No. 16 Wake Forest @ No. 15 Pittsburgh (ABC)
8:00 — Big Ten: No. 13 Iowas vs. No. 2 Michigan (FOX)