KSR Today: Chris Livingston is a WILDCAT!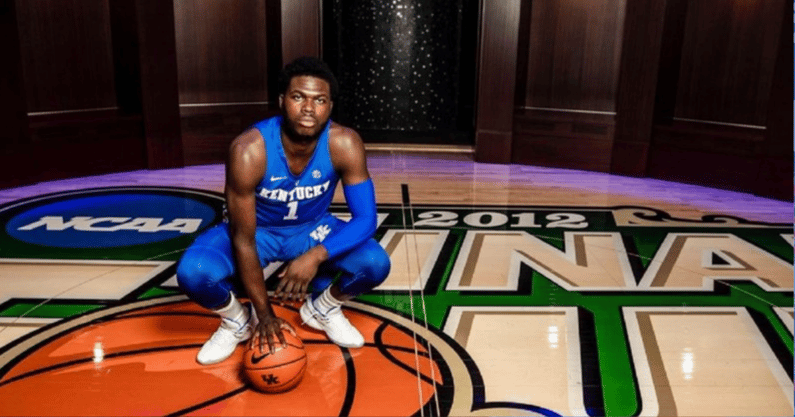 Good morning, folks. John Calipari has now secured two top-five recruits in a little over a week. The last time Kentucky had two of the five best high school prospects was the class of 2013… 2013!! Nearly eight whole years ago! The revenge tour is officially on and Calipari is taking no prisoners.
"Enjoy your time now. Next season is gonna come soon enough."
Cal isn't done either. Another five-star guard and top-10 prospect, Cason Wallace, is expected to choose the 'Cats in the near future. Calipari and assistant coach Chin Coleman are conducting an in-home visit with five-star center Adem Bona later today. Kentucky is also largely in the mix for five-star center Dereck Lively II, the remaining prize of the class who is ranked No. 2 overall.
Kentucky now holds the best recruiting class in 2022 with the addition of Livingston, but this group could turn into something historically special if Wallace and one of Bona/Lively choose Kentucky. Secure all three and you might as we schedule that trip to Texas for the 2023 Final Four right now.
Alright, so I'm admittedly getting a little ahead of myself, but c'mon, it's hard not to get a bit jazzed up over Calipari's hot streak coming back. So while we come off our five-star high, check out all of the links from KSR's coverage of Livingston's commitment on Wednesday.
BREAKING: Top-5 recruit Chris Livingston commits to Kentucky
Sources Say Podcast: Chris Livingston commits to Kentucky
KSR Film Room: Chris Livingston
What Chris Livingston's commitment means for Kentucky basketball
National recruiting analysts break down Chris Livingston's game with KSR
Who Kentucky MBB is targeting following Chris Livingston's commitment
Chris Livingston is a perfect fit for John Calipari's new guard-heavy offense
Kentucky VB drops fifth set to No. 5 UL
It was a back-and-forth affair Wednesday night up in Louisville between two in-state rivals, but the Cardinals came out as the victors in a matchup featuring two top-10 programs.
After taking the first set 25-17, the No. 8 Kentucky Volleyball team would drop the next two sets before commanding the fourth set and forcing a winner-takes-all fifth and final set. The 'Cats got off to a hot start, leading 9-7 midway through the fifth (where the target score is 15 instead of 25). However, 5th ranked Louisville strung together a decisive 8-0 run that buried the young Kentucky team and handed the 'Cats its third loss of the season.
It was Louisville's first win over Kentucky since 2012.
KSR's Alex Weber has a full write-up for those in need.
Brad White: Coordinator/bug killer
Kentucky Football defensive coordinator Brad White boasts a top-15 defense in the country through the first two games of the season, but he's not completely satisfied with what he's seen from his group thus far. There is still plenty to improve upon, which should be considered good news as we move along throughout the rest of the 2021 season.
Coach White is also not a fan of insects interrupting his press conference, and let every media member in attendance understand that he is not one to be trifled with, especially if you're buzzing around his headspace.
Chris Oats on "Inside the NFL"
The past year has been very difficult for Chris Oats and his family, to say the least. That's why days like Saturday are so special. Oats was at Kroger Field for Kentucky's win vs. Missouri, watching from the recruiting room deck, where he received a standing ovation from the near-capacity crowd. Before the game, Oats also got to meet his childhood hero, Ray Lewis, who was in town to watch his son, Rahsaan, play.
The Hall of Famer now serves as an analyst on Inside the NFL, and last night, the show featured Oats' story at the end of the episode. Host James Brown also encouraged viewers to donate to Oats' recovery fund.
---
That's all the news I've got for you all today. Only two more days until another Caturday. To help get us all prepared (and to recap all the news from yesterday in the most ridiculous manner possible), we've got Matt Jones and the crew coming up in an hour. See you then!
I'll leave you all with this masterclass production from the UK video department recapping Kentucky's win over Missouri.