KSR Today: Cutter Boley is a Kentucky Wildcat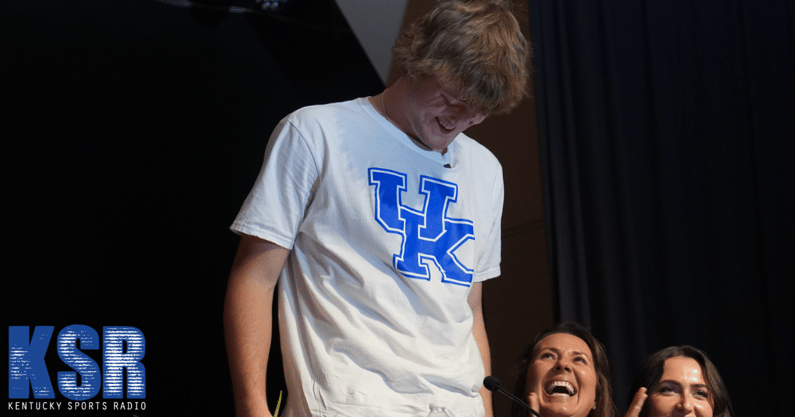 The highest-rated in-state quarterback recruit since Tim Couch is a Kentucky Wildcat, as four-star standout Cutter Boley announced his pledge Thursday over Tennessee, Michigan, Penn State and Florida State.
Reclassifying to 2024, the 6-foot-5, 200-pound gunslinger out of Hodgenville is rated as the No. 70 overall prospect and No. 6 overall player at his position in the updated 2024 On300. The Lexington Christian standout was the state's leading passer a year ago, throwing for 3,901 yards on 254-400 (63.5%) completion to go with 36 touchdowns and 15 interceptions. A big downfield passer with precision, he's clearly got the physical tools to be Kentucky's quarterback of the future.
How did Mark Stoops and the UK coaching staff keep him in Lexington? For starters, it's home.
"This is home to me," Boley told KSR. "I grew up in the state of Kentucky, my whole family's here. I just want to be able to play for the people who supported me growing up and made me who I am today."
And don't discount the return of Liam Coen as offensive coordinator, bringing back a style of play that Boley feels was made for him.
"I trust Coach (Liam) Coen and his offense, what he did with Will (Levis) two years ago and what he did with the Rams. You know, I really feel like he can develop me," he told KSR. "I didn't know what they were going to do after that season in terms of their OC, who they were going to have. I wasn't going to count them out, but I wanted to see who they brought in. Then when they brought Coen back, I was like, 'This is right.'
"… It was designed for me all along to play here. I feel like it's the perfect fit, you know? I'm right here at home, playing for one of the best OCs in the nation who is going to develop me to be the best player I can be."
That's just a fraction of the quotes, analysis, numbers, film work and podcast content the KSR team cooked up on Thursday. If you missed any of it, we've got it all for you in one place, nice and tidy while you're sipping on your morning coffee. Take a look:
Boley's live commitment
Rapid Reaction
11 Personnel
Yeah, no further comment necessary.
Oscar Tshiebwe finishes strong at the Draft Combine
Following a 10-point, 16-rebound debut at the NBA Draft Combine on Wednesday, Kentucky's star center put on yet another show on day two of live scrimmage action. Hoping to prove himself as a draft pick in front of scouts and team personnel, Tshiebwe flirted with yet another double-double, going for a team-high 16 points on 7-10 shooting to go with nine rebounds, two steals and a block in 23:17.
It was undoubtedly a productive two-day stretch where he proved himself as a high-motor rebounder — duh — but also as a confident jump shooter, specifically from mid-range. He moved well and defended OK, showed slight improvement as a passer and did what he did best. Coming in as a fringe second-rounder, he certainly didn't hurt his stock.
What's next for the former national player of the year? It will be the NBA or a return to Kentucky — no transfer, he told Ben Roberts of the Herald-Leader.
"That is not an option," Tshiebwe told Roberts. "I will never transfer. Kentucky's my home. If there's a chance to go professional, I'll go pro. If there's a chance to not go professional, I will go back to Kentucky. I've never even thought about going (another) place. Kentucky is my home. It's a dream place. I can't leave my home. That's my place, forever."
Jamal Murray goes nuclear in the 4th
The Denver Nuggets entered the final quarter of Game 2 against the Los Angeles trailing 79-76. Nikola Jokic, arguably the most dominant player in the NBA, failed to score a single point for the Nuggets in the fourth. Denver still managed to win 108-103 to take a 2-0 lead in the series.
Why? Jamal Murray, who dropped an absurd 23 points in the final 12 minutes en route to 37 total — and the win.
It was an electric finish for the former Kentucky star, going 6-7 in the fourth to go with four 3-pointers overall. That was after missing 12 of his first 17 shots in the game, saving the day to close things out.
"He was special," Jokic said after the win. "He won us the game basically."
Murray would finish with 37 points on 11-24 shooting, 6-14 from three and 9-10 at the line to go with 10 rebounds, five assists and four steals in the win. Jokic also added 23 points, 17 rebounds, 12 assists and three steals.
For the Lakers, Austin Reaves and LeBron James each had 22 points, followed by Anthony Davis with 18 points, 14 rebounds, four assists and four blocks in the loss. Jarred Vanderbilt added four points and two rebounds in 17 minutes, returning to the starting lineup.
Hardly knew you, Chad Baker-Mazara
At 3:08 p.m. ET, JUCO sharpshooter Chad Baker-Mazara — a 47% 3-point specialist out of the Dominican Republic — announced he had received a call from the Kentucky coaching staff. It led to speculation regarding Antonio Reeves' stay-or-go decision — maybe the 6-foot-7 guard was a replacement? Or maybe he was going to be a plug-and-play shooter off the bench, replacing CJ Fredrick, perhaps?
Either way, the Wildcats expressed interest.
By 11:02 p.m. ET, he was committed to Bruce Pearl and the Auburn Tigers.
A second-session summer enrollee, the idea was to kick the tires if Baker-Mazara had interest in holding off his decision while other things fell into place on the Kentucky roster. John Calipari wouldn't hold him up if he was ready to make a commitment elsewhere, but if strong mutual interest was returned, maybe there could be a fit.
Well, that lasted all of eight hours. He'll be joining the SEC, it just won't be in Lexington. Fascinating turn of events.
Kentucky Men's Tennis in the NCAA Quarterfinals
The No. 4 Wildcats are set to continue their 2023 NCAA Men's Tennis Team Championship journey in Orlando, taking on No. 5 Virginia (27-4) in the quarterfinals at the USTA National Campus in Orlando, Florida.
It's a continuation of Thursday evening's match against the Cavaliers, play resuming after a lightning/rain delay ended things late last night. Opening serve is scheduled for 10 a.m. ET with a spot in the semifinals on the line. Kentucky currently leads 1-0 (doubles point).
Kentucky is one of eight teams to reach the finals site in Orlando, joining Virginia, Texas, South Carolina, TCU, Michigan, Ohio State and Georgia. Semifinals are scheduled for later in the day Friday, followed by the championship on Saturday. Those will be broadcast live on Tennis Channel.
Until then, watch the live stream for this morning's matchup below:
Go Cats.