KSR Today: Decision Day for Tshiebwe, Reeves and Livingston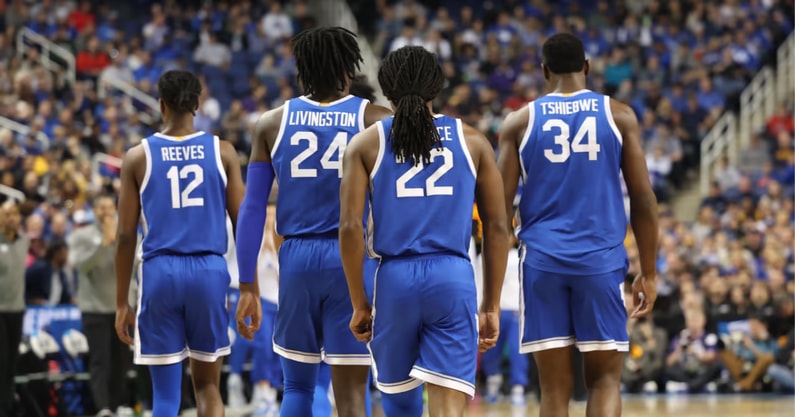 When the clock strikes midnight, the future of the Kentucky basketball program should be much clearer than it is at 9 am EST. Keyword: should. The way this offseason has gone, you never know what's going to happen.
Early entrants into the NBA Draft have until 11:59 pm May 31 to withdraw their name from consideration and return for another year of college basketball. The Big Blue Nation is still waiting to hear from three Kentucky Wildcats: Oscar Tshiebwe, Antonio Reeves and Chris Livingston.
All three players are still conducting workouts with NBA teams. It's hard to tell exactly which way either player is leaning. All three could go. All three could stay. Nothing would be surprising at this point.
Throughout the John Calipari era, the BBN has grown accustomed to the waiting game around NBA Draft time. Hamidou Diallo is the most infamous, waiting until after the midnight deadline to announce a return to Kentucky. However, it's unprecedented to see so much on the table with three decisions still up in the air in the waning hours of this crucial roster-building period.
Will Kentucky fans end the day rejoicing or cursing? Stay up to date on all of the news as it happens by signing up for KSR Text Alerts and the KSR Newsletter.
Where NBA Mock Drafts Project Tshiebwe, Livingston and Reeves
See, that's the toughest pill for most folks to swallow. Zack Geoghegan rounded up all of the NBA mock drafts earlier this week to see where the Wildcats are projected to land. Cason Wallace is the only player mentioned. It's one thing when players are leaving early to become NBA Lottery Picks. It hits different when the Cats don't make it to the second weekend of the NCAA Tournament and players are leaving on the hopes of becoming a second round pick. NIL was supposed to mitigate that problem. Maybe it will today at the eleventh hour.
New SEC Football Schedule could be Decided
Greg Sankey is optimistic a new scheduling format can be announced at the conclusion of the SEC Spring Meetings, which kicked off on Tuesday. But if you asked Lane Kiffin, the schedule rarely even came up during conversations with the coaches. Kirby Smart described it as the "most overrated conversation ever had." Why? "Four years you'll play everybody, home and away," Smart said.
There appears to be a ton of hemming and hawing in Sandestin as coaches publicly dodge schedule questions before a final decision is made. Until that time, you can see some of them step up to the mic each afternoon on The Paul Finebaum Show and follow along through the rigamarole with On3's Jesse Simonton.
Kentucky Football Loses a Player to the Portal
Remember when I said this offseason has been unpredictable? Just when you thought there were transfer portal rules, another player hops into the portal well after the deadline.
Circumstances are slightly different for Jordan Anthony. He double-dipped for the Kentucky football and track and field team. Primarily a practice squad player as a redshirt freshman receiver, the speedster excelled on the track, setting UK records in the 60-meter dash. Now he's looking for a new home in the transfer portal (the track element most likely lets him skirt past the initial spring portal window). Double-dipping sounds cool, but is really difficult to successfully maneuver. It's a shame we didn't get to see what gadget play Liam Coen had cooked up to run for Anthony this fall.
Baseball Dorms Cause a Stir
The online community is making a big stink over the use of dorms for opponents during the Lexington Regional. At one point the noise grew so loud, it was a top story on ESPN.com. If you've ever been to Baldwin Hall — which I believe holds the same meeting room where we interviewed Jack Pilgrim seven years ago — it's pretty nice, nicer than some hotels.
In the midst of the online madness, Jon Hale reached out to the NCAA for an explanation as to why the Bat Cats were allowed to run with the dorm proposal. Their response: Get over it, whiners.
Elly de la Cruz Mashes Taters
The Cincinnati Reds nearly blew an eight-run lead on Tuesday night. Now they're surprisingly on three games back in the NL Central, all while the best prospect in the Minor Leagues continues to launch bombs. Elly de la Cruz hit a couple of balls over scoreboards last week. Tuesday night he hit a game-winner over the party deck at Louisville Slugger Field.
Chad Johnson Visits Kentucky
The artist formerly known as Ocho Cinco spent Tuesday in Central Kentucky as his daughter, a talented track and field athlete, visited Kentucky's campus. Despite spending most of his career just 90 minutes north in Cincinnati, this appears to be Chad Johnson's first venture to Lexington. He's a big fan.
Hump Day Kentucky History Lesson
Last week I shared a little something I learned about our fine Commonwealth. Why not make Kentucky history a reoccurring theme this summer?
Today I'm turning back the clock to 1977 when tragedy struck. Opulence descended into chaos at the Beverly Hills Supper Club fire in Northern Kentucky. One of the greatest tragedies in our state's history, 165 people died and more than 200 were injured. In an era before standardized fire codes, it could have been worse if not for the heroics of a young bus boy.
That's just a small snapshot of the tale that's intertwined with the gangsters that made Newport a notorious hotbed for illegal gambling in the 20th century. If you wanna learn more about how it happened and the potential cover-up, I recommend a recent episode of Stuff You Should Know, one of the only non-sports podcasts that's regularly been in my rotation since I learned what a podcast was almost ten years ago.
Discuss This Article
Comments have moved.
Join the conversation and talk about this article and all things Kentucky Sports in the new KSR Message Board.
KSBoard