KSR Today: End of bye week and WBB Blue-White Scrimmage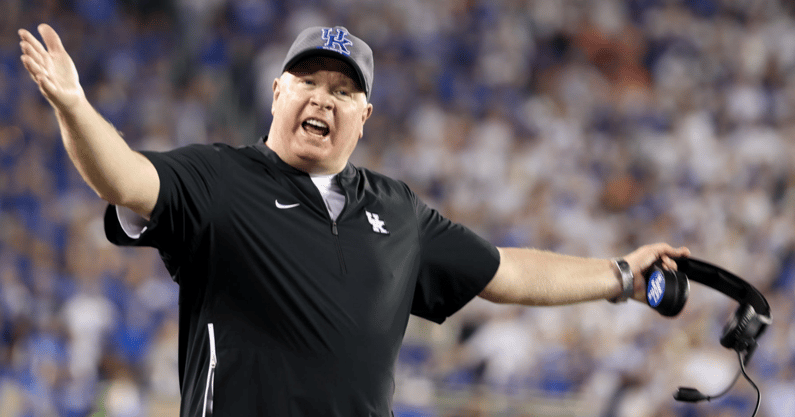 Good morning, folks! How did we all enjoy our Saturday off from Kentucky Football? Personally, I thought the bye week came at a perfect time. The 'Cats are a bit banged up after a 6-1 start to the 2021 season, but the Big Blue Nation needed to breathe a deep collective breath. The back of the schedule is easier than the front and Kentucky has a legitimate shot at finishing the regular season with an 11-1 record.
The bye week comes to an end today as Mark Stoops and company will ramp right back up on Monday. Next weekend's road matchup against Mississippi State will have plenty on the line for both teams. Now let's dive into the news and notes you need to know to get your Sunday rolling.
While you're here, why don't you read Nick Roush's top six plays of the football season thus far. You probably have a good idea of which play will land at No. 1…
WBB Blue-White Scrimmage
The Men's team held its Blue-White Game at Rupp Arena on Friday night and now the Women's squad will do the same later today. The ladies will host the Blue-White Scrimmage at 1 p.m. in Memorial Coliseum and KSR will have multiple people in attendance to cover it all. It won't be televised like the Men's game was, so you'll definitely want to check the site in the afternoon for updates on what went down.
MBB Blue-White Game recap
Speaking of the guy's Blue-White Game, how about a link-heavy list of everything you might have missed? We've talked about it a lot over the last 48 hours with more content on the way.
Kentucky's Blue-White Scrimmage Final Postgame Notes
KSR Roundtable of Blue-White Game Takeaways
Top Plays: Watch The Blue-White Highlights
Photo Gallery: Kentucky's Blue-White Game
Everything John Calipari Said After The Blue-White Game
She said yes.
Calipari on UK's depth: "Competitiveness has raised the level"
Oscar Tshiebwe dominates the paint in Blue-White Game
John Calipari says TyTy Washington is reminiscent of past Kentucky greats
TyTy Washington discusses NIL deal with Blue Grass Motorsport Porsche
VB earns two 5-set wins
The No. 5 Kentucky Volleyball 'Cats didn't make it easy on itself over the weekend, but Craig Skinner's group still came away with two victories over Arkansas.
Friday's bout saw UK scratch and claw to fend off the Razorbacks, nearly giving away a two-set lead before pulling out the victory in the fifth set. Saturday saw Arkansas push Kentucky to another five sets, but the 'Cats would come out on top once again. UK is now 15-3 on the season and a perfect 8-0 in the SEC.
You can check out Alex Weber's recap from Friday's game right here. A recap from Saturday's win will be on the site shortly.
New episode of Pin It Deep
The Pin It Deep crew answered all of your bye week questions during the latest episode of the hottest podcast in Kentucky. Among the topics include:
Kentucky mid-season review
Why do the pinheads hate Max?
Pat McAfee beef????
SEC Picks
Subscribe, rate, and review to make sure you don't miss an episode of "Pin it Deep" on Apple Podcasts or listen via the KSR podcast feed on Spotify. Go ahead and hit subscribe while you're at it.
'Cats in the NFL schedule
1:00 (FOX): Falcons @ Dolphins
1:00 (FOX): Washington (J. Davis) @ Packers (R. Cobb)
1:00 (CBS): Chiefs @ Titans (B. Dupree, A. Williamson)
1:00 (CBS): Jets (B. Echols) @ Patriots
1:00 (FOX): Panthers (P. Hoskins) @ Giants
1:00 (CBS): Bengals @ Ravens
4:05 (FOX): Eagles @ Raiders
4:05 (FOX): Lions (L. Stenberg) @ Rams
4:25 (CBS): Texans (L. Johnson Jr.) @ Cardinals
4:25 (CBS): Bears (D. Trevathan) @ Buccaneers (M. Edwards)
8:20 (NBC): Colts @ 49ers
Monday Night Football
8:15 (ESPN): Saints (L. Young) @ Seahawks
'Cats in the NBA schedule
4:00: Hornets (Richards, Washington) @ Nets
7:00: Magic @ Knicks (Knox, Noel, Randle, Quickley)
7:00 (NBA TV): Celtics (Kanter) @ Rockets
7:00: 76ers (Maxey) @ Thunder (Gilgeous-Alexander)
9:00: Warriors @ Kings (Fox)
9:30: Grizzlies @ Lakers (Davis, Monk, Rondo)