KSR Today: Fan Day with Kentucky football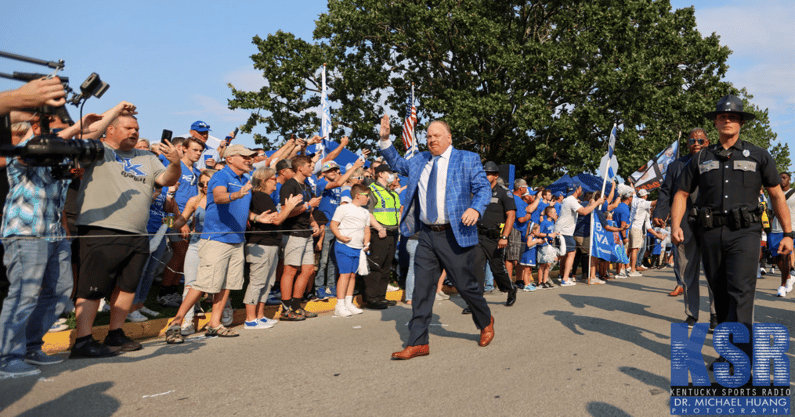 Football is back. It's time to watch some practice.
Kentucky is set to host its annual Fan Day on this beautiful Saturday in the Bluegrass. Gates at the Joe Craft Football Training Facility practice fields will open at 11:00 a.m. with practice lasting for two hours. There will be free parking available in the blue lot at Kroger Field.
KSR will be in attendance and will provide a full report of the open practice if you are unable to attend. After practice No. 3 of fall camp concludes, Mark Stoops will meet with the media for an update on training camp. Stay tuned for updates on what could be a busy football Saturday.
To help hold you over, there has been a ton of football content over the last 24 hours. All of your Saturday morning reading can be found here at KSR Today.
Football is coming.
High 3-star DB Jaremiah Anglin is set to announce his commitment
On the recruiting trail, Florida State and Kentucky keep running into each other in the 2023 cycle. When it comes to secondary recruiting, the Cats took an early 1-0 over the 'Noles after landing four-star prospect Avery Stuart.
That could become a 2-0 lead tonight at 7:00 p.m. when Jaremiah Anglin (6-0, 180) makes his final decision.
The Lake Wales (Fla.) High product is the No. 453 ranked prospect in the class of 2023 according to the On3 Consensus, a complete and equally weighted industry-generated average that utilizes all four major recruiting media companies.
Anglin took summer visits to Auburn, Kentucky, Pittsburgh (official), and Tennessee. Meanwhile, Florida State has hosted the prospect on campus in the winter and spring. Yet, the Cats are trending in this recruitment as Kentucky looks to add to its recruiting class.
KSR will have full coverage of Anglin's decision this evening. Recruiting never stops.
OL Naquil Betrand also makes a decision today
Kentucky currently has three offensive line commits with a player at each position. However, college football programs are always looking for depth at offensive tackle. Naquil Betrand (6-6, 320) has been a target of note for offensive line coach Zach Yenser most of the summer.
Kentucky hosted the three-star prospect for an official visit in June. Betrand also took official visits to Auburn and Syracuse. The former Colorado commit has also gotten interested from Texas A&M and was able to make it to College Station last weekend for an unofficial visit.
Betrand received an official written offer from the Aggies and seems to be a clear take for Jimbo Fisher's program. That development has made A&M the favorite. We'll find out for sure today when Betrand makes his decision public.
Kentucky remembers Mike Pratt
Kentucky held a memorial service on Friday afternoon for basketball great Mike Pratt at Memorial Coliseum. Both loved ones and fans got to come together to celebrate a life.
Tom Leach, Dan Issel, and Jimmy Dan Conner were among the guest speakers. Kentucky head coach John Calipari also spoke and helped remember Pratt.
"Mike Pratt loved the University of Kentucky from the moment he stepped on this campus in 1966," Calipari said. "He spent a lifetime giving himself to the betterment of this program and inspiring others to love this game and this program as much as he did. He bled blue through and through. Ellen and I owe Mike a lot. I know I've talked about this, but Mike is a big reason why I have this opportunity of serving this program and being the head coach. When the university reached out to Mike, the program was struggling and they asked him to be on the search committee. Not a day goes by that I don't thank God for Mike's confidence in me to take over the program that was such an important part of his life.
KSR has the full transcript and video of the service as Pratt will be missed by many in the Big Blue Nation.
Eastern Kentucky Flood Relief efforts continue
On Friday, Matt Jones and the KSR crew headed to the mountains to host their show on-site and help out with relief efforts for those in the Bluegrass that need a lot of help right now. KSR's flood relief fund is still open and taking donations.
Donate to the KSR Eastern Kentucky Flood Relief Fund
On Friday afternoon, Mark Stoops and the Kentucky football team also went to Eastern Kentucky to lend a hand. The Wildcats delivered 10,000 packages of supplies to help those who are trying to bounce back from the latest natural disaster to hit the Commonwealth.
"I'd like to say to the people of Eastern Kentucky, hang in there," said Mark Stoops. "There's a lot of people out there in this state that care about you, that are working hard to try to help in any way we can. I know you're strong, resilient, prideful people. Continue to stay the course and I promise you this team will as well."