KSR Today: Florida prep, basketball practice, and Maxwell Hairston
Good morning, folks! Kentucky football is just a few days away from its biggest game of the season so far, a showdown at home against the No. 22 Florida Gators, but we're also inching closer and closer to basketball season. On Tuesday, both the Kentucky men's and women's basketball teams began fall practice in preparation for the upcoming 2023-24 season.
For the women's team, Tuesday's practice was made open to the media, so KSR had multiple boots on the ground at Joe Craft Center to check out Kyra Elzy's new-look squad. If you missed our coverage of that, you can check out our top takeaways from the nearly 2.5-hour practice session.
Unfortunately, the men's team did not hold an open practice for media members. However, we were still treated to some highlights that should tide you over at least until the weekend. But if you still need more, KSR's Jack Pilgrim has plenty of insider notes on the current state of the team over at KSBoard. And oh yeah, a brand-spanking-new episode of Sources Say also dropped last night. Jack and Go Big Blue Country's Shawn Smith talk about the Boozer twins' visit, Zvonimir Ivisic, and day one practice standouts.
Now let's dive into the rest of Wednesday morning's top news and notes.
Got thoughts? Take advantage of our BIG GAME SPECIAL and continue the conversation on KSBoard, the KSR Message Board. New members can try 1 month for $1 or 50% off their first year.
Liam Coen, UK offense talk Florida
To close out Tuesday afternoon's football practice, offensive coordinator Liam Coen and a few offensive players stepped in front of a microphone to give their thoughts on what lies ahead against the Gators. Coen was joined by TE Brenden Bates, OL Eli Cox, and WR Dane Key. Among the highlights:
Cox isn't moving away from center anytime soon
Key not aware of any negative "chatter"
"Terrible Tuesdays" and "Wicked Wednesdays"

Much, much more
The main theme? Florida is going to play physical football. Kentucky has to be ready from the jump. Halfway through the week, the players appear to be in the right headspace. Being the second-most penalized team in the SEC, Kentucky coaches even brought in officials to help out at practice.
"You can already see that in practice," Bates told KSR Tuesday evening. "The coaches are doing a tremendous job of emphasizing the physicality that we need to bring for this game. This was a Tuesday practice. It was extremely physical and my skull is throbbing. I'm feeling ready to roll."
This afternoon, it's the defense's turn. Expect to hear from defensive coordinator Brad White and a few of Kentucky's defensive players later today as they give their thoughts on Florida's offense. A fresh episode of 11 Personnel will follow today's interviews. While you wait, check out KSR's Adam Luckett's Bio Blast breakdown of the Florida Gators here. Gameday is almost here.
Subscribe to the KSR YouTube Channel for press conferences, interviews, original shows, fan features, and exclusive content.
More awards for Maxwell Hairston
It's been a busy start to the week for Kentucky cornerback Maxwell Hairston. After making school history on Saturday by recording not one, but two pick-6s against the Vanderbilt Commodores, the redshirt sophomore has been hauling in award after award.
To start out the new week, Hairston was tabbed the SEC Defensive Player of the Week — an already impressive honor. But on Tuesday, he added a couple of more recognitions. The Football Writers Association of America announced Hairston as the Bronko Nagurski National Defensive Player of the Week. Later that same afternoon, he was also named the Jim Thorpe National Defensive Back of the Week by the National College Football Awards Association.
Hairston, now a full-time starter, has been incredible through four weeks so far for the 'Cats. The West Bloomfield (MI) High product has recorded  23 tackles, one tackle for loss, three interceptions, three pass breakups, and a forced fumble so far this season. Now let's see another pick-6 this Saturday against the Gators.
KSR+ Big Game Special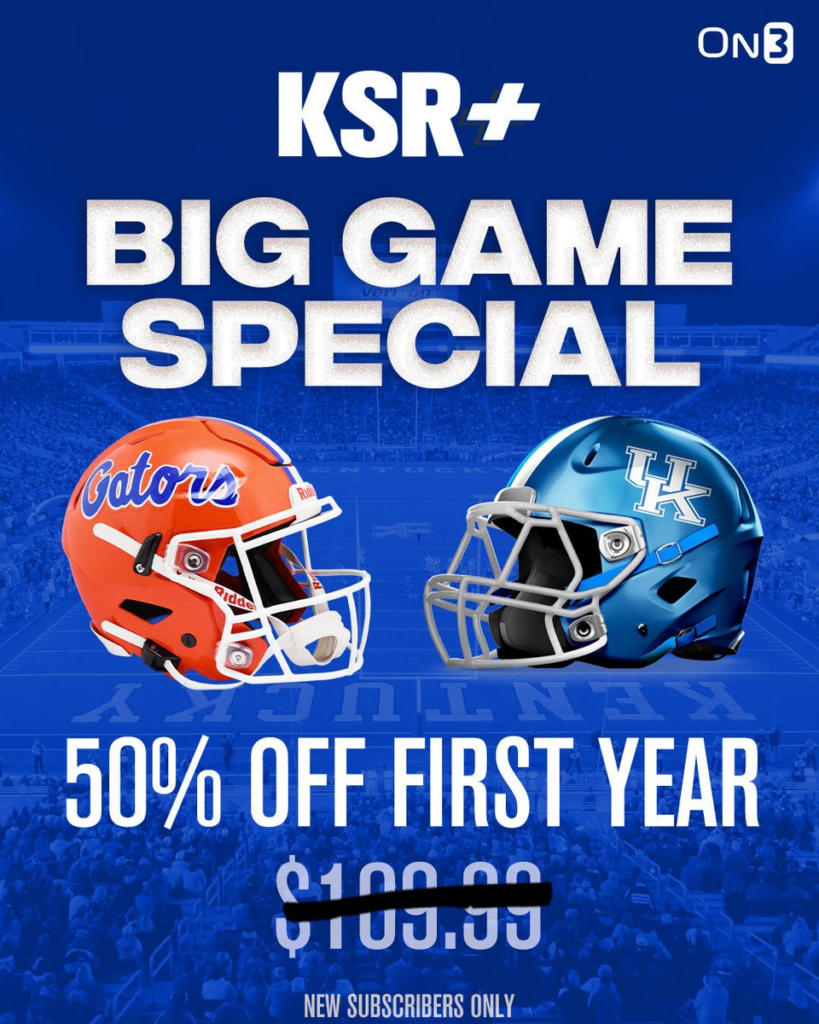 With the excitement around Kentucky-Florida, we are running a special over at KSR+ and KSBoard to attract new fans to those conversations. As of Monday, you can now take advantage of the BIG GAME SPECIAL to get bonus coverage of Kentucky vs. Florida, including a live game thread, practice reports, an in-depth scouting report, and the latest recruiting intel. 50% off the annual price or $1 for 1 month.
OVO partnering with UK
The John Calipari-Drake connection continues to live on. After Calipari brought his entire team to stay at Drake's house over the summer during the Wildcats' four-game stretch in Toronto for the GLOBL JAM, the two have linked up once again — this time through clothes.
On Tuesday, Drake and October's Very Own announced a new, limited-edition apparel collection through an NCAA partnership with Kentucky and four other schools — North Carolina, Alabama, Memphis, and Texas. From the looks of it, the collection will include a letterman jacket, a hoodie, shorts, and a hat, all featuring the university and OVO logos. It is set to be released this Friday, September 29.
Follow @KSRonX, KSR's official Twitter/X account, for all the latest Kentucky Wildcats news, videos, and content.
Discuss This Article
Comments have moved.
Join the conversation and talk about this article and all things Kentucky Sports in the new KSR Message Board.
KSBoard