KSR Today: Florida Week Things To Know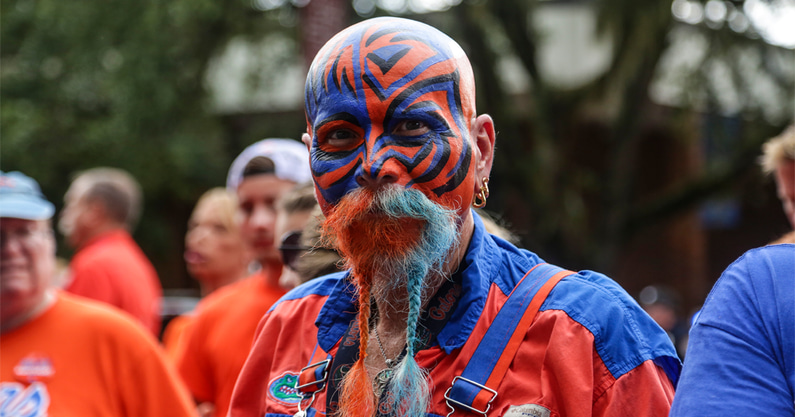 Kentucky Football enters Florida Week with a perfect 4-0 record for only the second time in the Mark Stoops era. The last and only other time a Stoops-coached Kentucky team was perfect going into Week 5, the season ended with a 10-3 record and the hardware from the Citrus Bowl. You remember. It was a great time.
But let's not get ahead of ourselves. We take things one game at a time around here and 10th-ranked Florida is the one game up next on the schedule. This coming Saturday, the lights will shine bright over Kroger Field for a 6 p.m. kick with the SEC East opponent that won 31 straight games against the Cats until that aforementioned 2018 season.
It's going to be electric. Let's get you ready for it on this Monday morning of FLORIDA WEEK.
Beat. The. Gators.
Stoooooooooops
You know the drill. Coming up at noon today, Mark Stoops will spend 30 to 45 minutes talking to the Kentucky Football media about things Kentucky Football fans will find interesting. Stoops will address what he saw on the South Carolina game tape and the latest on Kentucky's team, plus a release of this week's depth chart, and a preview of what's to come during Florida week.
Not enough Stoops for your liking? No worries, he will do more talking tonight during his call-in show on the UK Sports Network.
Kentucky still not ranked in the AP.
The new AP College Football Poll dropped Sunday without your University of Kentucky Wildcats among the top 25 teams. However, Kentucky more than doubled its Others Receiving Votes count with 26 points this week, landing six spots out of the rankings.
So, 31st in the country.
Alabama, Georgia, Oregon, Penn State, Iowa, Oklahoma, Cincinnati, Arkansas, Notre Dame, and Florida make up the new top 10, in that order. Well done, Arkansas.
Coaches like the Cats
No AP love this week, but Kentucky did crack the top 25 of the AFCA Coaches Poll (formerly USA Today Coaches Poll). With the win at South Carolina, voters from the American Football Coaches Association bumped the Cats up to 23rd in the country from two spots outside of the top 25.
Alabama, Georgia, Oregon, Oklahoma, Iowa, Penn State, Notre Dame, Cincinnati, Florida, and Ohio State make up the coaches' 10 best teams this week. Our friends in Arkansas rank 11th after beating Texas A&M.
Kentucky is an 8-point home dog
With Florida coming to town this coming weekend, oddsmakers out in Las Vegas determined Kentucky is an 8-point underdog in its return to Kroger Field to host the Gators. The total on the game is 56.
Trend Watch: Florida is 2-2 against the spread this season with covers in the last two games (Alabama and Tennessee); while Kentucky made gamblers money last weekend for the third time this season, only failing to cover against Chattanooga in four games.
Half Blue-Out/Half White-Out
Kentucky Football declared the Florida game a Blue+White Game in Kroger Field, asking half of the fans to wear white and the other half to wear blue.
If you're on the North (away) side of Kroger Field or the student section, Kentucky asks you to wear white. South (home) side, wear blue.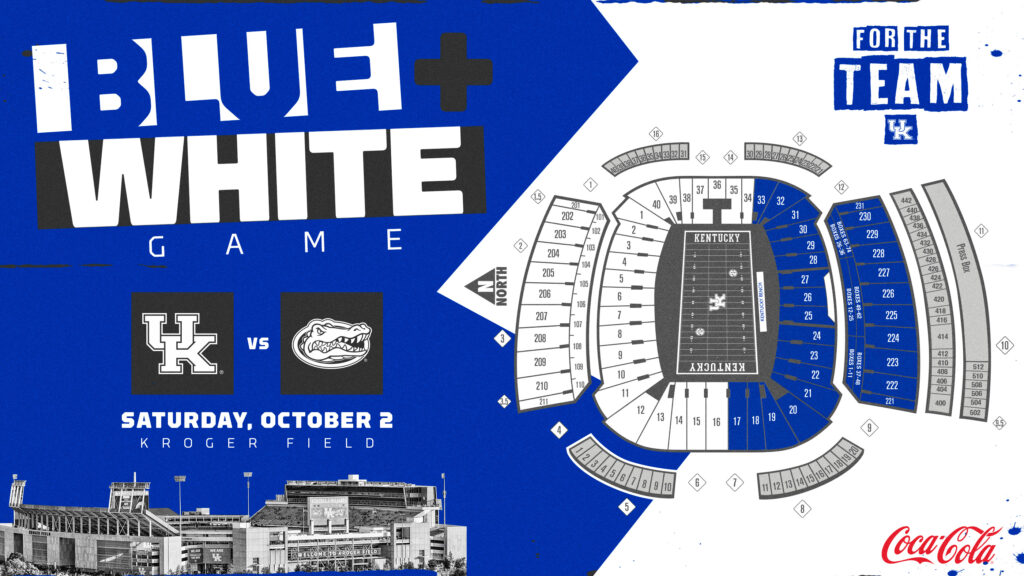 Reactions to the color-coordinated request were not great, mostly because optimism is very low that this can be accomplished. Fans were also quick to note the Blue and White sides should be flipped to (a) include Florida's away section on the Blue side since they'll be wearing blue too, and (b) the Blue/White stadium chant is opposite of how they're asking fans to dress. The Blue! side will be in white, the White! side in Blue.
Enough nitpicking though, let's roll up our sleeves and do our best to make it work. Games like this don't come around Lexington very often and UK Athletics is trying to make it special for a national TV audience. Respect their wishes and do your part if you're going to the game to show your commitment to the cause, which is kicking Florida's ass on a special night.
New KSR Football Podcast drops tonight
Nick Roush, Freddie Maggard, Charles Walker, and I will record our Week 5 episode of the KSR Football Podcast once we hear from Mark Stoops later today. The new episode should appear on your unplayed podcast list around dinnertime. Play it for the family at the dinner table.
Until then, treat your ears to other Kentucky Football talk with the new episode of the Pin It Deep Podcast featuring special guest Wan'Dale Robinson.
Yahtzee Watch
Kentucky Football recruiting is expected to ride this undefeated wave into another commitment for the future. There is buzz that the offense will add some speed to its Class of 2022 commitment list from a high school that has been good to Kentucky. Brendan Bates, Carrington Valentine, and Josh Kattus will almost certainly approve of the new guy.
Catch up on all of our Kentucky Football stories from the weekend.
Go Cats.