KSR Today: Football departures; MBB preparing for Tennessee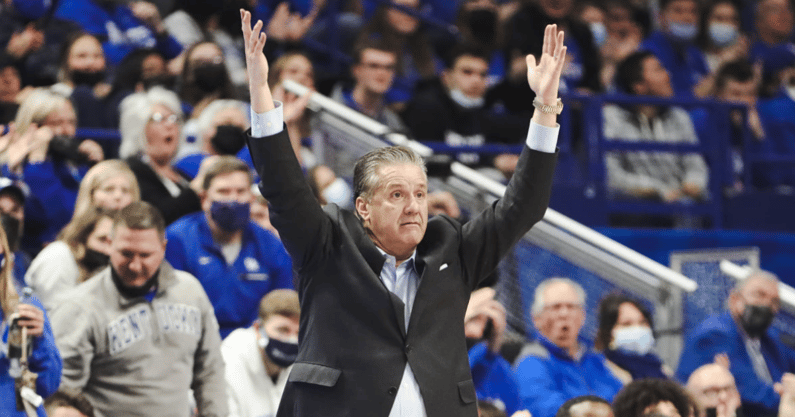 Good morning, folks! Mark Stoops and Kentucky Football have some big shoes to fill through the transfer portal while John Calipari and Kentucky Men's Basketball prepare for a showdown against No. 22 Tennessee this weekend.
Let's dive right into the news and notes you need to get your Thursday rolling.
Sahvir Wheeler injury "update"
Will Sahvir Wheeler take the floor against Tennessee on Saturday? That will be determined by his availability in practice for the remainder of the week.
After missing the past two games with a neck injury, Kentucky's starting point guard is back to working out, but he has not yet returned to the practice floor. If he's able to do so on Thursday or Friday, there's a chance he plays when the Volunteers head to town.
Either way, he's getting better.
"Well, he had a good workout at the shootaround," John Calipari said during his call-in radio show Wednesday evening. "He was working out today. I looked out the window, (he was) just doing his own thing. He seems to be getting better. We'll see. He's got two days to practice and (we'll) see what he does and where he goes."
Advanced Analytics love Kentucky MBB
Kentucky may be ranked No. 17 and No. 18 overall in the latest Coaches and AP Polls, respectively, but advanced analytics continue to indicate the Wildcats deserve a spot in the top 10.
In the latest 2022 KenPom College Basketball Ratings, Kentucky comes in at No. 8 overall with a top-10 offense (No. 8) and a top-25 defense (No. 23). The adjusted offense — which measures points scored per 100 possessions — comes in at 118.1, while adjusted defense — points allowed per 100 possessions — sits at 93.1.
Only Baylor (No. 1), Gonzaga (No. 2), Houston (No. 3), Villanova (No. 4), Purdue (No. 5), Auburn (No. 6) and Kansas (No. 7) rank ahead of UK.
Taking a further dip below the surface with EvanMiya.com, an analytics website created by Evan Miyakawa, UK's season-long efficiency and overall success is confirmed even further.
The Wildcats have an Offensive Bayesian Performance Rating — a team's true offensive efficiency — of 26.2 (No. 12) and a Defensive Bayesian Performance Rating — a team's true defensive efficiency — of 21.0 (No. 16). It creates a total Bayesian Performance Rating — the ultimate measure of a team's overall strength — of No. 10 overall in college basketball.
Check out the rest of Jack's article here to read up on even more advanced stats.
Kentucky Football Stay/Go Decisions
It was a slightly busy Wednesday in terms of player decisions.
Starting left tackle Dare Rosenthal announced he's declaring for the 2022 NFL Draft while JUCO CB Zah Frazier announced he will no longer suit up for the 'Cats, reopening his recruitment.
Rosenthal spent just one season in Lexington after transferring over from the LSU Tigers. He was a four-star recruit out of high school and a top 300 prospect in the class of 2018. During the 2021 season, the 6-foot-7, 325-pound Rosenthal started all 12 regular-season games for the 'Cats before sitting out the Citrus Bowl.
He is projected as a mid-to-late round selection.
As for Frazier, losing him is a big hit to an already thin UK secondary. He was rated as the No. 3 overall JUCO prospect by Rivals, No. 10 by 247Sports and No. 15 by ESPN, a consensus top-five player at his position.
All this being said, there are two primary transfer targets that Kentucky now has its eyes on, both of whom could make immediate impacts in the secondary: Colorado's Mekhi Blackmon and Georgia's Ameer Speed.
Louisville MBB got embarassed last night
Chris Mack is on the brink of giving up.
Wednesday night, the Louisville head coach saw his Cardinals fall to a .500 NC State squad by 16 points. All five starters combined to score just 11 points. It was the second consecutive loss for UL, the first coming at the hands of Florida State earlier in the week. Louisville is now 10-6 on the season, and gauging social media reactions, Cardinal fans aren't exactly thrilled.
The quote below from Chris Mack after the game made me laugh, but then it also made me a bit sad for those who have to deal with him on a regular basis.
Mack later said that he can't even rely on his starters at this point.
"I feel like I'm reevaluating everything. I don't know what I'm getting when I put a player in. Usually when you put a guy in, you know what he's gonna bring to the table. To have three starters out of the five with zero points, to be outscored 31-6 by the starting five, only to then go out and get down 8-0 in the second half–I mean, I have no explanation."
The tears taste so, so good.
---
That's all I've got you this morning. Tune in to the radio show in an hour to hear from Matt Jones and the crew.