KSR Today: Kentucky baseball beats Ball State, basketball freshman arrive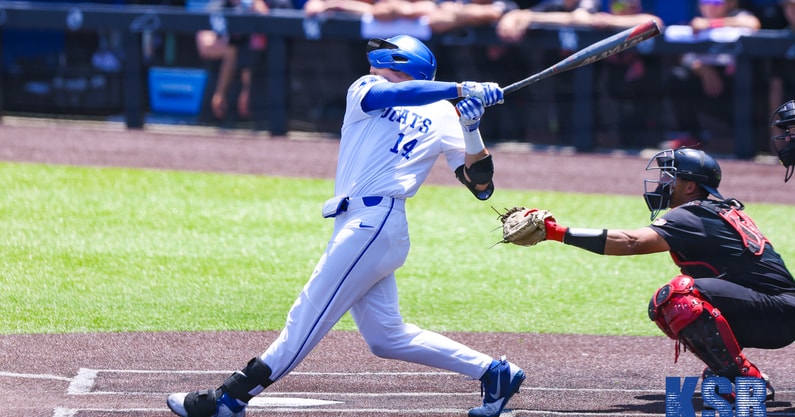 Good Saturday morning, everyone. If you happen to live in Lexington and are not a music festival or Kentucky baseball enthusiast, I hope you treated this weekend like you would a major blizzard by stocking up on milk and bread early in the week in preparation to hunker down in the comfort of your home for multiple days. Traffic reports are day-after-Thanksgiving-at-Hamburg bad out there and are only going to get worse.
For those of you who are braving the crowds and attending the Railbird festival, soak in a little Weezer and Marcus Mumford for me. And if you plan on attending the Kentucky baseball game, soak a beer on my behalf. I still can't believe Mitch Barnhardt succumbed to pressure and allowed such heresy as fans drinking a cold lager while watching baseball take place on campus. But it is most certainly not a coincidence Kentucky has had tremendous on-field success during the first year of home alcohol sales.
And if you somehow, someway plan on attending both the baseball game and the Railbird festival, then Godspeed, my friend. You are a better person than me.
Be safe out there and just pay the Uber surcharge.
Kentucky baseball advances in Lexington Regional after beating Ball State
On the first day of the Lexington Regional, Kentucky blanked Ball State 4-0. The win marked the program's first NCAA Tournament victory in six years and the first time in school history they won an NCAA Tournament game via shoutout.
Devin Burkes broke the scoring stalemate in the 4th inning when he drilled an opposite-field home run over the right-centerfield wall. The 'Cats later added three insurance runs in the eighth.
The pitching duo of Travis Smith and Mason Moore combined for zero runs, three hits, two walks, and six strikeouts and dominated from the mound all day.
Afterward, head coach Nick Mingione said, "Overall, great game by both teams. I loved the way we defended. We talk about pitching and defense all the time and we got that all around with our infielders and outfielders. Overall, it was a well-played game from the 'Cats."
The Bat Cats will now face Indiana today, who defeated West Virginia 12-6 on Friday evening. After the game, the Mountaineers retreated to their dorm rooms, where they presumably sulked not so much over the loss but more so over the fact they had to sleep in a twin-sized bed. Evidently, no one told them there is no crying in baseball.
Catch the Hoosiers and the 'Cats on the SEC Network and ESPN+ at 6:00 p.m. The winner will earn the king's seat in the double-elimination bracket.
Kentucky freshmen, Aaron Bradshaw and Rob Dillingham arrive on campus
Between transfers, NBA draft prospects weighing their options, and rumors on the stability of the incoming class, Kentucky's basketball roster has been in constant flux this offseason. Two of the players in the latter category ended all negative speculation when they moved into their living quarters on Friday.
Aaron Bradshaw, the team's future 7'1″ power forward, was allegedly considering other options pending the Hunter Dickinson recruitment, however, made his commitment to Kentucky as official as it gets by moving into Wildcat Coal Lodge.
Similarly, after thwarting brief and ultimately unfound rumors regarding his academic eligibility, Rob Dillingham arrived in Lexington and made himself comfortable in what will be his new home for the next nine-ish months.
Reed Sheppard arrived on Wednesday and the other incoming freshmen in the nation's top class, Justin Edwards and DJ Wagner, are expected to touch down in Lexington in the coming days.
I remember during my junior year at Kentucky I got suckered into volunteering to help freshmen move into the dorms. Hauling boxes of strangers' stuff up several flights of stairs all day long was not the best way I could have spent a Saturday at the age of 21. Behind every smiling photo of the final hug between student and parent is an unseen dumpster fire of chaos and exhaustion. I'm happy for everyone moving in, though. It's a big day.
Tyler Herro could possibly return for Game 2 of the NBA Finals
The Denver Nuggets, led by a sensational start from Jamal Murray, seized an early 1-0 NBA Finals lead when they took down the Miami Heat on Thursday, despite a big game from Bam Adebayo.
There are now rumors that Tyler Herro, who broke his hand during the first round of the playoffs, could be eyeing a return to the court for Game 2 on Sunday.
The Heat are up against a juggernaut in Denver who is playing at the top of their game, so any kind of spark to give them a shot at making this a competitive series would be welcomed. Most everyone predicts a swift Denver victory, but with two former Kentucky players on their roster (to go along with Jimmy Butler), the Heat have proven they are not ones to be overlooked.
I'm just happy a former 'Cat will win a ring.
Tune in to Game 2 tomorrow at 8:00 p.m. on ABC.
Churchill Downs will move racing to Ellis Park in Henderson, KY
After 12 horses suffered catastrophic injuries in the first five weeks of the spring meet, including seven ahead of the Kentucky Derby, Churchill Downs will reportedly move its spring meet away from the historic racetrack in Louisville.
Horse Racing Nation broke the news that the summer racecard will shift to Ellis Park in Henderson, KY. The Daily Racing Form reports the move will happen next weekend. Churchill Downs made an official announcement Friday evening.
Even though investigations have indicated no surface issues, in an abundance of caution, and in alignment with a recommendation from HISA, CDI has elected to relocate the meet in order to conduct a top-to-bottom review of all safety and surface protocols and integrity measures.

Churchill Downs PR (@DerbyMedia)
Races still appear to be a go for this weekend at Churchill Downs. Bango will try to tie the wins record with 11 victories beneath the Twin Spires during Saturday's Stephen Forster Preview Day.
Discuss This Article
Comments have moved.
Join the conversation and talk about this article and all things Kentucky Sports in the new KSR Message Board.
KSBoard