KSR Today: Kentucky Basketball finally returns to action vs. Southern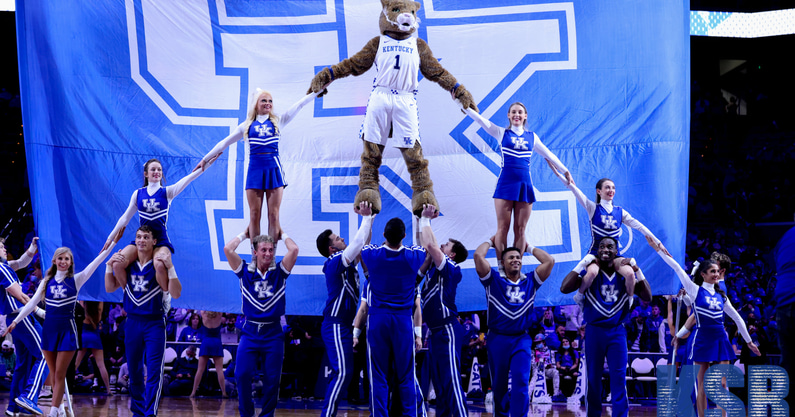 The moment you've been waiting for is almost here. After eight long days away, Kentucky basketball finally returns to action at Rupp Arena. UK tips-off against the Southern Jaguars in the inaugural Unity Series at 7 pm ET on the SEC Network.
Tonight's game between the Wildcats and the Jaguars is the first of a five-year series between Kentucky and members of the all-HBCU Southwestern Athletic Conference (SWAC). The games will seek to raise awareness of the missions of the HBCUs and to raise funds to provide opportunities for students at their institutions. 
The first opponent in the series is a familiar one. The Unforgettable Sean Woods will return to Rupp for the fourth time in his fourth season as Southern's head coach. He lost the previous three meetings at other coaching stops. He joined the UK coach on last night's John Calipari Show to discuss the teams' trip to the Underground Railroad Museum and share how this series will benefit historically black colleges and universities in the SWAC.
"It's a great thing for Southern University to be the first team to play in this unity deal because it's an awareness already because of the Black awareness going on, but it can't just stop, you know what I mean?" Woods said, "You've given everyone an opportunity, you're helping HBCUs, you're doing your part. I've got to commend you and the University of Kentucky for doing that and I hope that we can continue to do this. I'm taking heed, so at my level, I can do something like this myself."
Davion Mintz set to Return
Kentucky's long absence from the court was needed. To steal a line from Mark Stoops, the Wildcats were banged up physically. They also were suffering through a string of illnesses. Davion Mintz is expected to return to the lineup after missing three games. He has not played since the Nov. 19 win over Ohio.
"I told him, 'It's good to have you back,'" Calipari said Monday night. "I come out today, and he's running sprints to get himself right before we practice, he's shooting. And then he made every shot in practice."
Kentucky is almost 100% healthy. The last remaining piece of the puzzle is Bryce Hopkins. Calipari said the freshman is still operating at half speed, but able to contribute some in practice.
TV, Radio Broadcast Info
Mike Morgan and Pat Bradley will be on the mics for the SEC Network broadcast. Tip-off is set for 7 pm ET at Rupp Arena. If you'd rather listen to the Voice of the Wildcats, there are multiple ways to hear today's game.
AM: 840 WHAS, 630 WLAP
FM: 98.1 WBUL
Satellite: XM-190, Sirius-133, SXM App-961
Online: iHeart Radio
Florida Proves a Loss is Possible
Mike White's Florida basketball team entered the night with a 6-1 record and a No. 20 ranking. The night ended with a 69-54 loss to a previously 0-7 Texas Southern team from the SWAC. Johnny Jones finally received revenge for his unsuccessful stint in the SEC.
If you don't think Kentucky can lose to Sean Woods' team tonight, think again.
Today's Tale of the Tape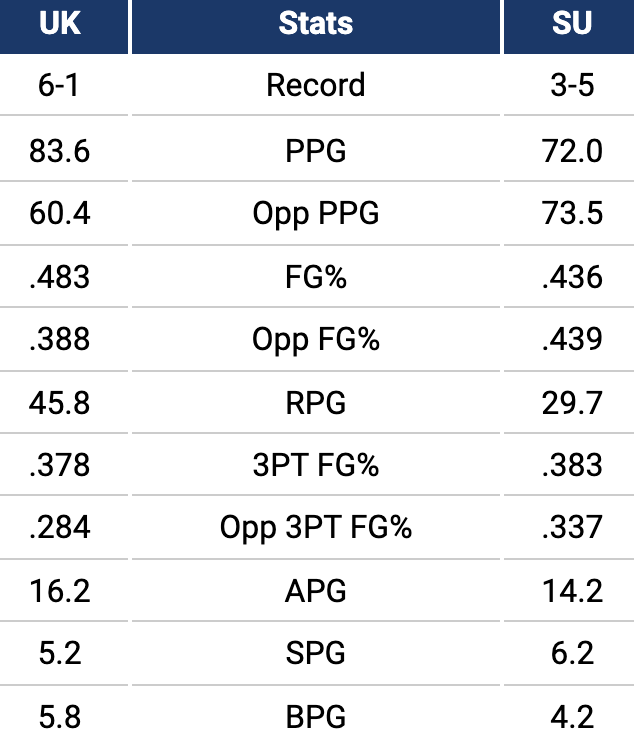 Vince Tyra Watch Continues
Will Louisville have an athletic director by the end of the day? Excellent question. UofL's Board of Trustees met Monday to discuss "personnel matters" yet no news came from the lengthy meeting. Today we should learn that Tyra is bolting for Tallahassee, leaving Louisville fans looking for answers.
Shocking Horse Racing News
The story of Medina Spirit came to a tragic close Monday morning. The first-place finisher of the Kentucky Derby collapsed on the track after working five furlongs at Santa Anita Park. The champion thoroughbred died of an apparent heart attack.
Medina Spirit was never supposed to steal the limelight. The colt was simply supposed to work Bob Baffert's higher caliber two-year-olds. Then, it kept winning and winning and winning, until it won the Kentucky Derby. Celebrated as an underdog that gave Baffert a history-breaking seventh Derby win, the celebration did not last more than a week. A failed race day drug test made Medina Spirit one of the sport's most hated stars. A disqualification still hangs in the balance, yet the tide appeared to be shifting back in favor of Baffert's. As soon as the momentum shifted, the horse prematurely passed away.
Horse racing is a beautiful and brutal sport. This will be go down as one of its saddest chapters yet.
No Passing? No Problem.
Weather absolutely wrecked Monday Night Football. The wind in Buffalo completely grounded the Patriots' passing attack. Mac Jones only attempted one pass in the first three quarters. He finished 2-of-3 for 19 yards — and the Patriots still beat the Bills 14-10 in Buffalo. Bill Belichick's evil empire is back.
Bowl Mania
It's the most wonderful time of the year. Bowl season is right around the corner and the KSR Football Podcast is getting things started the right way. Today we're following that up with a fresh edition of 11 Personnel where we will dive a little deeper into the bowl matchups.
You can join the fun by picking games in Capital One Bowl Mania. Join the private Kentucky Sports Radio group on ESPN.com and pick every bowl game against the spread. All you need is to follow this link, insert 'Stoops' as the password and submit your picks. Easy peasy.
Thrilling Finale
Florida State defeated BYU in penalty kicks to win its third women's soccer national title. Those veins are ice cold.