KSR Today: Bye Week Saturday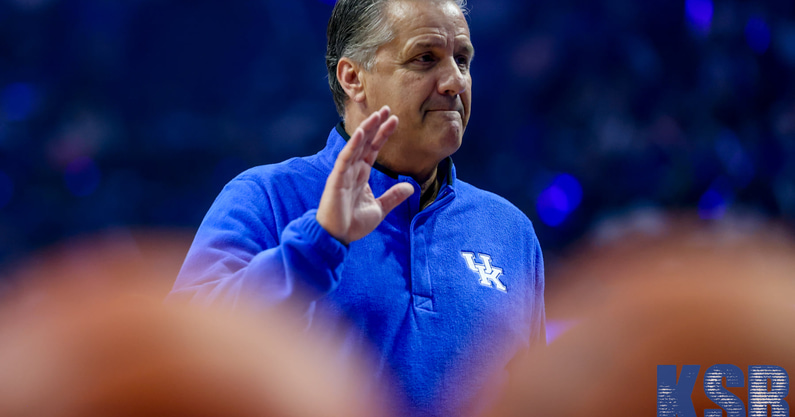 Week 8 of the college football season has arrived, and Kentucky has the day off. That's just fine because basketball has picked up the slack.
Last night at Rupp Arena, Kentucky participated in the annual Blue-White game as the last tune-up before actually playing another team, and there was a lot to get excited about.
To help get the party started on this beautiful fall Saturday, KSR Today is here to start the day.
Wildcats shine at Rupp Arena
At Friday night's Blue-White game, Kentucky held its annual intrasquad scrimmage and the Blue team came away victorious over the White squad with a 108-80 victory. Oscar Tshiebwe was the star of the show recording 25 points and 21 rebounds.
That sounds very promising.
However, the West Virginia transfer wasn't the only new Wildcat that shined. True freshman TyTy Washington dropped 24 points with 10 assists looking like he could be the point guard star for John Calipari.
A lot went down at Rupp Arena, and KSR had boots on the ground to provide all the coverage needed with more coming later today. For now, here's a link dump for anything you missed.
TyTy Washington could be great
Other College Football
Despite Kentucky taking the day off, there will be plenty of other college football played today. KSR is still handicapping for those interested.
Free Money and Luckett's Locks were delivering covers earlier this week, and the party all gets going after College GameDay finishes at UCLA. There are no real marquee matchups, but we could be in store for an upset or two along the way.
KSR has the schedule for the day so that plans can be made accordingly. Find you a home dog or two as football weather begins to roll in across the country.
Noon: #16 Wake Forest @ Army on CBS Sports Network
Noon: Illinois @ #7 Penn State on ABC
Noon: #2 Cincinnati @ Navy on ESPN2
Noon: Northwestern @ #6 Michigan on FOX
Noon: #3 Oklahoma @ Kansas on ESPN
3:00: Wisconsin @ #25 Purdue on Big Ten Network
3:30: #10 Oregon @ UCLA on ABC
3:30: LSU @ #12 Ole Miss on CBS
3:30: Clemson @ #23 Pittsburgh on ESPN
3:30: #8 Oklahoma State @ Iowa State on FOX
4:00: Boston College @ Louisville on ACC Network
4:00: Mississippi State @ Vanderbilt on SEC Network
7:00: Tennessee @ #4 Alabama on ESPN
7:30: #16 NC State @ Miami on ESPN2
7:30: #5 Ohio State @ Indiana on ABC
7:30: South Carolina @ #17 Texas A&M on SEC Network
7:30: USC @ #13 Notre Dame on NBC
Surprise engagement
Not only was basketball played at Rupp Arena, but folks were also getting engaged.
The national anthem singer was surprised by her boyfriend when he dropped to one knee on the Rupp Arena floor.
Congratulations to both Sydney and Jacob.
Transfer portal is creating evolution
During Kentucky media day, we heard John Calipari talk about the transfer portal and how the Wildcats plan on using it to improve the roster. Building your team is different now.
In football, Mark Stoops and Kentucky are also embracing it. In the past offseason, Kentucky added starters at quarterback, wide receiver, left tackle, and Mike linebacker to the roster. It has helped the team get off to a fast 6-1 start. Don't look for Kentucky to go away from it.
"We all have to look at it. We have some support staff that looks at it every day to make sure that we know who's in there, start grabbing film, putting all the film together, and then putting it in front of our coaches. It's definitely very different and so we gotta stay up with it," said Stoops. "Like every team in the country, we're going to actively participate, that's for sure."
Expect more additions from the portal once the season is over. Syracuse transfer wide receiver Taj Harris is a name to keep in mind over the next couple of weeks.
High school football moves toward playoffs
It was a quiet night throughout the Bluegrass, but important football was being played. KSR was out at Letcher County Central as Johnson Central cruised to a 34-point win.
There will be more to unpack later from the KSR crew on that game, but first, let's take a look at some of the final scores from around the state.
Ballard 24, Scott County 21
Bell County 20, Estill County 14
Boyle County 49, Bourbon County 12
Bryan Station 21, Madison Central 13
Manual 46, Butler 8
Frederick Douglass 54, Montgomery County 7
Henry Clay 34, Tates Creek 33 (OT)
Male 55, Bullitt East 14
Pikeville 17, Hazard 0
Southern 27, Fern Creek 19
St. X 49, PRP 22
Thomas Nelson 35, Nelson County 13
Trinity 56, Eastern 21
Woodford County 54, East Jessamine 7