KSR Today: Kentucky Battles Louisville for the Governor's Cup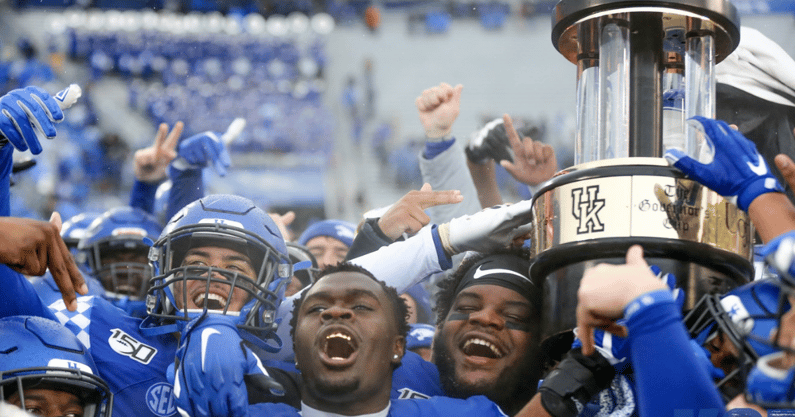 Three months of football has led to this. Saturday night Kentucky battles Louisville for the Governor's Cup. The ball will be kicked off at Cardinal Stadium at 7:30 pm ET. You can watch all of the action on ESPN2.
Two of the three biggest UK wins in the rivalry happened in 2018 and 2019. All-conference COVID-19 scheduling forced the Governor's Cup to the sideline for one season. Now Louisville has a little late season momentum, bringing a surprising amount of optimism into the game.
Malik Cunningham is the epicenter of UofL optimism. The Louisville quarterback has taken his play to new heights, posting numbers only comparable to his predecessor, Lamar Jackson. Louisville's leading rusher is 67 yards from breaking the 1,000-yard rushing threshold, the Cards go as Cunningham goes.
"You can see that there's a confidence level that he's playing with right now; arguably the most talented offensive weapon we've seen all season. He's really dangerous," said Kentucky defensive coordinator Brad White. "To say it's a huge challenge would be an understatement."
Kentucky will present a huge challenge to the Louisville defense. Light in the front seven, the Cards will also be without cornerback Kei'Trel Clark, arguably their best defender. The Wildcats now average 6.46 yards per play, ranked 21st nationally. Louisville has lost three of its previous four games against top 50 yards per play offense, allowing 35.4 points per game and each has averaged 6 yards per play in those contests. Will Levis and Co. could have a huge night at Cardinal Stadium.
The stakes are high. A win for Scott Satterfield could give Louisville much-needed momentum entering the offseason. For Stoops and Co., a nine-win season can put Kentucky back into a New Year's Day bowl. The two teams are going to leave it all on the line tonight at Cardinal Stadium.
The Schedule
4:30 — The KSR Pregame Show kicks off on 630 WLAP
5:15 — The Cat Walk outside of Gate 2 near Floyd Street.
7:30 — Kickoff on ESPN2
Vegas, TV, Radio
The most perplexing story of the week is Vegas' affinity for the Cardinals. Louisville opened as a 2-point favorite and that number has grown to UofL -3. The total is 57. The Cards are 6-5 ATS and have covered in two straight.
Chris Cotter, Mark Herzlich and Jalyn Johnson are on the call for ESPN2. If you'd rather listen to the Voice of the Wildcats, there are multiple ways to hear today's game.
AM: 840 WHAS, 630 WLAP
FM: 98.1 WBUL
Satellite: XM-191 and Sirius-135
Online: iHeart Radio
Governor's Cup Uniforms
Kentucky is preparing to party like it's 2018. The Wildcats are seeking a ninth win in a night game at Cardinal Stadium and wearing all white uniforms with the chrome domes. The last time you put all of those things together, Kentucky won by 46. Coincidence? I think not.
The Cards will be wearing all-red for the rivalry game.
Past Performances
Much of the mood surrounding the rivalry is defined by 2020's absence. The year off has added uncertainty and created two classes of Governor's Cup newcomers. While much has been made about the introduction to the rivalry, we cannot forget the production from Governor's Cup veterans.
Kavosiey Smoke — Two games, six carries, 120 yards, 1 TD
Chris Rodriguez — One game, nine carries, 125 yards, 1 64-yard TD
Cunningham — 11-19, 142 pass yards, 1 TD, 1 Int; 16 car. 116 yards, 1 TD
Podcast Lineup
We got you covered with plenty of audio entertainment to help you get to kickoff as stress-free as possible.
College Football Schedule
Rivalry weekend has already produced some great moments. Here's to many more.
Noon: #1 Georgia at Georgia Tech on ABC
Noon: Florida State at Florida on ESPN
12:05: #2 Ohio State at #5 Michigan on Fox
3:30: #3 Alabama at Auburn on CBS
3:30: Penn State at #14 Michigan State on ABC
3:45: Vanderbilt at Tennessee on SECN
3:45: Virginia Tech at Virginia on ACCN
4:00: #14 Wisconsin at Minnesota on Fox
7:00: #15 Texas A&M at LSU on ESPN
7:30: #10 Oklahoma at #7 Oklahoma State on ABC
10:30: #13 BYU at USC on ESPN
The Disrespect
Washington State rushed Washington's field after demolishing the Huskies 40-13 in the Apple Cup. Rivalry week never fails to deliver.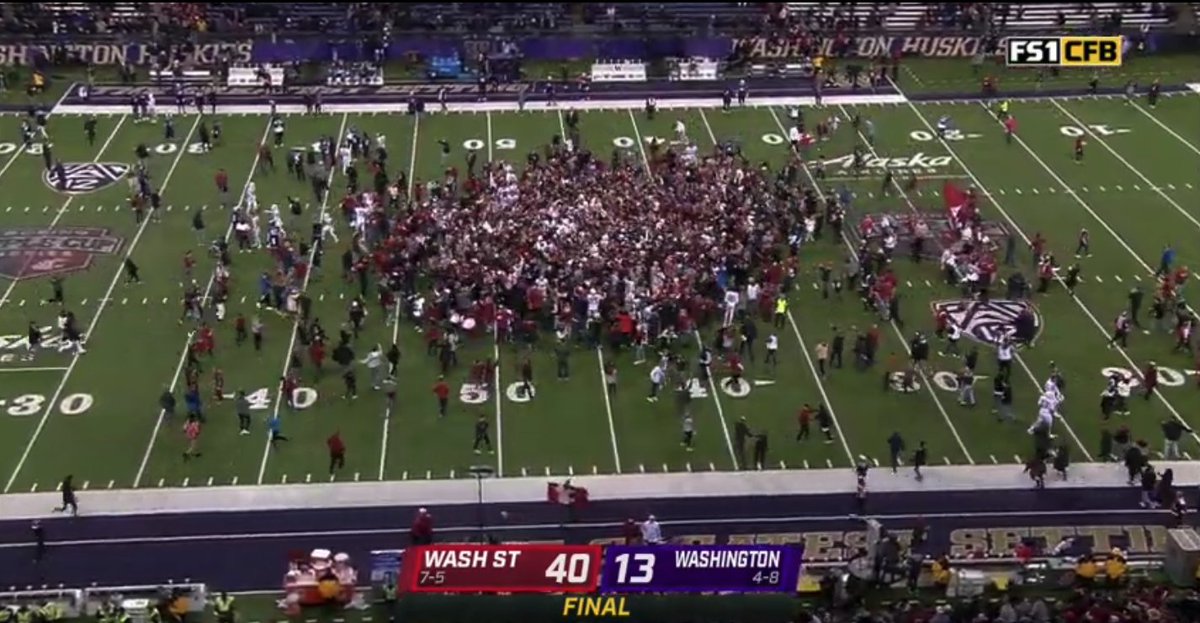 Buzzer Beater SZN
A prayer from the Dayton Flyers handed Bill Self's Jayhawks a loss. Feast week never fails to deliver.
Get Grant Williams a Bodybag
Keldon Johnson put the former Vol in a coffin. Ya love to see it.