KSR Today: Kentucky Football Fan Day Recap and a Yahtzee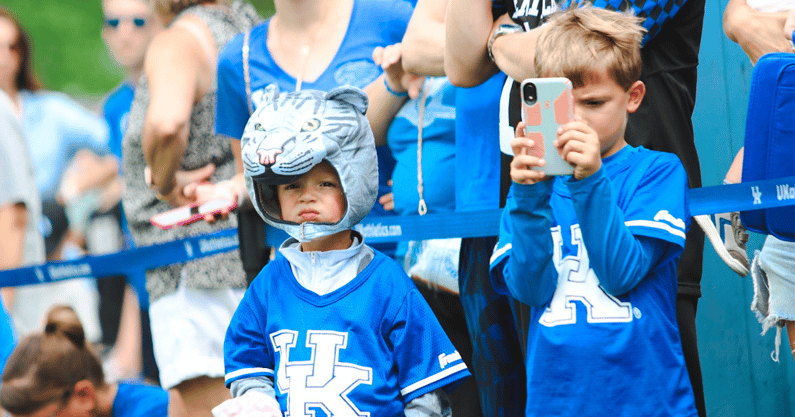 Mornin'.
**Raises coffee to greet the computer screen**
We've reached the point on the calendar when you better go ahead and get used to reading a lot about football on your Sunday mornings. We're now inside four weeks until the first home game of Kentucky Football's 2022 season and fall camp is ramping up with live helmet-to-helmet action (although, the helmets are padded now).
Yesterday, Mark Stoops put his team in full pads for the first time this fall so he could take a look at how they compete in one-on-ones and full-speed scrimmaging. Also taking a look were the many fans in attendance as Kentucky Football opened the gates to the practice facility for its annual Fan Day.
Then afterward, Stoops and his coaching staff received some exciting news from one of the top targets on their recruiting board. Not a bad Saturday, huh?
Maybe you and I can have a good Sunday and it starts with getting you all caught up on things.
**Wipes coffee off the keyboard**
Mark Stoops summarizes Day 4 of camp
Mark Stoops put on a smile for the media after a somewhat disappointing Day 4 of fall camp by his standards. "Still a lot of work to be done," he said in his opening remarks during the post-practice press conference. "We got a lot of things to get better at and correct."
But Stoops likes his team, he added from John Calipari's quote book, and sees a bright future ahead. "I like the way they compete, they're grinding, they're doing the best they can. There's certainly question marks on this team that we gotta work hard to get those answers fixed; there's other areas that are very strong. But we have to be a complete football team."
Hit play on this video to hear Stoops get more detailed in the eight-minute conversation after Fan Day.
Will Levis and Kentucky's offense lost the day
Will Levis wasn't happy about his performance in Saturday's open practice. Frankly, he seemed pretty pissed off about it.
Still, Levis faced the media after his multi-interception day to take the blame and explain what it's like to be on the losing end of an intrasquad scrimmage. When asked a simple how'd-it-go question to open his press conference, he replied, "Not good. For the offense, not good. It's not up to our standard. Me personally, I didn't make good decisions."
On the bright side, Levis noted it's a good thing to have the occasional bad day against your own defense to learn to deal with adversity. "You don't want it to be one-sided," he said. "You can't get complacent. It's not good when everything is going well for you."
He also said he took some chances he wouldn't try otherwise to see what kind of playmakers he has in the brand new receiver room. Remember, they're still figuring each other and the system out right now.
Jacquez Jones summarizes Kentucky's defense
Joining Levis and Stoops at the post-practice podium, but in a better mood, senior inside linebacker Jacquez Jones spoke for the defense as the QB of that side of the ball. Being the defense's QB, Jones said he keeps a close relationship with Levis and the two often compare notes to make sure Kentucky's offense and defense are at their best when it's finally game day.
Also in the conversation, Jones gave an analysis of some of his teammates on the defensive side of the ball.
KSR's Rapid Reactions
Since you've already watched three videos, what's one more? Nick Roush, Adam Luckett, and I ducked into Kroger Field to break down what we saw at Fan Day for a few minutes.
KSR's Fan Day Photo Gallery
Over on our Facebook page, KSR photographer Aaron Perkins has nearly 100 photos from the scene at yesterday's Fan Day. See what the unique setup was like over at the practice fields where fans lined the sideline.
Fan Day Links and Stories
Luckett on Kentucky's offense: Offense hits lull on Day 4 at Kentucky camp
Roush on Kentucky's defense: 4 Lessons Learned about the Kentucky Defense
Other Fan Day links that may interest you:
— KSR's Kentucky Football Fan Day Open Practice Live Updates
— Deone Walker as-advertised to open camp: "He's a special talent."
— Will Levis, Jacquez Jones building relationship as QBs of offense and defense
And we're just getting started, bro.
Fan Day Highlights
But wait, there's more! Bradley McKee packaged up this flashy highlight reel so you can see some of the best plays from the day. Give it a look and be sure to stick around to see Barion Brown at the end.
Kentucky Football landed a commitment after Fan Day
Kentucky Football's big day rolled on into the evening when one of the top targets on the recruiting board committed to UK. Jaremiah Anglin, a four-star safety ranked in the On300, picked Kentucky over Florida State to give the Wildcats yet another big recruiting win over the Seminoles.
A Florida native, Anglin is the fifteenth commitment in Kentucky's 2023 recruiting class.
More football talk to come
Kentucky has the day off but KSR does not. Stick with us all day for more from Fan Day and anything else that comes across the newswire. You just relax and check in occasionally.
Go Cats.