KSR Today: Kentucky Football Is Back (Mississippi State Week)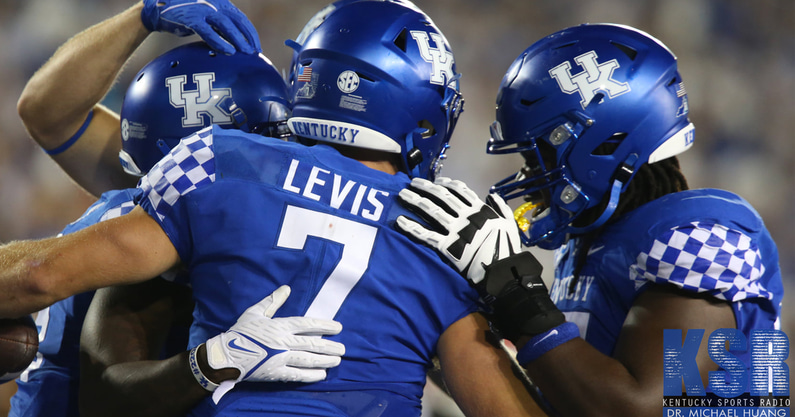 With all due respect to Kentucky Basketball and the fun we had last Friday night, today marks the return of Kentucky Football from its much-needed bye weekend and Big Blue Nation is excited to have football back. Mark Stoops' Wildcats return to work today to begin preparation for the upcoming trip to the SEC's 14th-best city where Kentucky and Mississippi State will collide this coming Saturday. Kickoff is set for 7 p.m. with the everyone's favorite broadcrast crew of Tom Hart, Jordan Rodgers, and Cole Cubelic on the SEC Network broadcast.
If you want one last look back, Nick Roush gave us the top plays from the first half of the season. Otherwise, let's jump right into Week 9 and Kentucky's shot at moving to 7-1.
Beat the Dawgs.
Mark Stoops returns to the podium.
Recharged and on his second non-fat latte of the day, Mark Stoops will sit down for a 30-minute discussion with the media that covers his team. We expect to hear the latest on Josh Ali's injury; a little more about the loss at Georgia, what went wrong and why; how they're moving forward in Week 9; and what they're doing to get Chris Rodriguez going again.
KentuckySportsRadio.com will have all of Stoops' comments with reactions throughout the afternoon. Watch it live here at noon.
Stoops' call-in show is back tonight too.
Kentucky moved up to 12th in both polls.
While the Wildcats sat on their couches, some teams ahead of them in the polls took an L, moving Kentucky up after a bye week. Kentucky climbed to No. 12 in both the AP and Coaches' rankings, from 15th and 14th one week ago.
The AP Poll teams ahead of Kentucky, in order, are: Georgia (7-0), Cincinnati (7-0), Alabama (7-1), Oklahoma (8-0), Ohio State (6-1), Michigan (7-0), Michigan State (7-0), Oregon (6-1), Ole Miss (6-1), Iowa (6-1), and Notre Dame (6-1).
Wildcats are a 'dog against the Dawgs.
For the gambling crowd, Mississippi State opened as a two-point favorite when the line went live Sunday afternoon. The total opened at 49.5, all according to VegasInsider.com.
Prediction: Kentucky is the team laying points by Saturday.
I know we don't like Mike Leach this week, but…
…he gave another Hall of Fame interview after beating Vanderbilt over the weekend. Leach took a postgame question about candy corn and turned it into a complete breakdown of his favorite candies.
"The Sprees in a box, outstanding. You have to go to the Dollar Store to find it, and I do."
Today we will learn the kickoff time for Kentucky-Tennessee.
Later today, approximately around noon, the Southeastern Conference will release its television schedule for the slate of games on Saturday, November 6. Kentucky's home game against the University of Tennessee is set for that day, so we will soon know the kickoff time and TV channel for the Cats' big game against the Vols.
Let's hope it's under the lights.
The KSR Football Podcast returns.
Last week I selfishly attended Monday Night Football (Titan Up) over getting with the boys for a bye week KSR Football Podcast. I believe we would've recorded one if not for my selfishness, so don't blame Nick Roush, Freddie Maggard, or Charles Walker. (Actually, blame Charles. He probably had a wedding.)
This week the KSR Football Podcast returns to its rightful place on your Monday evening podcast playlist with a new episode coming out tonight. We have lots to discuss and hope you will tune in.
Dane Key set to announce his decision later this week.
Only a little longer until Kentucky fans learn the college future of Dane Key, the four-star wide receiver out of Fredrick Douglass High School in Lexington. Key's recruitment has been under the BBN spotlight and Thursday evening it will all come to an end when he decides between Kentucky, South Carolina, Oregon, Michigan, and Mississippi State.
You can watch Key's announcement here on KSR or on the KSR Facebook page Thursday night. Kentucky appears to be in a great position, even more so after Vince Marrow showed up at Key's game Friday night. The work doesn't stop for the Big Dog.
Tune in to Kentucky Sports Radio at 10 a.m.
Matt Jones is on a mini-vacation, but Ryan Lemond and I will be on the airwaves from 10 a.m. to noon to get you caught up on the latest from around Big Blue Nation. Shannon The Dude will be with us too after he and Billy do the KSR Preshow at 9 a.m. Tune in to both and Go Cats.
Big day ahead…