KSR Today: No. 11 Kentucky plays No. 1 Georgia at Sanford Stadium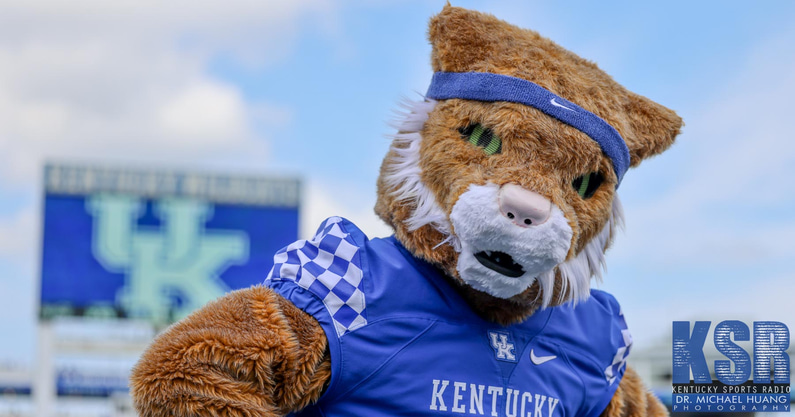 The game of the year of the century of the millennium is here. College GameDay and SEC Nation are in Athens before No. 11 Kentucky plays No. 1 Georgia at 3:30 pm ET on CBS.
For maybe the first time ever, Kentucky is playing in the biggest college football game of the weekend. How will they handle the big stage? Mark Stoops believes his team has been building for this moment.
"Guys have been very dialed in, very motivated, and seem to be in very good spirits. So we're anxious to get going," he said Thursday.
Kentucky will try to get its run game going against the SEC's best rush defense. Will the Big Blue Wall be able to pave the way for Chris Rodriguez, or will the Dawgs put a muzzle on the SEC's leading rusher? Will Levis' wheels may serve as a difference-maker for the UK offense. Coming off a five-touchdown performance against LSU, Kentucky's quarterback has the much-needed confidence to slay Goliath.
"I'm excited to take on the challenge," Levis said on Tuesday. "Not a lot of people get to play the No. 1 team in the country and to play them in an atmosphere with — I know you're not supposed to pay attention to the extra stuff, but it is pretty cool with College GameDay and everybody coming down here. It's going to be special, I'm looking forward to it and seeing what we're made of."
Kentucky has been close, knocking on Georgia's door since the last highly anticipated meeting in 2018. Will history repeat itself or will Kentucky knock down another door with an historic win? We'll find out in a few hours.
The Schedule
9:00 — College GameDay kicks off on ESPN at Myers Quad
9:00 — SEC Network's Marty & McGee from the Special Collections Library
10:00 — SEC Nation takes over
Noon — The KSR Pregame Show Kicks Off on 630 WLAP
1:15 — The Cat Walk near Gate 5 on the east side of the stadium
3:30 — Kickoff on CBS
Vegas, TV, Radio
Kentucky is in a place they haven't been too often lately. The Wildcats are three-touchdown underdogs, +23 to be exact. The total is low, set at 44.5. Mark Stoops has won as a three-touchdown underdog on the road. Remember that time Lamar did the Heisman? Remember when he fumbled?
The CBS A-team — Brad Nessler, Gary Danielson and Jamie Erdahl — will be broadcasting the game. Kickoff is set for 3:30 pm ET. If you'd rather listen to the Voice of the Wildcats, there are multiple ways to hear today's game.
AM: 840 WHAS, 630 WLAP
FM: 98.1 WBUL
Satellite: XM-191 and Sirius-138
Online: iHeart Radio
Today's Uniforms
Kentucky is feeling icy this afternoon. The Wildcats are not putting away the chrome domes just yet. They'll be wearing them with white pants and jerseys, the same combo they rocked in the Citrus Bowl victory over Penn State.
Today's Celebrity Guest Picker is…
… Jeff Foxworthy. Some people love to rag on the Blue Collar legend, but a blue collar guy fits Kentucky's M.O., even if he is a Georgia fan. Also, if he's playing the hits, I don't care who you are, that's funny.
The Last Kentucky Win in Athens
Georgia is the final team Mark Stoops has yet to defeat in the SEC East. Kentucky has not defeated the Dawgs since 2009. Morgan Newton threw three touchdown passes, Randall Cobb rushed for two scores and the UK defense forced four turnovers in the 34-27 victory between the hedges.
Podcast Lineup
We got you covered with plenty of audio entertainment to help you get to kickoff as stress-free as possible.
College Football Schedule
Noon: Auburn at #17 Arkansas on CBS
Noon: #20 Florida at LSU on ESPN
12:00: #21 Texas A&M at Missouri on SEC Network
12:00: UCF at #3 Cincinnati on ABC
12:10: #12 Oklahoma State at #25 Texas on Fox
3:30: Purdue at #2 Iowa on ABC
3:30: Miami at North Carolina on ACC Network
7:30: TCU at #4 Oklahoma on ABC
7:30: Iowa State at Kansas State on ESPN2
7:35: #13 Ole Miss at Tennessee on SEC Network
7:35: #22 NC State at Boston College on ACC Network
8:30: UCLA at Washington on Fox
10:00: #18 Arizona State at Utah on ESPN
10:30: Hawaii at Nevada on CBSSN