KSR Today: Fall Camp updates, Stoops taking shots, KHSAA buzzkill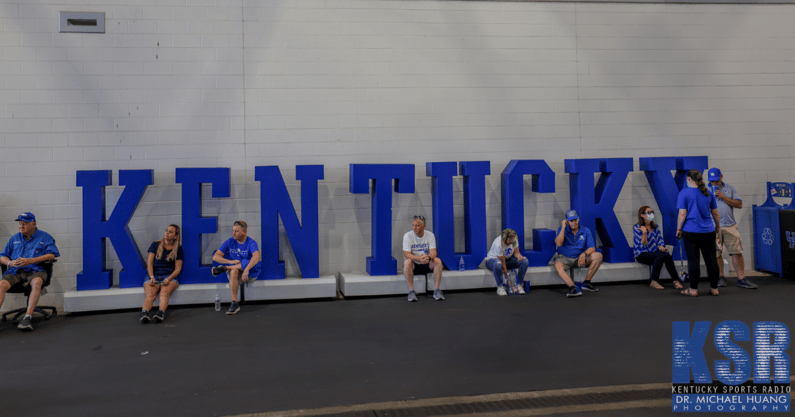 Good morning, friends. You've made it (almost) halfway through the work week, well done. After a chaotic few days, the UK sports news cycle has slowed down a bit, giving us all a chance to catch our breath. With only 17 days left until the season-opener vs. Miami (OH), that reprieve won't last long.
Here's what you need to know to start your day.
Rich Scangarello's updates from fall camp
Tuesday is the offense's turn to talk to the media after practice, and Rich Scangarello passed a few items of news along during his time at the podium. Nick Roush has a full rundown for you in yesterday's practice report, but here are the quick hitters:
Still no QB2 – The battle between Kaiya Sheron and Deuce Hogan to backup Will Levis continues
Still no RB2 – Chris Rodriguez's availability still remains uncertain, with Mitch Barnhart saying on Saturday the decision on how many games, if any, he will miss for his DUI and other off-field matter will be a collective decision by the staff and administration. Scangarello said that if Rodriguez can't play, there is no clear backup because all of Kentucky's other backs are so unique.
Praise for the WRs, tight ends – Scangarello echoed the chorus of praise for Kentucky's tight-end room in Saturday's scrimmage and also singled out wide receivers Chris Lewis and Barion Brown for their play thus far
Offensive line coach Zach Yenser also updated the rebuilding of the Big Blue Wall, which is coming together under Eli Cox's leadership on the field and bonding over NCAA Football 14 off it. Hilariously, they are using former Kentucky center turned grad assistant Drake Jackson as their QB in the video game.
Tuesday Post-Practice Interviews
Did you know you can see every post-practice interview on KSR's YouTube Channel? If you haven't yet, please subscribe. We're new to this video stuff, but we've got big plans for the channel to accompany our football and basketball coverage this season. Don't be left behind!
Did Mark Stoops take a shot at Shane Beamer?
Stoops' conversation with Marty & McGee at SEC Media Days aired last night and includes a clip of him talking about how respect in the SEC is earned through hard work, not gimmicks.
"It's easy to change a climate. You can change a uniform, talk a little game, dance around, put on some stupid sunglasses."
It didn't take long for the internet to figure out who he was talking about. South Carolina's Shane Beamer famously put on some stupid sunglasses and danced around in a video preceding his appearance at SEC Media Days.
Luckett will have more from Stoops' conversation with Marty & McGee in just a bit.
KHSAA will not give out waivers for charity all-star game
Earlier this week, plans were announced for a high-school all-star game in Lexington with proceeds going to the Kentucky Flood Relief Fund. Kentucky commits Reed Sheppard and Rob Dillingham headlined the roster, which is stacked with some of the nation's top players. In order to participate, Sheppard and fellow Kentucky high school basketball star Travis Perry require waivers from the KHSAA. This morning, the KHSAA said it cannot grant them because its member schools voted against allowing preseason games last year:
Where does the event go from here? Jack Pilgrim says ProCamps is willing to move it elsewhere, so stay tuned.
CBS Sports Classic Presale Begins
Tickets for the CBS Sports Classic featuring Ohio State vs. North Carolina and Kentucky vs. UCLA go on sale to the general public tomorrow, but your friends at KSR are here to help you beat the pack. The presale begins today at noon. Click here and use the promo code CBSMSG22. This year's event takes place at Madison Square Garden in New York City on Saturday, December 17. Get in there.
John Wall documentary coming soon to YouTube
The 2022-23 NBA schedule drops tonight. This year, John Wall will suit up for the LA Clippers. The former Cat has been plagued by injuries over the years and hasn't played in an NBA game since April 23, 2021. Wall is taking his latest comeback attempt very seriously. Yesterday on Twitter, he teased a new documentary about his road to recovery. It drops Thursday on YouTube.
"A lot has been said. A lot of questions have been asked. It's my turn to talk. Here are my answers. The evolution starts."
Reminder: KSR is looking for new interns
If the traffic around UK's campus this week isn't indication enough, the school year is almost here. In turn, KSR is looking for interns for the fall sports season. Specifically, we're searching for beat writers for baseball, softball, and volleyball; a high school beat writer; and a video production intern to assist us with our growing YouTube channel. You must be a currently enrolled college student to apply and can use the experience for college credit or as a paid internship.
The number of interns that have gone on to full-time positions in sports media over the years is truly remarkable (five in the last year alone), so if you think you've got what it takes, check out the details. The deadline to apply is Sunday, August 21 at 7:00 p.m. ET.
What is the best football movie?
Kentucky Football's players weighed in on the age-old question after practice recently.
For me, it's hard to top Rudy, but Remember the Titans comes close. It's also really hard to turn the channel if The Waterboy comes on. Share your picks in the comments.