KSR Today: Kentucky MBB in London, VB hosting NCAA Tournament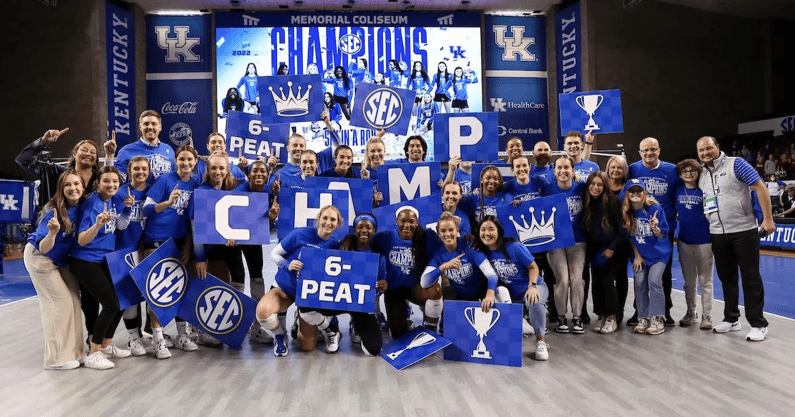 Good morning, folks! The Kentucky men's basketball team left Lexington for London, England on Wednesday, and a couple members of the KSR crew aren't too far behind them. The 'Cats are gearing up for a showdown at the famous O2 Arena against the Michigan Wolverines in a historic basketball matchup, which is set for Sunday at 1:00 p.m. EST on ABC.
"It's the first college game in that venue," John Calipari said of the O2. "Which they say is the No. 1 venue in the world. We're staying right in London. So, you know, not going to do a whole lot of sightseeing, but we will the first day we're there and maybe the second day and try to get out. Because of where we're staying there are things they can walk to."
The boss of KSR, Tyler Thompson, and our new, uber-talented videographer, Steven Peake, will make their trek across the pond throughout the day to bring you plenty of live coverage from London all weekend long. Warm beers and fish and chips will be had. Let's all wish them well on their travels — it'll be a long day crammed into airplanes.
In the meantime, there is an important volleyball game happening stateside later tonight that you need to know about. Let's talk about that first before diving into everything else you need to know on this chilly Thursday morning across the Bluegrass.
Kentucky VB hosts opening round of NCAA Tournament
Tonight, the three-seeded Kentucky Wildcats volleyball team will begin its quest for a second NCAA championship in three years. The Wildcats open postseason play by hosting the first two rounds right here in Lexington, KY at Memorial Coliseum. Up first for Kentucky is a matchup against Loyola Chicago, which is set to begin at 7:30 p.m. EST and will be broadcast on ESPN+.
Western Kentucky and Bowling Green (OH) make up the other half of the Lexington Regional. That match will begin at 4:45 p.m. EST on ESPN+. The winners of tonight's action will face each other on Friday night at 7:00 p.m. EST in Memorial Coliseum.
Check out a preview of tonight's action from KSR's Ian Alvano here.
Will Levis still unsure of bowl game status
Kentucky quarterback Will Levis plans to declare for the 2023 NFL Draft, the standout senior announced Wednesday evening, but he's still yet to decide on whether or not he'll suit up in the Wildcats' bowl game.
Live in a Twitter Space with Blue Chips — a NIL partner — Levis made it clear he plans to turn pro at the conclusion of the season.
"My intentions are to enter the draft after the season," Levis announced. "I still don't know about the bowl game yet. I talked to the coaches and people in my circle that I've needed to these past couple of days, and I will be making that decision soon. Nothing is final. But where my mind is at, I do believe — I'll make an official announcement once I feel it's necessary and appropriate, but I do believe after this year I'll be declaring."
Speaking of Levis and the NFL Draft, one of the preeminent NFL Draft experts, Dane Brugler, debuted his first mock over at The Athletic. Brugler has Levis going in the first round with the 14th overall pick to Jeff Saturday's Indianapolis Colts.
As for Kentucky's bowl game, the 'Cats are currently trending toward landing in Memphis to play in the Liberty Bowl, but the Las Vegas Bowl is still a possibility. We'll find out for sure on Sunday.
Several football recruiting notes
KSR's 2022 Kentucky Football Transfer Portal Preview
Times are changing in the world of college football. First, it was National Signing Day, then it was the Early Signing Period. Now the offseason hysteria surrounds the transfer portal.
Initially opened in October 2018, new windows and NIL transactions are amplifying the exchanges. The new free agency period begins Dec. 5. Before the madness begins, KSR takes a closer look at which Wildcats may enter the portal, what kind of players Mark Stoops will be looking for, and much more.
Subscribe to the KSR YouTube Channel for press conferences, interviews, original shows, fan features, and exclusive content.
While you're here, you might as well check out Adam Luckett's early Big Board for a Will Levis replacement at quarterback. There are some talented options out there already.