KSR Today: Kentucky moves to 4-0 with win over NIU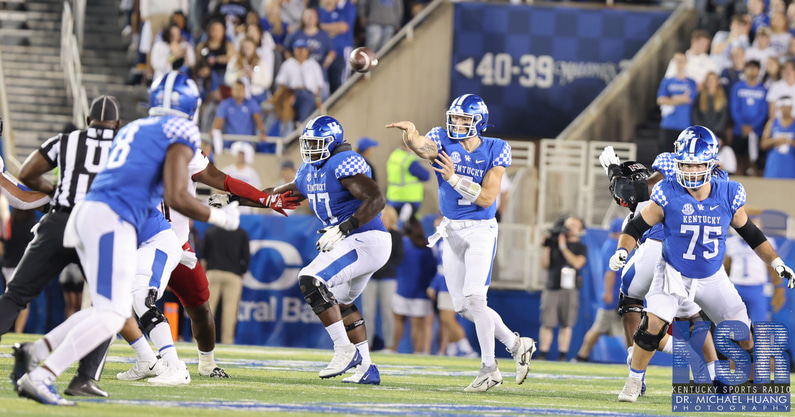 It was a tale of the good, bad and ugly for the Kentucky Wildcats in their 31-23 victory over Northern Illinois, a win that pushed the team to 4-0 on the year.
The good: Will Levis and the passing offense. Racking up 303 yards and four touchdowns with zero interceptions on 69 percent completion (18-26), Levis was terrific. His pass-catching options were, too, specifically with Tayvion Robinson and Barion Brown, with the former putting up 147 yards and two touchdowns on seven receptions and the latter adding 102 yards and two scores on four catches. The two combined for 183 yards after the catch and hit on five big-play opportunities (15-plus yards).
The bad: Kentucky's rushing attack and defense as a whole. The Wildcats only picked up 103 yards on 35 attempts, an average of 2.9 yards per rush. Kavosiey Smoke led the team with 85 yards on 12 carries, but had one costly fumble before half that led to a touchdown for Northern Illinois. JuTahn McClain and La'Vell Wright combined for just 29 yards on 12 carries.
On the other side of the football, the defense allowed a season-high 327 yards and 23 points, with the Huskies scoring three touchdowns and one field goal. The Wildcats entered the day tied for No. 1 in college football with zero passing touchdowns allowed on the year, but gave up two against Northern Illinois. They were also tied for No. 12 in scoring defense with 9.67 points allowed per game (23 for NIU), No. 12 overall and No. 1 in the SEC in first downs allowed (13 for NIU) and No. 15 in red zone defense with two scores allowed on the year (4-4 on attempts for NIU).
Putting up truly elite defensive numbers across the board going into the matchup, Kentucky slipped in nearly every statistical category.
As for the ugly, it was the same old song and dance with the offensive line. Not only did the unit contribute to Kentucky's inability to establish a consistent run game, it was also a turnstile in pass protection, allowing six tackles for loss, five sacks and two additional QB hurries in the win.
Mark Stoops saw progress with the unit — maybe some coachspeak to build the confidence of the team's most struggling position group — but it certainly wasn't pretty.
All in all, a ho-hum performance to close out the bulk of the non-conference schedule and look ahead to SEC play. Some good, some bad, some ugly for the Wildcats against the Huskies.
Highlights
Photo Gallery
KSR's Rapid Reaction
Postgame interviews
Mark Stoops
Rich Scangarello
Brad White
Will Levis
Tayvion Robinson
Barion Brown
DeAndre Square
Jacquez Jones
Postgame Links
Cats in the NFL: Week 3
Week 3 of the 2022 NFL season is upon us and you'll have plenty of opportunities to watch your favorite former Kentucky standouts suit up throughout the day. Check out today's schedule below.
1:00 PM EST
New Orleans Saints (L. Young) at Carolina Panthers (P. Hoskins, M. McCall) 
Houston Texans at Chicago Bears
Kansas City Chiefs at Indianapolis Colts
Buffalo Bills at Miami Dolphins
Detroit Lions (J. Paschal, L. Stenberg) at Minnesota Vikings
Baltimore Ravens at New England Patriots (L. Bowden)
Cincinnati Bengals (Y. Corker) at New York Jets (B. Echols)
Las Vegas Raiders at Tennessee Titans
Philadelphia Eagles at Washington Commanders (J. Davis, J. Toth)
4:05/4:25 PM EST
Jacksonville Jaguars (J. Allen, L. Fortner, C. Peters) at Los Angeles Chargers
Los Angeles Rams (TJ Carter) at Arizona Cardinals
Atlanta Falcons (J. Ali) at Seattle Seahawks (Q. Mosely)
Green Bay Packers at Tampa Bay Buccaneers
8:20 PM EST
San Francisco 49ers at Denver Broncos
---
The updated national polls will be released later today. Will the Wildcats hold firm at No. 8 overall or could we see a slight climb? Kansas State upset No. 6 Oklahoma, opening the door for a one-spot jump, potentially.
We'll find out shortly. Until then, enjoy your Sunday, Big Blue Nation.