KSR Today: Kentucky prepares for road matchup at No. 5 Kansas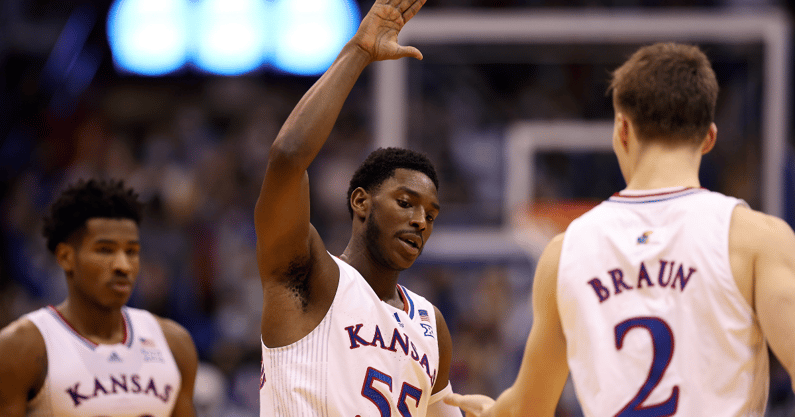 Kentucky is set to face its second consecutive top-five opponent on the road on Saturday, as the Wildcats are set to face the No. 5 Kansas Jayhawks at 6 p.m. ET. The head-to-head battle comes just one week after UK fell at Auburn, who is now the No. 1 team in college basketball.
Kansas enters the game ranked No. 3 overall in offensive efficiency, one spot ahead of Kentucky at No. 4. Only Purdue (No. 1) and Gonzaga (No. 2) sit ahead of the Jayhawks and Wildcats on offense. Defensively, though, Kansas comes in ranked No. 49 overall, while Kentucky sits at No. 25, good for fourth in the SEC. The Jayhawks average 81.5 points and allow 67.9 points per contest while the Wildcats average 82.3 points and allow 64.3 points per game.
ESPN's matchup predictor gives the slight edge to Kansas with a 59.5% chance to win, with Barttorvik projecting the Tigers as a four-point favorite. Official odds will be released later today.
The Big 12/SEC Challenge will be broadcast live on ESPN at 6 p.m. ET on Saturday.
John Calipari, Bill Self preview Kentucky at Kansas
What does Coach Cal think about the matchup? The UK head coach will preview his team's game at Kansas alongside select players starting at noon ET today.
From there, Bill Self, select Kansas players and the College Game Day crew will preview the matchup in Lawrence starting at 1 p.m. ET.
KSR will have all of the coverage you need right here on the website throughout the afternoon.
Oscar Tshiebwe named to Naismith Defensive Player of the Year Watch List
Kentucky star Oscar Tshiebwe has been named to the Naismith DPOY Watch List, leading the country in rebounding (15.2), offensive rebounds per game (5.2) and defensive rebounding percentage (36.3%).
Tshiebwe was one of 15 players selected to the Watch List on Thursday.
This is now the fifth major midseason national honor for Tshiebwe, with the 6-foot-9 center also being named to the Lute Olson Watch List and the John R. Wooden Award Midseason Top 25 Watch Lists for its player of the year honors. Sporting News and The Athletic have also tabbed Tshiebwe to their midseason All-America Teams, respectively.
Kentucky WBB lose again (but Rhyne Howard makes history)
The good news? Kentucky women's basketball superstar Rhyne Howard made history Thursday evening, recording her 2,000th career point as a Wildcat. The senior standout is just one of three UK WBB players and one of six total basketball players at the University of Kentucky to hit this milestone.
Howard is the third-fastest player — men or women — to reach the 2,000-point mark, behind only Dan Issel (79 games) and Valerie Still (90 games). She sits ahead of Jack "Goose" Givens (123), Kenny "Sky" Walker (129 games) and A'dia Mathies (139) on the list.
That's the good news. The bad news, however, is that Howard's 25 points, 10 rebounds and five blocks on Thursday wasn't enough to beat the Vanderbilt Commodores on the road, losing by a final score of 65-57. With just six players available for the Wildcats overall, Kentucky turned the ball over a season-high 25 points and took just 55 shots, 11 fewer than Vanderbilt (66).
Jada Walker added 10 points in the loss, followed by Emma King with nine.
As a team, the Wildcats shot just 38.2 percent from the field overall and 21.7 percent from three while the Commodores shot 37.9 percent overall and 41.2 percent from three.
With the loss, Kentucky falls to 9-8 overall and 2-5 in conference play. The Wildcats are also 1-5 on the road.
UK will take on LSU in Baton Rouge on Sunday, with tip-off scheduled for 2 p.m. ET on the SEC Network.
Kavosiey Smoke is back for Kentucky football
Kentucky running back Kavosiey Smoke will return for the Wildcats in 2022, completing the team's star-studded rotation in the backfield this fall.
As a junior at Kentucky, the 5-foot-9, 201-pound running back finished with 416 yards and four touchdowns on 81 carries in 2021. He previously rushed for 229 yards and one score on 47 carries in 2020, 616 yards and six touchdowns on 101 carries in 2019 and 45 yards and one score on four carries in 2018.
With Smoke back, Kentucky is set to return 2,471 total yards — the entirety of its core rushing attack — from last season between Chris Rodriguez (1,379), Smoke (416), Will Levis (376), JuTahn McClain (165), La'Vell Wright (118) and Michael Drennen (17).
Liam Coen to Miami (FL)?
The Miami Hurricanes are reportedly making a run at Kentucky offensive coordinator Liam Coen.
According to 247Canes, Coen has emerged as a "name to know" in Miami's search for an offensive coordinator and quarterbacks coach.
Coen was hired as Kentucky's OC/QB coach back in Dec. 2020 after spending three seasons with the Los Angeles Rams under offensive guru Sean McVay. In his debut season with the Wildcats, Coen helped the team jump to No. 35 in scoring offense and No. 45 overall in total offense.
Could Coen make a move to Miami this offseason? Highly unlikely, especially after receiving a substantial pay raise earlier this month, one that will see the 36-year-old earn $1.1 million in 2023 and $1.3 million in 2024.
It appears, though, the Hurricanes are trying regardless.
KSR in an hour
Matt Jones and the KSR crew are back again this morning to break down all of the latest news in the world of UK Athletics.
10 a.m. to noon ET. Make sure you tune in.