KSR Today: Saint Joseph's exhale, Back to Football
Good morning, BBN. Let's start our day by thanking DJ Wagner and Tre Mitchell, without which, we could be waking up to another sad University of Kentucky sports morning. The freshman and graduate student combined for 16 of Kentucky's 19 overtime points to push the Cats to the 96-88 victory over Saint Joseph's. Kentucky is now the champion of the Wildcat Challenge (hosted by Kentucky Tourism) and 4-1 on the season. If that doesn't make you smile on a Tuesday morning, I'm not sure what will.
We've had plenty of coverage of the game thus far, but in a nutshell, Saint Joseph's went after the Cats from the outside in, making 15 threes and outrebounding Kentucky 42-37. The Cats had plenty of freshmen moments but regrouped to get the victory thanks to clutch performances by Wagner, Mitchell, and Reed Sheppard. Sheppard was scoreless but led the team in efficiency at +16, making two crucial steals in overtime. Justin Edwards also busted out of his slump a bit, finishing with 12 points off 4-6 field goals and two big threes.
Last night showed us Kentucky has plenty of things to work on, defense and free throws chief among them, but the Cats were able to band together to get an overtime win against a scrappy team, all without any of their seven-footers. I'll take it.
Let's run through the quick hitters and get on with our day.
Box Score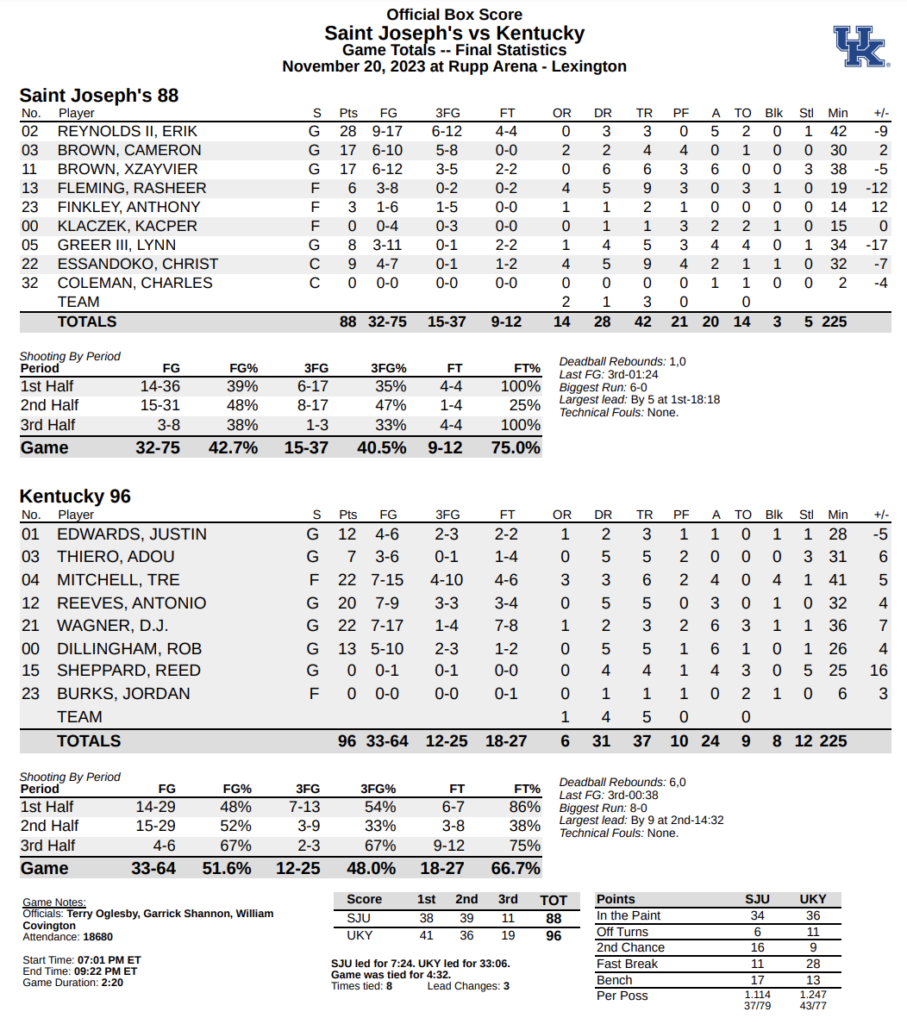 Highlights
Photo Gallery
Postgame Link Dump
John Calipari Postgame Press Conference
Player Interviews
KSR Rapid Reaction
Subscribe to the KSR YouTube Channel for press conferences, interviews, original shows, fan features, and exclusive content.
Kentucky will be back in action on Friday vs. Marshall (7 p.m. ET, SEC Network, fuboTV — limited time offer: $40 off Fubo's Pro, Elite and Premier plans today!). Until then, we're going to shift gears back to football, because there's a very big rivalry game on Saturday.
Liam Coen, Brad White after practice
Since it's a holiday week, the media schedule has shifted a little bit. Usually on Tuesdays, we hear from Liam Coen and members of Kentucky's offense. Tonight, we'll also hear from Brad White and the defense. Check the site and YouTube Channel this evening for updates from the coordinators, assistant coach, and players on both sides of the ball.
Mark Stoops' Call-In Show
We'll also hear from Mark Stoops. Due to the basketball game, his call-in show was moved from Monday night to tonight. At 7 p.m., Stoops will sit down with Tom Leach to discuss the loss at South Carolina and look ahead to Saturday's game vs. Louisville. During his press conference on Monday, Stoops recognized that the loss to South Carolina was "inexcusable," but said he believes his team is in a good mindset now.
"Nobody's defeated in our facility, that's for sure. Disappointed with that game and that comes from investing so much, but we're far from defeated. Our team will show the resolve that we've always had, and come back this week and try to put together a great week. The bottom line is, go execute a little better than we did Saturday. That's what was so frustrating."
In case you're getting depressed about the South Carolina game again, here's a picture of Chris Rodriguez and Wan'Dale Robinson to make you feel better.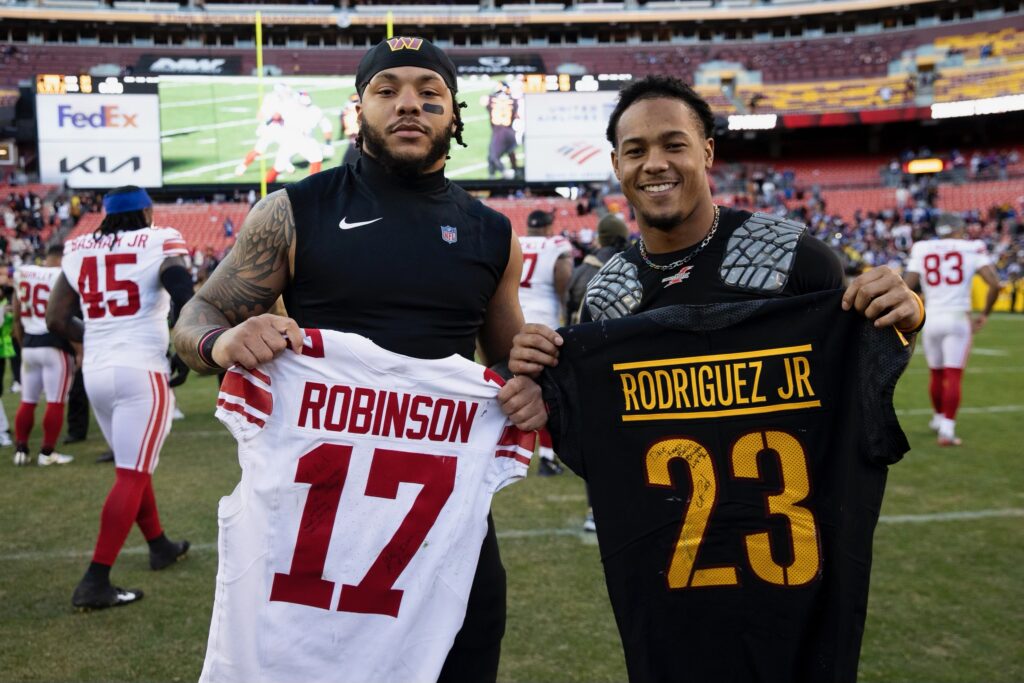 John Calipari back on the recruiting trail
The first John Calipari Show of the season is tonight as well, but it will take place without Cal. An assistant coach will fill in tonight at 6 p.m. on 630 WLAP as Calipari hits the recruiting trail. After the game last night, Cal said he will be visiting "three different kids" on Wednesday, including Kentucky signee Boogie Fland. Jack Pilgrim has his ear to the ground to figure out who the other two recruits are.
Regardless, we'll be listening to Orlando Antigua, Chin Coleman, Bruiser Flint, or Chuck Martin tonight before Stoops takes the mic.
Sources Say LIVE at 8 p.m. ET
Need even more Kentucky sports programming for your Tuesday evening? At 8 p.m. ET, Jack Pilgrim and Shawn Smith will share their thoughts on the win over Saint Joseph's on Sources Say. Tune in live on the KSR YouTube Channel. With Kentucky's four 2024 signees "in the barn," Cal back on the recruiting trail, the current Cats facing an unexpected overtime test, and differing timelines floating around for Aaron Bradshaw's return, they have plenty to discuss.
College Basketball on TV today
Feast Week continues and we have some excellent basketball on tap, including two monster games in the Maui Invitational. Tonight, No. 7 Tennessee faces No. 2 Purdue, followed by No. 1 Kansas vs. No. 4 Marquette. Here's the schedule:
2:30 PM (ESPN2): Syracuse vs. No. 11 Gonzaga (Maui Invitational)
4:00 PM (CBSSN): No. 18 Colorado vs. Florida State (Sunshine Slam)
5:00 PM (ESPN2): UCLA vs. Chaminade (Maui Invitational)
6:00 PM (CBSSN): No. 22 James Madison vs. Southern Illinois (Cancun Challenge)
7:00 PM (ACCN): La Salle vs. No. 9 Duke
8:00 PM (SECN+/ESPN+): Alabama A&M vs. Auburn
8:00 PM (ESPN): No. 7 Tennessee vs. No. 2 Purdue (Maui Invitational)
10:30 PM (ESPN): No. 1 Kansas vs. No. 4 Marquette (Maui Invitational)
Got thoughts? Continue the conversation on KSBoard, the KSR Message Board. New members can try 1 month for $1.
Discuss This Article
Comments have moved.
Join the conversation and talk about this article and all things Kentucky Sports in the new KSR Message Board.
KSBoard