KSR Today, presented by Lextran: Kentucky takes on Ohio at Rupp Arena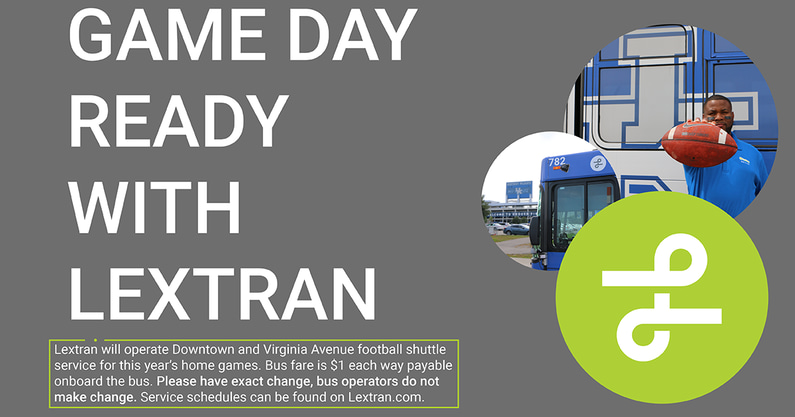 Lextran is here to help you cheer on the Wildcats! For only $1 each way, one of Lextran's football shuttles can take you from Downtown or Virginia Avenue to the stadium. It's a safe, convenient, and easy way to travel to and from the games. Visit tinyurl.com/LextranUKFootball to learn more.
---
Kentucky takes on Ohio
The Kentucky Wildcats are back in action Friday evening, taking on the Ohio Bobcats at Rupp Arena, with tip-off scheduled for 7 p.m. ET. It will be the team's third game in eight days and the third of five matchups over the course of 15 days.
Unlike the team's first two games — two easy blowouts with little-to-no pushback — John Calipari expects a fight against the 3-0 Bobcats, who have taken down the likes of Belmont, Cleveland State, and Robert Morris to open the season.
"This is an NCAA Tournament team," Calipari said Thursday. "Terrific for us to play. It's what we need. We're gonna learn. These early games, that's what you do. … This game, we need our fans at the game. This is going to be a really hard game. Hard game."
Ohio averages 81.3 points per contest, with 31.3 of those coming from 3-pointers, good for 20th in the country. They're knocking down 12 per game, which is tied for 14th nationally.
The team is led by point guard Mark Sears, who is averaging 19.3 points per contest and earned MAC Player of the Week to open the season. Forwards Jason Carter and Ben Vander Blas both average 15-plus points, 8.7 rebounds and 3-plus assists per contest, as well. Ben Roderick rounds out double-digit scorers with 10.0 points per game.
The Bobcats actually received a vote in the AP Poll this past week. Again, Ohio is no slouch.
"We need this game to just continue our path," Calipari added. "You need to have tune-up games — you can't just go throw kids into the fire. You need tune-up games, but you also need to get challenged."
Viewing and listening information can be found below:
When:  7:00 p.m. ET, Friday, Nov. 12
Where: Rupp Arena at Central Bank Center (Lexington, KY)
Television: SEC Network with Mike Morgan (play-by-play) and Mark Wise (analyst)
Radio: UK Sports Network with Tom Leach (play-by-play) and Mike Pratt (analyst)
Satellite Radio: Sirius (133), XM (190), SXM App (961)
Mini-packs are on sale now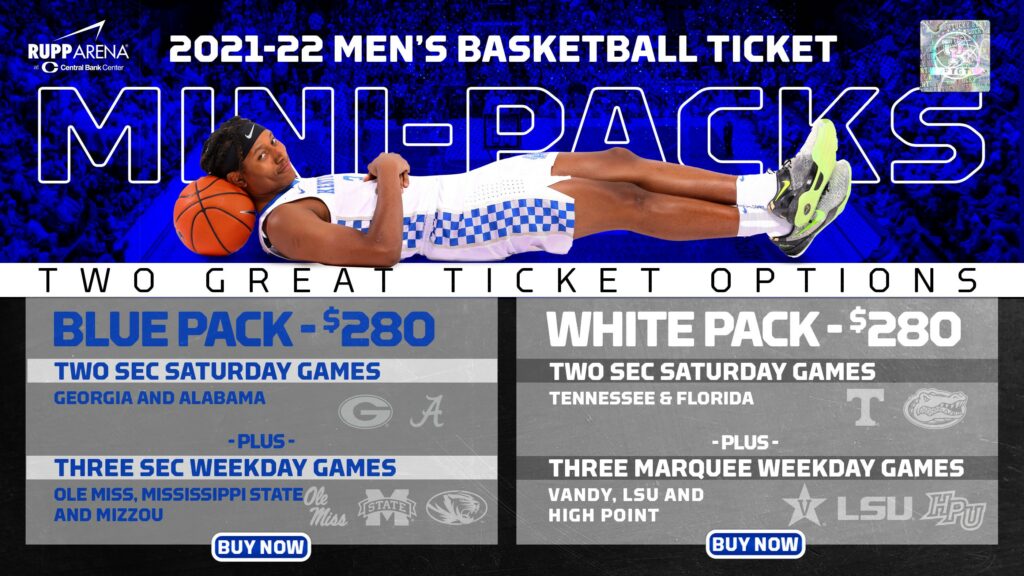 Kentucky basketball is now selling mini-packs for the 2021-22 season, priced at $280 for five games.
Each of the two mini-pack options will include two Southeastern Conference Saturday contests and three marquee weekday games.
Here are the two mini-pack breakdowns:
Blue Pack
Missouri (Wednesday, Dec. 29)
Georgia (Saturday, Jan. 8)
Mississippi State (Tuesday, Jan. 25)
Alabama (Saturday, Feb. 19)
Ole Miss (Tuesday, March 1)
Fans who purchase before Nov. 29 will also receive complimentary tickets to the Central Michigan game. 
White Pack
High Point (Friday, Dec. 31)
Tennessee (Saturday, Jan. 15)
Vanderbilt (Wednesday, Feb. 2)
Florida (Saturday, Feb. 12)
LSU (Wednesday, Feb. 23)
Fans who purchase before Dec. 7 will also receive complimentary tickets to the Unity Series matchup with Southern. 
Kroger KSR GAMES of the Week in Bell County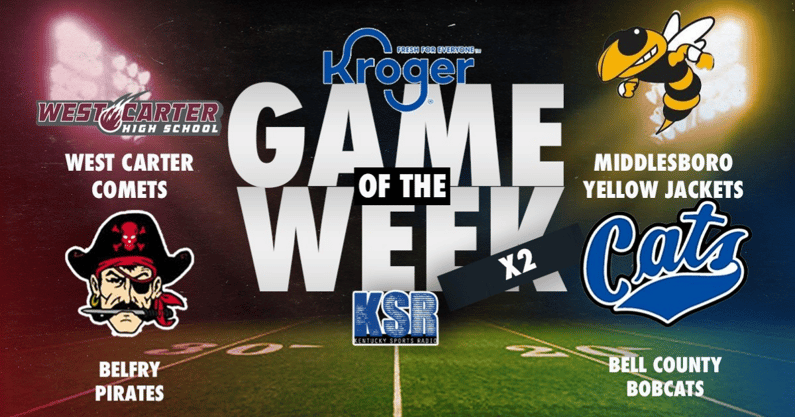 For the first time in history, the Kroger KSR Game of the Week will be a doubleheader, and it'll be going down in Bell County.
Middlesboro and Bell County High School are simultaneously hosting regional championship games for the first time since 1995. The Middlesboro Yellow Jackets are set to take on the West Carter Comets, while the Bell County Bobcats are set to face the Belfry Pirates.
The Yellow Jackets come into the 2A regional championship game with a 12-0 record, averaging 43.1 points per game and allowing just 15.7 points per contest. Middlesboro is led by quarterback Cayden Grigsby, who has racked up 1,545 passing yards and 19 touchdowns through the air to go with 767 yards and 10 touchdowns on the ground. They will host the 9-3 Comets, who are led by 2A's top rusher, Cole Crampton, who is nearing the 2,000-yard mark on the season after running for 1,837 yards and 23 scores. The Comets also allow just 17.8 points per contest.
As for the second matchup, it will be a battle of two legendary head coaches for the region title. Belfry's Phillip Haywood has won the most games in KHSAA history to go with seven state titles. Bell County's Dudley Hilton is second in career victories and has won three titles. The Bobcats come in with a 10-2 record and are fresh off a 28-8 victory over Rockcastle County. The Pirates come in with a 6-6 record after starting the season 0-5, but have won six of their last seven matchups. They're scoring 29.5 points per game and allowing 22 points per contest.
The two games will take place less than ten miles apart, and the KSR crew will be live in attendance and providing coverage from both.
KSR in an hour
Speaking of Bell County, the KSR crew is setting up shop in Matt Jones' hometown as we speak, with the radio show set to broadcast live from Middlesboro this morning.
10 a.m. to noon ET. Make sure you tune in.