KSR Today: Kentucky takes on Robert Morris at Rupp Arena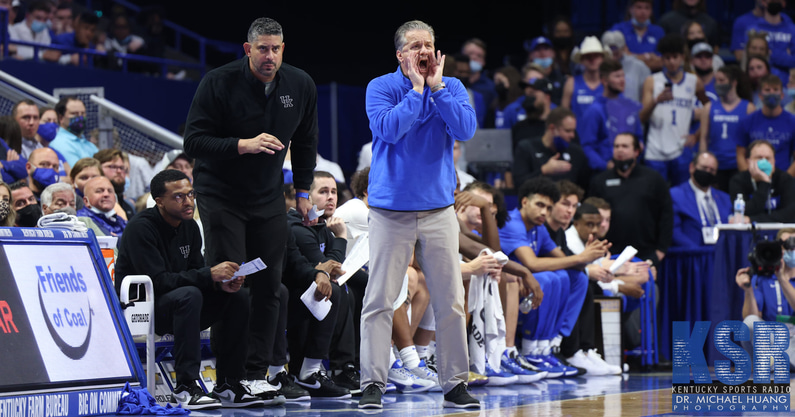 The Kentucky Wildcats are back in action for the first time since the team's loss to Duke in the Champions Classic. And they'll be taking on a familiar face.
Just three nights after the season-opener, Kentucky is set to take on Robert Morris at Rupp Arena on Friday. It will be the third time the Wildcats take on the Colonels during the John Calipari era and the fourth time overall.
The most notable matchup? Kentucky's 59-57 loss to Robert Morris in the first round of the 2013 NIT.
The Colonials will be led by 6-0 guard Enoch Cheeks and 6-2 guard Rasheem Dunn, who both finished with 12 points in the team's 69-59 season-opening loss at Central Florida. 6-7 forward Kahliel Spear rounds out double-digit scorers with 10 points against the Knights. 6-3 guard Kam Farris started in 2020-21, but did not play in the team's first game. He knocked down 46.1% of 3-point attempts last season, hitting at least one shot from deep in 15 of his 17 games.
Robert Morris is led by 12th-year head coach Andrew Toole, who has posted an overall record of 192-170 (.530) in 11 seasons with the school. During that span, the Colonels have claimed two Northeast Conference (NEC) regular season championships (2013, 2014) and two spots in the CollegeInsider.com Postseason Tournament (2012, 2019).
Viewing and listening information can be found below:
When:  7:00 p.m. ET, Friday, Nov. 12
Where: Rupp Arena (Lexington, KY)
Television: SEC Network with Mike Morgan (play-by-play) and Daymeon Fishback (analyst)
Radio: UK Sports Network with Tom Leach (play-by-play) and Mike Pratt (analyst)
Satellite Radio: Sirius (132), XM (190), SXM App (961)
Kentucky WBB blows out North Alabama
The Kentucky women's basketball team took care of business in its second game of the regular season on Thursday, defeating North Alabama by a final score of 98-56.
Dre'una Edwards led the Wildcats with 27 points on 12-18 shooting and 1-4 from three to go with five rebounds, two steals and one assist. Star senior Rhyne Howard added 20 points on 8-15 shooting and 1-2 from three to go with ten rebounds, three blocks, three steals and one assist.
Robyn Benton and Jada Walker both finished in double figures in the win, with the former adding 14 points (5-10 FG, 1-1 3PT) and the latter finishing with 13 points (5-10 FG). Treasure Hunt added 10 rebounds, including seven offensive.
As a team, the Wildcats shot 51.3% from the field and 35.3% from three, but just 57.1% from the line.
Kentucky will take on No. 8 Indiana on Sunday, with the game televised live on ESPN at 8 p.m. ET.
Aamil Wagner turns down the 'Cats
The Kentucky football missed on one of its top remaining recruiting targets Thursday, as four-star offensive tackle Aamil Wagner chose Notre Dame over UK, Ohio State, Penn State and Maryland.
"I chose Notre Dame because of the trifecta," Wagner told On3. "They preach upon God, academics, and football, and those three things struck to the core for me."
The Wildcats entered the day as the rumored favorite, but it was the Fighting Irish who landed the 6-foot-6, 265-pound lineman.
"Notre Dame is known to produce talent, especially at my position," Wagner added. "Out of the six offensive tackles drafted, five were taken in the first and the other in the second round. Getting on the field there, especially at tackle, gives a good chance to make it to the next level."
Kentucky responded by offering a scholarship to 6-foot-5, 260-pound tackle Jalen Klemm, the son of former NFL lineman and current Pittsburgh Steelers offensive line coach, Adrian Klemm. The three-star prospect also holds offers from the likes of Kansas State, Nebraska, Colorado, Arizona, Arizona State, NC State and Vanderbilt, among others.
Kroger KSR Game of the Week heads to Somerset
The Kroger KSR Game of the Week will head to Somerset this evening, as the 10-1 Southwestern Warriors will host crosstown rival Pulaski County. It will be a rematch from earlier in the season when the Warriors defeated the Maroons 42-14.
This time around, though, it will be a battle of offensive styles. Southwestern is the top-ranked running team in 5A, while Pulaski County leads the classification in passing.
Southwestern has three ball carriers with over 500 yards on the ground. Tanner Wright's 936 is tops on the team. Giddeon Brainard has added 848 yards and 11 touchdowns. The Warriors average 43 points per contest. Southwestern also leads 5A in rushing defense after giving up just 56 yards per contest. Ezra Major has recorded 14 quarterback sacks. 
Pulaski County is led by quarterback Drew Polston. The signal-caller leads 5A with 2,261 yards and 28 touchdowns in ten games. Chandler Godby's 70 receptions and 10 scores are tops on the team as well as 5A. Brysen Dugger has contributed 35 catches and a couple of TDs. Layton Abbott has racked up 114 tackles including four for loss to lead the Maroon defense.