KSR Today: Last weekend before fall camp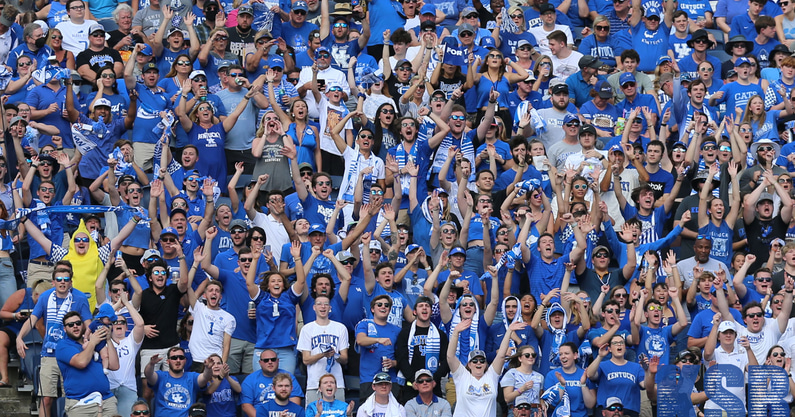 Football is coming. I promise you it won't be much longer.
The calendar will turn to August on Monday, and a couple of days after that will bring the start of fall camp. A few weeks after that it will be football time in the bluegrass.
On Wednesday, the KSR crew will be at the Kentucky facility for media day and will then have multiple practice reports weekly to go along with a plethora of preseason content as we enter year 10 of the Mark Stoops era. In the meantime, we've begun to ramp up our football coverage with plenty of content after wrapping up SEC Media Days in Atlanta next week. Who's ready to be tailgating at Kroger Field?
Toe will meet leather soon.
Eastern Kentucky Flood Relief Fund
The devastating floods in Eastern Kentucky have caused a remarkable amount of damage as our fellow Kentuckians are suffering. KSR is doing its best to help those in need.
Kentucky Sports Radio and the Kentucky Chamber Foundation are partnering to build a relief fund for our fellow Kentuckians to ensure they are able to rebuild. With the money raised in this fund, our two groups will be working with local communities, local chambers, as well as our state and local elected officials to ensure the needs of these areas are met in the wake of tragedy.
You can donate online or via check. Checks should be made out to Kentucky Chamber Foundation. Mail checks to 464 Chenault Rd. Frankfort, KY 40601 with ATTN to the Flood Relief Fund.
For more information on how you can help those in need after the devastating storms, visit the Kentucky Chamber resource page.
Donate to the KSR Eastern Kentucky Flood Relief Fund
Beau Allen visits WKU
After two years with the Kentucky football program, former top-500 recruit Beau Allen is looking for a new home. As a rising high school prospect at Lexington (Ky.) Catholic, the class of 2020 quarterback got recruiting interest from Mike Leach at Washington State to play in his Air Raid offense.
Mike Leach isn't at WKU, and the Tops just lost offensive coordinator Zach Kittley to Texas Tech, but head coach Tyson Helton is committed to keeping the Air Raid offense that put up 44.2 points per game in C-USA last season.
Allen just took a visit to WKU and could be a name to watch for the Tops over the next week or so. WKU added West Virginia transfer Jarret Doege in the offseason, and the veteran will be a super senior this season. There could be an inside track for instant playing time for Allen in Bowling Green.
WKU started fall camp this week with a game scheduled in Week Zero against Austin Peay. This is a recruitment that could move fast.
Kentucky Bahamas Tour is coming
Before the football season arrives, we will have some basketball to watch as John Calipari's squad gets to make an international trip this summer. Expectations will be very high for the 2022-23 squad, and KSR had a ton of basketball content to close the week.
We will learn much more about the Kentucky basketball team over the next few weeks. KSR will be there for every step as this program enters a pivotal season.
Nick Saban is dominating recruiting again
Beginning on Monday, college football will be entering a long dead period where coaches cannot contact recruits for a month. That means that this is a very important weekend on the calendar as some schools look to close on targets.
Many programs in college football are hosting big unofficial visit weekends to help score some last-minute commitments before the beginning of fall camp. You'll never believe this, but Alabama is closing strong.
On Wednesday, Alabama earned a commitment from five-star safety Caleb Downs, and the prospect had heavy, heavy interest from Clemson, Georgia, Notre Dame, and Ohio State. That occurred just 10 days after top-50 running back Justice Haynes shocked many when he picked Alabama over Georgia despite being a legacy recruit in Athens.
On Friday, the Crimson Tide then landed five-star running back Richard Young to give Saban and offensive coordinator Bill O'Brien 2 of the top 3 running backs in the class of 2023.
Alabama is now up to 16 verbal commitments and has the No. 1 class in the On3 Consensus. The Tide has a pair of top-100 quarterbacks and two top-100 running backs in the fold. That goes with three five-star prospects in the secondary. It's good to be king.
After time spent by Saban accusing Texas A&M of paying for its No. 1 class in 2022, we are back to normal in 2023. Alabama is still the king in talent acquisition. That is not changing in the NIL era.