KSR Today: Men's Tennis in the Elite 8; Nick Saban is pissed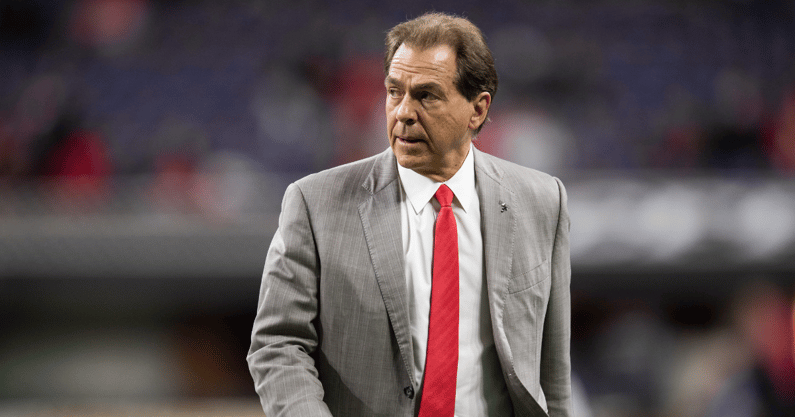 Good morning, folks! There is a lot on the line tonight for Kentucky Men's Tennis. The 'Cats will look to make the program's first-ever Final Four but first must take down top overall seed TCU. Let's talk about it, along with everything else you need to know to get your Thursday rolling.
Men's Tennis in the Elite 8
After a thrilling Sweet 16 victory over Wake Forest in Lexington over the weekend, the boys are back in action looking to make some history. Kentucky will take on TCU (26-4) later today at 4 p.m. ET at the Atkins Tennis Complex up in Champaign, IL. The match will be streamed live on TennisONE.
The Wildcats find themselves in their fifth Elite Eight in school history after a 4-2 victory over the nine-seed Wake Forest Demon Deacons on Saturday. The program now holds a 32-30 record in the NCAA Tournament. In Kentucky's last Elite Eight appearance in 2011, the team fell to eventual champion USC in a 4-1 decision.  
UK was awarded the eighth overall seed in the NCAA Tournament, allowing it to compete in all three postseason matches thus far at the Hilary Boone Complex in Lexington. Currently, the team is No. 7 in the United States Tennis Association top-25 rankings and No. 9 by the Intercollegiate Tennis Association. Kentucky has been slotted inside the top-13 on the ITA rankings all season. 
TCU is currently viewed as the top team in the country by both ITA and the NCAA. The Horned Frogs made their fifth Elite Eight in the last seven postseasons after going 26-4 this season, also claiming the 2022 ITA Indoor Championship.  
KSR's Troy Howell (@teeroyhowell) will be in Illinois to provide coverage. Good luck, 'Cats.
Nick Saban takes shots at Jimbo
When I first saw the now-famous Nick Saban quote late last night, I had the same reaction that I imagine most in the college sports world had: no way he really said that, right???
The Alabama head football coach did not mince a single word when talking about NIL during a panel discussion. He took a direct shot at Texas A&M head coach Jimbo Fisher, accusing him of paying EVERY PLAYER ON HIS TEAM.
Here is the exact, internet-breaking quote I'm referencing:
"I know the consequence is going to be difficult for the people who are spending tons of money to get players," Saban said via AL.com. "You read about it, you know who they are. We were second in recruiting last year. A&M was first. A&M bought every player on their team. Made a deal for name, image and likeness.
"We didn't buy one player. Aight? But I don't know if we're going to be able to sustain that in the future, because more and more people are doing it. It's tough."
Ole Nicky Saban getting SPICY! It even makes this quote from Fisher back in February a bit spicier, too.
Saban also called out Jackson State, which is now coached by Deion Sanders, stating that the HBCU program paid a high school recruit $1 million for that player to attend. He's opening a massive can of worms here, it feels like.
Watch Saban's full seven-minute answer from The World Games 2022.
Baseball looks to close out season with a bang
Nick Mingione's squad isn't exactly firing on all cylinders heading into the postseason — if there even is a postseason for this team's future.
Kentucky Baseball will play host to the final series of their 2022 season, which will begin tonight at Kentucky Proud Park against the Auburn Tigers. The 'Cats sit on a 28-23 overall record with a 10-17 mark in the Southeastern Conference. As of right now, that's still good enough to sneak into the SEC Tournament as one of the 12 teams (the bottom school from each division does not make the tournament).
Just one win over Auburn this weekend should be enough to secure a spot in the SEC Tourney, which begins next week in Hoover, AL.
The 'Cats are currently riding a two-game win streak after stealing the final series contest against South Carolina on Sunday and cruising past Tennessee Tech on Tuesday. Hopefully, they can continue to ride some of that momentum to at least one win over Auburn, or even a series victory.
Thursday is Top Gun Night with Maverick-approved aviators for the first 1,000 UK fans along with trivia and scenes from the cult classic film.
Thursday, May 19 vs. #18 Auburn
6:30 p.m.; Kentucky Proud Park
TV: SECN+; Radio: UK Sports Network
Probables: UK – RHP Zack Lee; AU – RHP Mason Barnett2-1, 4.12)
Friday, May 20 vs. #18 Auburn
6:30 p.m.; Kentucky Proud Park
TV: SECN+; Radio: UK Sports Network
Probables: UK – TBD; AU – RHP Trace Bright (2-4, 4.76)
Saturday, May 21 vs. #18 Auburn
2 p.m.; Kentucky Proud Park
TV: SECN+; Radio: UK Sports Network
Probables: UK – TBD; AU -, RHP Joseph Gonzalez (6-2, 2.98)
Combine measurements
The NBA Draft Combine tipped off this week in Chicago and measurements were among the first orders of business. TyTy Washington (Kentucky) and Shaedon Sharpe (Dream City Christian High School) are participating. Here's how they performed.
TyTy Washington
Height with shoes: 6'3.75″
Height without shoes: 6'2.25″
Wingspan: 6'8″
Standing Reach: 8'3.5″
Weight: 196.4 lbs.
Body Fat: 12%
Hand length: 8.5″
Hand width: 9.25″
Shaedon Sharpe
Height with shoes: 6'5.25″
Height without shoes: 6'4.25″
Wingspan: 6'11.5″
Standing Reach: 8'7.5″
Weight: 198 lbs.
Body Fat: 4.8%
Hand length: 9″
Hand width: 9.25″
DJ vs. Reed is a no-go
According to WDRB's Rick Bozich, two of the top rising seniors in all of high school basketball, DJ Wagner and Reed Sheppard, no longer plan to play against each other at the end of the month. It was initially reported last week that a potential AAU matchup between Wagner's NJ Scholars (EYBL) and Sheppard's Midwest Basketball Club (3SSB) was being planned for May 27 at Valley High School in Louisville.
The NJ Scholars will already be in Louisville that weekend for the third session of this summer's Nike EYBL circuit, but now a crossover matchup against the Adidas-sponsored program has been put off. NJ Scholars program director and former Louisville Cardinal, Pervis Ellison, told Bozich that plans were in the works for weeks but ultimately fell through due to a "scheduling conflict".
NBA Playoffs update
Two games in, two not-so-exciting outcomes.
The Dallas Mavericks were molly whopped on Wednesday night in the Western Confernce Finals opener against the veteran-led Golden State Warriors, 112-87. Luka Doncic was held in check all evening long, finishing with 20 points on 6-18 shooting (3-10 from distance) as the Mavs shot a poor 22.9 percent (11-48) from 3-point range. The long ball is what's propelled Dallas to this point in the playoffs, but they died by it last night. The Warriors now hold a 1-0 lead.
The Eastern Conference Finals opener, on the other hand, was a bit more thrilling. The Miami Heat utilized a deadly third quarter to overcome a sizable Boston Celtics lead during Tuesday's Game 1, winning 118-107. Jimmy Butler dropped 41 points as the Heat beat a hampered Celtics squad missing two key players in Marcus Smart and Al Horford.
Game 2 action for that series begins later tonight at 8:30 p.m. EST on ESPN. Bam Adebayo and Tyler Herro will hit the floor again for Miami as they look to build a 2-0 lead before the series shifts back to Boston. During Game 1, Adebayo posted 10 points, four rebounds, and four blocks while Herro went for 18 points and eight rebounds off the bench.
---
That's all the news and notes I have for you this morning. We've got Matt Jones and the crew hitting the live radio airwaves in an hour. We'll see you then.