KSR Today: Morning After Media Day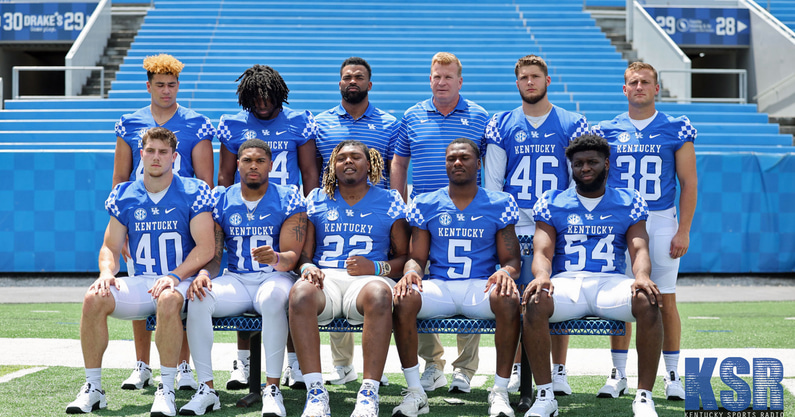 Good morning from KSR Headquarters where we are piecing things back together after a jam-packed Wednesday at Kentucky Football Media Day on the heels of our first look at Kentucky Basketball on Tuesday evening. Today, we'll keep pumping out content from both as the Wildcats kick into high gear in August with the start of fall football camp this week and four basketball exhibitions in the Bahamas next week.
For now, let's catch you up on all the football talk from Media Day.
20 minutes with Mark Stoops
As is tradition, Mark Stoops opened Media Day with a lengthy Q&A session from the Kroger Field media room to preview camp and the upcoming season. Stoops had just walked over from the first practice of fall camp, which he called the best by far in his decade as head coach at Kentucky. "Our foundation is set in stone," he said with excitement.
One thing that's not set in stone is the status of running back Chris Rodriguez. Stoops did not provide a comment on his starting running back, who participated in the team's photoshoot but was dismissed from Media Day before player interviews.
Hear everything Stoops had to say otherwise:
Brad White is confident in his defense
A rare veteran assistant on Mark Stoops' staff, Brad White brings consistency at defensive coordinator and White spoke about the team's consistency when previewing the season. He named several veterans on the defensive side of the ball who he expects to have a big year.
Rich Scangarello loves Kentucky's tight ends
On KSR yesterday morning, Vince Marrow called new offensive coordinator Rich Scangarello a big "tight end guy" with intentions to utilize that loaded position group. How loaded is the tight end room? Scangarello said he can't imagine having better options and he believes four or five of Kentucky's tight ends have NFL potential.
Enjoy KSR's photo gallery from the day
Over on the KSR Facebook page, Dr. Mike has several images from the long afternoon at Kroger Field.
Chris Oats returned for the team photo
The highlight of the day, Chris Oats rejoined the team to be part of the photo shoot, including the official team photo and with the linebackers and seniors.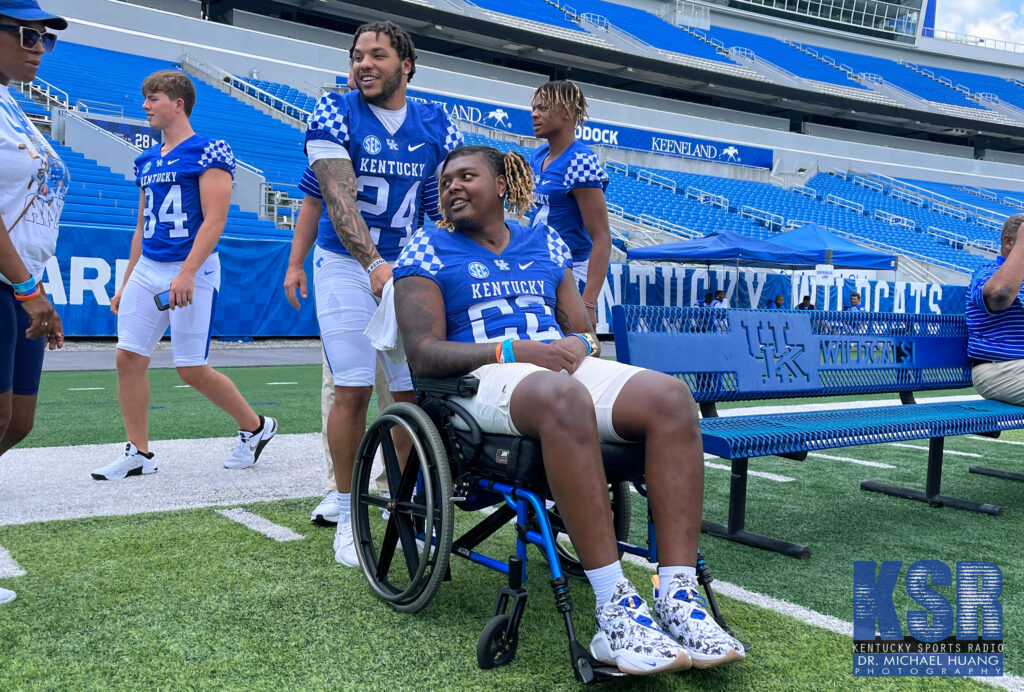 KSR Rapid Reactions
Before we left Kroger Field for the first annual Media Day after-party at Condados Tacos, KSR's football staff recapped the day in a short video from the scene. The sunglasses were not team-issued but the guys look good.
Introducing Freddie Cam
More video for your Thursday morning, we have the debut of 'Freddie Cam' at Kentucky Football Media Day.
Are you following the KSR YouTube channel yet? What's the hold-up?
Some Thursday morning basketball news
From Kentucky Basketball, we have eyes on the new uniforms Kentucky will wear in the Bahamas next week. There are three options–a white, a blue, and a black–all with a retro look. Do we approve, BBN?
Can't believe there are basketball games next week. That's crazy.
Anyway, I'm late for the show so I better go. Tune in at 10 a.m. and, as always, Go Cats.