KSR Today: Moving past Tennessee, plus Cason Wallace's decision day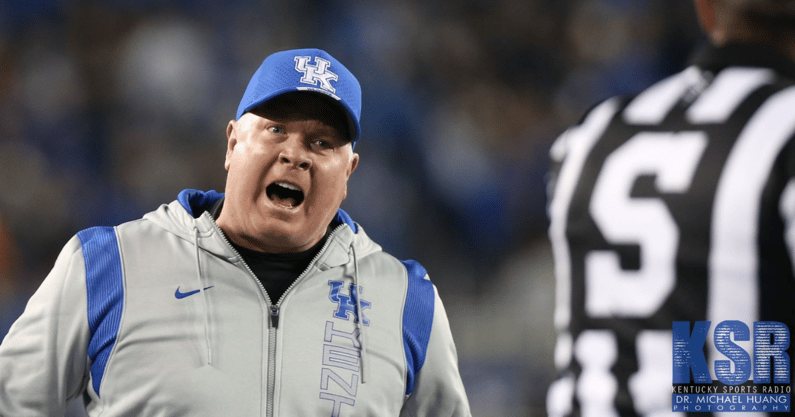 This one stings more than the rest, I think we can all agree on that.
Losing to Tennessee is never fun, but losing in that sort of fashion was heartbreaking, and a bit debilitating looking ahead. Kentucky Football went from 6-0 to dropping three in a row. The final three regular-season games will favor the 'Cats, but those games once viewed as automatic wins are going to make for some seriously sweaty palms. Finishing 9-3 on the year is a definite possibility, but it would almost feel like a disappointment considering how high this group was after back-to-back wins over Florida and LSU. UK needs statement victories to close out the season.
Kentucky has been outplayed and severely outcoached the last three games–that's really all there is to say at this point. Over 600 yards of offense and 46 minutes of possession still resulted in a 45-42 loss to the Vols. Inexcusable is about the best word to describe what happened on Saturday.
Now let's dive into some links and move on to the next week.
Football postgame links
Cason Wallace Day
Cason Wallace Day has arrived. A five-star combo guard out of Richardson, TX, Wallace is set to make his college decision later tonight, his birthday, around 9-10 p.m. EST. The 6-foot-3, 185-pound high school senior is down to Kentucky, Tennessee, Texas, and UTSA.
With just four days until he makes his announcement, there shouldn't be too much drama coming down the final stretch. There are now a combined 11 Crystal Ball and FutureCast selections in favor of Wallace landing with the 'Cats. If he were to pick UK, John Calipari would boast a 2022 recruiting class that includes four five-star talents.
Wallace is ranked by On3 as the seventh-best player in his class and second-best combo guard. Come on down…
Kentucky-Duke on Tuesday
While we recover from Saturday's loss, we can look ahead to Tuesday's matchup on the hardwood against the No. 9 Duke Blue Devils.
Kentucky is coming off a closer-than-expected victory over a sharpshooting Miles College squad on Friday, raising far more concerns than praise during and in the aftermath. Admittedly, the 'Cats did not look good in the first half against Miles, but were quite impressive in the second half and looked more like the team we're hoping to see.
But that performance, and the 95-72 win over Kentucky Wesleyan College in the first exhibition, won't cut it against Duke and the Mike Krzyzewski "Kiss My Ass" Farewell Tour. UK will need to look like a brand new team on Tuesday night in Madison Square Garden, but the pieces are definitely already there to put it together.
The good vibes around Kentucky athletics aren't as exciting as they were a few weeks ago. A win over Duke would completely flip that.
Syrucase WR Taj Harris picks KENTUCKY
This news ultimately got lost in the result of Saturday's final score, but the 2022 roster received a big pickup in the wide receiver department–and if you watched Kentucky's pass-"catchers" against UT, you'd know why this is a huge addition.
Syracuse transfer Taj Harris, one of the all-time great wide receivers in the history of the Orange, announced his commitment to Kentucky on Saturday morning. The timing of the decision took everyone off guard, although he felt like a Wildcat lean ever since putting his name in the portal.
Harris, a 6-foot-2, 180-pound Beverly, NJ native, has 151 catches for 2,028 yards and 10 touchdowns over four seasons. He went over the 100-yard mark in four games. In 2018, the former three-star recruit set Syracuse freshman records with 40 receptions and 565 yards. He was named third-team All-Atlantic Coast Conference in 2020 after totaling 58 catches for 733 yards and five touchdowns. In three games this season, he had 16 catches for 171 yards.
'Cats in the NFL: Week 9
1:00 (FOX): Falcons @ Saints (L. Young)
1:00 (CBS): Browns @ Bengals
1:00 (FOX): Broncos @ Cowboys (K. Joseph)
1:00 (FOX): Texans (L. Johnson Jr.) @ Cowboys (Q. Bohanna)
1:00 (CBS): Raiders @ Giants
1:00 (CBS): Patriots @ Panthers (P. Hoskins)
1:00 (CBS): Bills @ Jaguars (J. Allen)
1:00 (FOX): Vikings @ Ravens
4:05 (CBS): Chargers @ Eagles
4:25 (FOX): Packers (R. Cobb) @ Chiefs
4:25 (FOX): Cardinals (C. Peters) @ 49ers
8:20 (NBC): Titans (B. Dupree) @ Rams
Monday Night Football
8:15 (ESPN): Bears (D. Trevathan) @ Steelers (B. Snell Jr.)